Earn with FreshMail! 20% commission on each sale!
The 20% partnership commission is just the beginning! You can decide whether to - withdraw it, pass it along as an extra discount for your customers, or simply apply it to your system account!
Join our affiliate program
If you already have an account Log in
Everything you need for effective promotion
With your affiliate account, you will get access to a package of marketing tools that you can use to prepare effective advertising campaigns and new, original promotional materials.
Among other things, the package includes:
Logotypes
Highly clickable ad banners
Promotional films and sample blog texts
A wealth of possibilities
FreshMail Affiliates doesn't contain just the usual tools for promotion. You also get additional power to create discount codes to use to attract new clients.
Discount codes
Use this unique marketing tool to offer free discount codes to use with FreshMail
Group discounts
Prepare an irresistable offer with individual prices and seasonal promotions
Referral links
You decide which landing page your potential clients will be directed to
Automate your business
Unleash the power of our unique, proprietary affiliate sales engine. Create your own periodic and cyclical promotional plans, containing multi-level behavioural events. Deliver value to your customer at the right time, efficiently and effectively.
Analyze and draw conclusions
The FreshMail Affiliates is more than just simple app. It is a analytical tool full of possibilities and enriched with CRM elements to help create the optimal work environment.
Analyze the effectiveness of your advertising materials by tracking the number of clicks and conversions.
Add notes and commentary and find everything you need in one place in our Affiliate Panel.
Total control
We have prepared a special enhanced Affiliate Panel with the needs of our partners in mind. Thanks to FreshLabel technology you can have full control as an authorized reseller.
Manage your customers, payments and user accounts. It's easier than you think!
Get certified by FreshMail
As our partner you will have the opportunity to join the FreshMail Certificate program. This process trains you on both the basic and more advanced FreshMail system functions. We also cover the most important aspects of email marketing and how to implement them in your email marketing campaigns. We will show you the power of the tools at your disposal and take away the mystery of the world of online marketing. You can use your new expert knowledge to advise others on how to get more out of your marketing efforts.
Frequently asked questions
What if someone creates an account later?
If a person who you recommended FreshMail to doesn't create an account straight away you can still get credit for it later! The cookie file generated while clicking the link is valid for 120 days. If in this period of time a given customer comes back and creates an account in FreshMail you will get your commission. If a given customer signs up for FreshMail after receiving multiple recommendations, then the commission will be assigned to the current FreshMail user who sent the most recent invitation to join.
How will I know that someone joined FreshMail on my recommendation?
As a partner you get a personalized tracking link that you will forward to your clients when you recommend FreshMail. Every account created in FreshMail using this link will generate your commission. This account can be created up to 120 days after your client clicked the link in order to assign the commission to you.
How will I receive my payment?
We will pay you your commission on a quarterly basis provided that the amount earned is at least 25 euros (if your earnings are significantly more than that, you can withdraw your money monthly). If you run your own company it is possible to settle accounts based on a bill or invoice issued. Otherwise, we can settle based on a contract.
Contact us
Join our affiliate program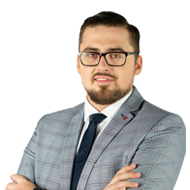 Maciej Gałązka
Affiliate Manager