Smart AJAX Subscribe for WordPress
create eye-catching subscription forms for your website
build subscriber lists and send out effective newsletters
use more than 60 default color styles for your forms
create your own style with any of 8 available form skins
display forms anywhere on your website using widgets, shortcode or PHP functions
The plugin allows for great flexibility in rendering and styling subscription forms. You can easily create forms with 8 skins, more than 60 default color styles and a style builder and place them anywhere on your website.
Plugin installation
Requirements:
PHP 5.2.4 or newer
PHP cURL extension
PHP OpenSSL extension
WordPress 3.5 or newer
Download the plugin, log into WordPress and go to Plugins > Add new > Upload plugin. Find the downloaded zip file and then click Install and Activate.
Integrate FreshMail with Smart AJAX Subscribe
Go to the Plugin menu in WordPress, select Services> Online Newsletter Services> FreshMail> Service Setup. The system will ask you for your API key (API information here). After entering the correct data, select your list and activate the changes by clicking Service Enabled. FreshMail will now be displayed as active on the services list.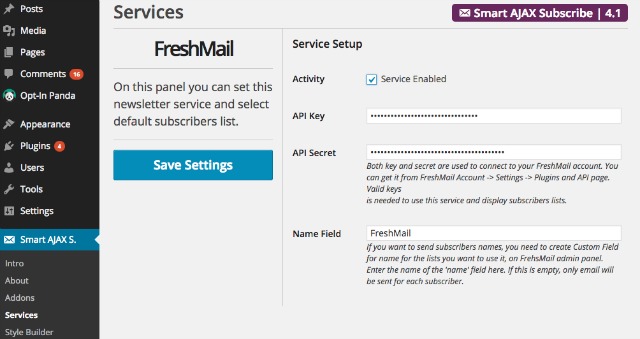 Choose from more than 60 styles and 8 built-in skins
The plugin comes with more than 60 default color styles for the form. They are based on 8 different skins. Additionally, you can change layout elements (labels, alignment, placeholders in fields). By using CSS you can redesign the default style to your needs. Use your imagination and create eye-catching forms that will best fit your website.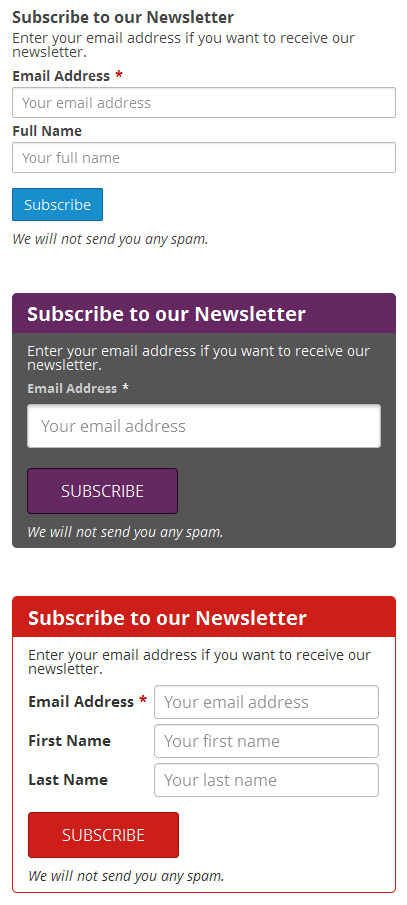 How to display a form
use widget to add into sidebar
use shortcode to add into post content
use function to add into template
You can simply add subscription form in Code Builder. Use generated code to display the form into post content or use a PHP function to add it to the template. To export collected emails to FreshMail, select FreshMail in the drop-down list of Services. You can also add foms to your sidebars using widgets.
More possibilities
check email notifications about new subscribers
minimize spam with two antispam methods (honeypot and referrer)
refer to the PDF user and developer guide
display different forms on each of your websites with Multisite WordPress mode support
the plugin offers support for translation and includes a POT file