WordPress Newsletter plugin
Easily add sign-up forms and sign-up checkboxes to your WordPress website. Get reports on the sources of subscription. 
Define highly customizable sign-up forms by choosing predefined styles or creating your own style. Live previews of the final project as it's being created.
Include sign-up forms in popups and define when it will be displayed.
Set up automatic subscription sign-up with checkboxes when users take action on a website (leave a comment, enter a contest, take part in a survey, etc.).  Integrates with Contact Form, WooCommerce checkout and other popular plugins.
Adding a checkbox to any other form with a few lines of code.
Get reports on the sources of users' registration in a selected period and check which form or checkbox generates the most new subscribers.
Plugin integration with Google Analytics.

If you're not already a FreshMail user you can create a free account. The video below presents the possibilities of the FreshMail newsletter distribution platform.
Plugin installation
This plugin requires at least: WordPress v 3.0 and PHP v 5.4.
The installation works in the conventional way. Download the plugin, log into WordPress and go to Plugins > Add new > Upload plugin. Find the downloaded zip file and then click Install and Activate and you will see a new tab called FreshMail on the panel.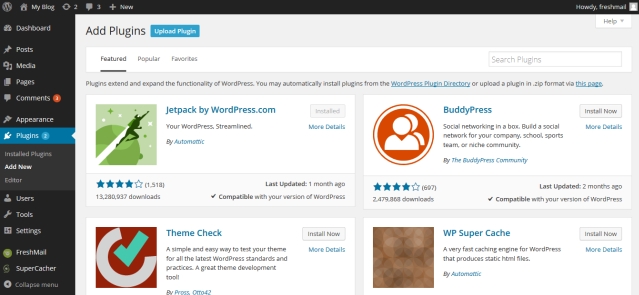 Alternatively, download the plugin and upload the contents of  FreshMail_for_Wordpress.zip to your plugins directory, which usually is /wp-content/plugins/.
Plugin configuration
Go to FreshMail tab > Connect with FreshMail and enter the API key and API secret in order to enable WordPress integration with Freshmail. Where do you find the API information? After entering the correct data move to the Add New Form tab and select your list.
Here the list of custom fields that you will be able to use in FreshMail will appear. In Properties, Layout and Messages you will find additional possibilities of sign-up form configuration.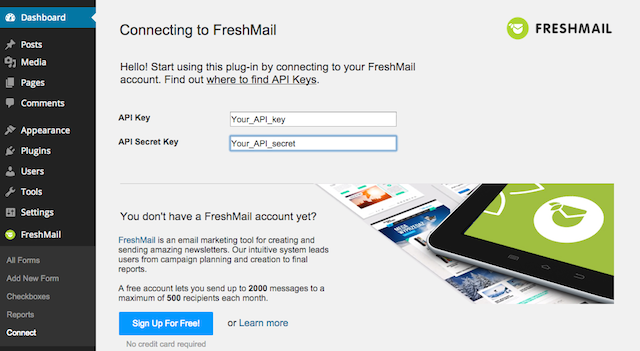 Adding Sign-Up Forms
If you want to add the Sign-Up Form to a template you should enter the Appearance > Widgets tab on the admin panel. In Available widgets you will find the FreshMail widget that is responsible for the sign-up form. For proper operation of the plugin just drag a widget into the selected spot on your template and select from the list previously configured sign-up form.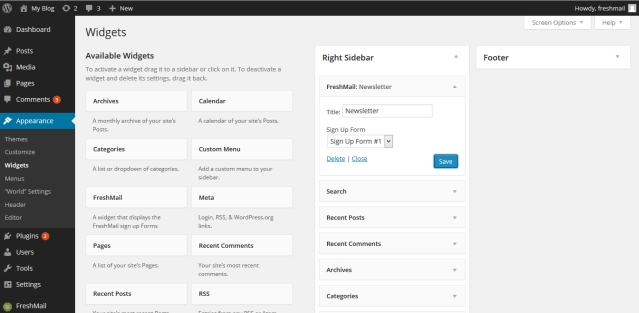 The Sign-Up Form could be also inserted with the use of shortcode into any post, page or text widget. For example: [FM_form id="1"]
You can also display form from your theme files by using 1 line of PHP code:
[html]
<?php echo do_shortcode( '[FM_form id="1"]' ); ?>
[/html]
Sign-up forms in popup configuration
The advanced settings of popups can be found in All Forms > Edit Form > Properties tab. To display popup you have to check Show the sign-up form in a popup? by the form configuration.
You can  display the sign-up form as a popup and define the criteria of its display:
after a defined process of page scrolling
after a defined time spent on the website
before an attempt to close the browser
and block the popup:
for smartphones
for defined UTM tags
after reaching the maximum number of displays per user
at a defined frequency
Redirect after sign-up
You can set up forwarding to any page after sign-up to newsletter.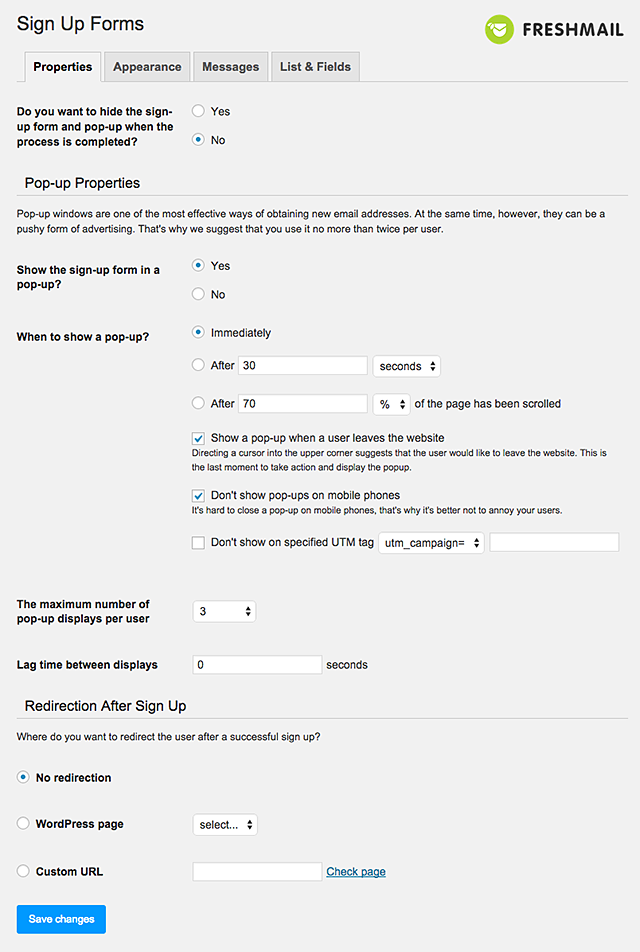 Define popup layouts
The apperance settings of popups can be found in All Forms > Edit Form > Apperance tab.
Thanks to this plugin you have the possibility to define the layout of popups by selecting a predefined theme or creating your own themes based on dozens of criteria! You will be able to see a real time preview of the form while creating it, allowing you to create a sign-up form that matches your website.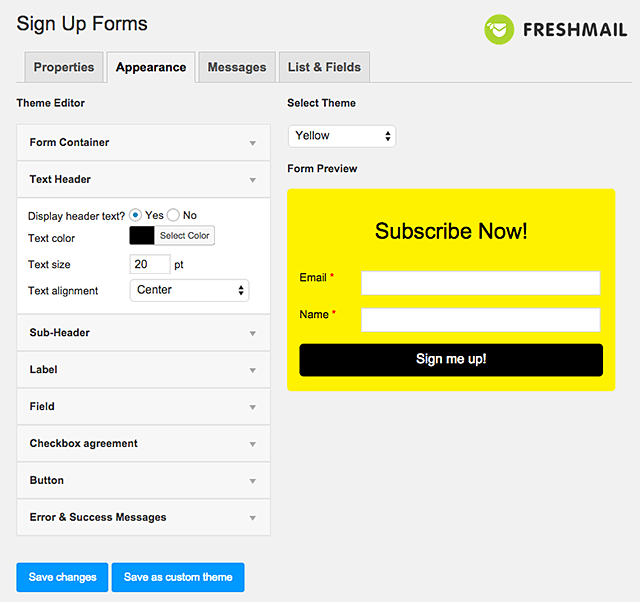 Sign-up with the use of a checkbox added to other forms
You also have the option of enabling automatic sign-up to a subscription with the use of a checkbox added to other standard WordPress forms like:
adding comments
user registration
as well as forms of other plugins:
WooCommerce (checkout)
Easy Digital Download (checkout)
bbPress
MultiSite
BuddyPress (registration)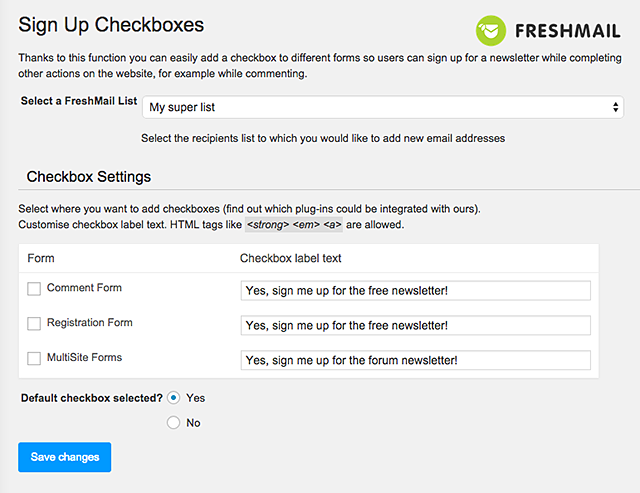 There is also the possibility to add a checkbox to any other form with the use of a few lines of code.
[html]
<p class="comment-form-fm-sign">
<label for="fm-sign">
<input id="fm-sign" name="fm-sign" type="checkbox" /> Label txt
</label>
<input type="hidden" name="fm-sign-referer" value="<?php echo $_SERVER['REQUEST_URI']; ?>" />
</p>
[/html]
Get reports
You can access reports that display the sources of user registration in a selected period - see which form or checkbox and which websites generate the most new subscribers.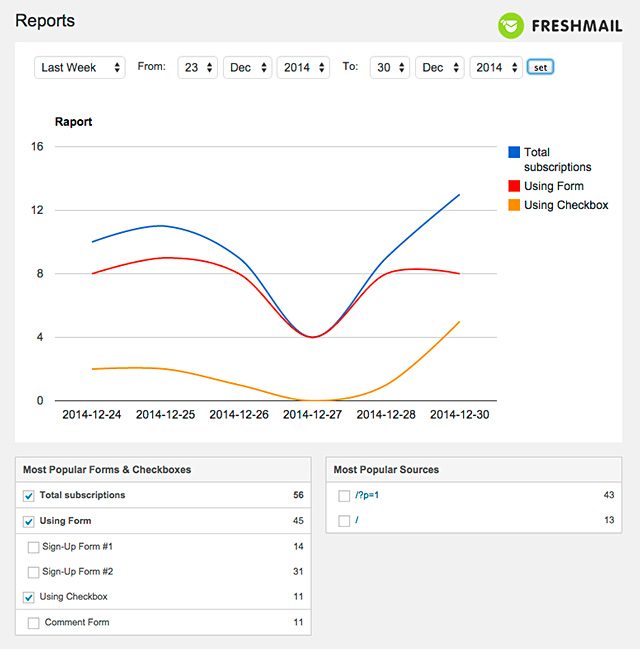 Plugin integration with Google Analytics
You just need to add the code below into the source of the website and configure it precisely to follow activities on the site in Google Analytics.
[html]
<script type="text/javascript">
var forms = document.querySelectorAll('
form.form_subscribe');
for( var i = 0; i < forms.length; i++ ) {
forms[i].onsubmit = function() {
// ga.js
_gaq.push(['_trackEvent', 'Forms', 'Submit', 'Sign-up form submission']);
// analytics.js
ga('send', 'event', 'button', 'click', 'Sign-up form submission');
}
}
</script>
[/html]