Successful campaigns need recipients
We're going to take a look at how to collect data, where to collect it and how to do it all in accordance with applicable law.

The success of any email marketing campaign depends on a few basic elements - the strength of your offer, your subscriber list and the design of your message. The rule of thumb is that your attention should be divided proportionately at 40 percent to the first, 40 percent to the second and 20 percent to the last. Advice on the content of your offer and how to create your newsletter can be found in other guides but this is where we focus on how to build the audience for the message.
What type of user data you should collect
Intuition tells us that more is always better. After all, getting more data allows us to segment subscribers into groups with common characteristics that are suited for targeted emails and personalized content.
This way of thinking is mostly right provided that you use the information properly. The sad truth is that 85% of marketers using email commit the cardinal sin of sending the same message to everyone and failing to take advantage of the possibilities of segmentation.

But before you start thinking about all the information you want to get from your subscribers, think about all the research that shows that the more information you ask for during a registration process, the less people want to complete it. Our research shows that if there are more than seven fields to fill in, people will simply resign from the whole process 92% of the time! It's best to limit the information you ask for to the absolute basics - name and email address. Other information can be gained through analysing subscriber actions using tools in the FreshMail system.
Where to collect addresses for your subscriber list
Every day, we are bombarded with more commercial messages than we can count. Never-ending demands on our time and attention make most of us put up our guard and reluctant to engage with endless requests for information or even a simple click.
Such a busy online environment presents challenges for anyone trying to persuade someone to give something as personal and valuable as their email address. You need a disciplined, focused plan or you will get lost in the noise.
The key to driving subscribers to join your mailing list is taking advantage of their interest in you. That interest may already exist before they have the chance to sign up or it can be created through an offer that uses incentives to join the list. Either way, you need a strategy that is based on having your sign-up form in the right places and contexts.
On your own page
The first and most important place to put your newsletter sign-up form is on your own webpage. Make sure it is highly visible and found on every or nearly every subpage.
If your website has a "contact us" form, add an opt-in for addresses to be added directly to your newsletter subscriber list.
Pop-up windows often get great results for newsletter signups but there are a couple of things you have to bear mind when using them. First of all, remember to limit the number of times the pop-up will display to any particular user. This is called "capping" and the limit for unique users should be two displays. Also, be sure to prevent the pop-up from activating for users who are already signed up to a newsletter.
Try using a pop-up for newsletter subscriptions for a week. If your site gets a good amount of traffic, you will see an increase in the size of your address database.
In communication with clients
If you operate an internet store, you send tons of what are known as 'transactional mails'. These are emails that inform customers about things like the completion of an order, when it was shipped, etc. These messages typically have a rather high open rateOpen rate (OR)Procentowy wskaźnik, który pokazuje stosunek unikalnie wyświetlonych wiadomości do wiadomości wysłanych. - who doesn't want to know when their order will arrive? - so it's a good idea to include information about the newsletter sign-up form.
Also, what about adding a mention of your newsletter in your email signature or footer? This is especially relevant in fields like tourism where agents sends lots of emails to current and potential customers. It doesn't require a lot of work or extra costs, so why not give it a try?
And don't forget that your customers may also have to deal with various paper forms as well - why not add the relevant information there and get more additions to your subscriber base?
Social Media
You should try to get newsletters sign-ups on every social media platform where you have a presence. Facebook is the obvious place to start because that is where you are most likely to be able to attract attention and there are third party applications out there to help you get started.
Even better than a simple sign-up form, and much more fun and interesting way to attract attention and get email addresses is to organize a contest on social media platforms. Using APIApplication Program Interface (API)Interfejs programowania aplikacji – sposób w który mogą się komunikować dwa programy w celu wymiany danych. W systemach do email marketingu umożliwia ono m.in. dodawanie adresów z zewnętrznych aplikacji czy wysyłanie wiadomości transakcyjnych. plugins with FreshMail makes it easy to collect the addresses of everyone who participates.
Don't forget to include to obtain consent to the processing of personal data for marketing purposes and marketing communications sent by email in the terms of use. With the exception of competitions, you can use those consents in other kind of applications (games for example) which you can place on your fanpage.
Other places where you interact with your customers
One of the best ways of building your subscriber database is through sharing knowledge and information. You can, for example, gather the personal information of those who participate in webinars or similar online training sessions that you can easily organize. On top of building relationships with potential customers by establishing yourself as an expert, you can also open the door to continuing the conversation through targeted, customized messages.
You can also create useful and attractive resource materials in the form of guides, ebooks or infographics and require that anyone who wants access to them leave their contact details along with consent to be added to your newsletter database. Another strategy is to give full access to things like programs or games and then make continued use contingent on joining the newsletter database after some time. The idea is to always be aware of opportunities to leverage customer interest to drive the growth of your subscriber list.
Formal matters
It is important that you always build your subscriber database through the use of the Double Opt-in model, with all new subscribers confirming their desire to receive your newsletter by clicking on a link in an email from you after supplying their contact information.
Double Opt-in
The best solution for both you and your recipients. It gives you confirmation that the address you want to add to your database really exists, helps to reduce your "bounce" rate and keep you off the radar of spamSpamNiechciana wiadomość komercyjna. Zdarza się, że odbiorcy uznają za spam każdy mailing, którego nie chcą już więcej otrzymywać, nawet jeśli wcześniej zapisali się do listy odbiorców. filters. For new subscribers, it shows them that you respect their privacy and will not abuse your access to their email inbox. Furthermore, if any recipient of your newsletter claims that you are sending unwanted mail, the Double Opt-in method gives you the specific date, time and even IP address of the initial consent to be added to your mailing list.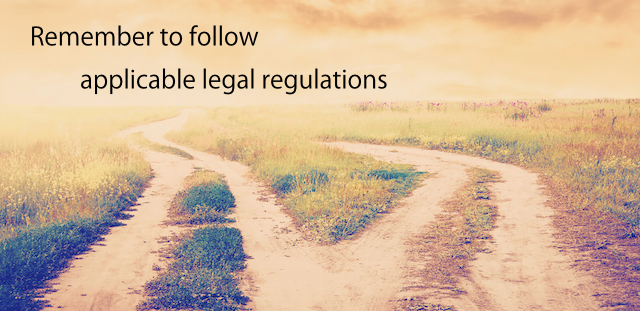 Consent for receiving commercial messages by electronic means
Remember that you need new subscribers give their consent to receive commercial messages from you delivered by email. It must be clear that the information you collect - email addresses - will be stored by you in a responsible and professional manner and that the purpose of retaining the addresses is commercial in nature.
There are two ways to obtain this consent.
Display the terms on your signup form
You can make the terms and conditions clear at the time new subscribers choose to join your mailing list by entering their personal information in your signup form. It's best to list the two types of consent - to both receiving messages and to having their email address stored - separately so as to make it clear that they are two distinct issues.
Display the terms in your confirmation email
You can see the second option here. In the Double Opt-In model, you send an email to new subscribers asking them to confirm their desire to be added to your database. Use this confirmation email to explain the terms and conditions of receiving your newsletter, including clear information regarding giving you consent to send messages electronically and to store the personal data of subscribers.
Remember that the collection and storage of personal data for commercial purposes is subject to the applicable rules and regulations of your jurisdiction. Make sure that you are in compliance with all such legal obligations as part of your email marketing activities.
It's easy to fullfil your legal obligations to your subscribers and follow standard good practices at the same time with a text like the one Chanel includes in their newsletters:
Database hygiene
When creating and building your subscriber database, always be aware of the need to maintain a clean list of addresses, or database 'hygiene'. By this we mean maintaining the quality of the list through careful monitoring of the number of 'bounces' that occur during each campaign you send. As a reminder, there are two types of message bounces. A 'soft' bounce happens when your message was not delivered because, for example, the subscriber's inbox was full or the message could not be delivered for technical reasons.
A 'hard' bounce is when your message was not delivered because the the subscriber's address does not exist. Repeated bounces from the same recipient indicate that address is no longer valid and should be deleted from the subscriber list. Use the settings in your account to automatically delete addresses that bounces a certain number of consecutive times. Keeping such addresses in your database is pointless as they will not bring any benefits, only hurt the statistical performance of your campaign. Remember, when it comes to addresses in your subscriber database, more is not always better - active, functioning addresses are better.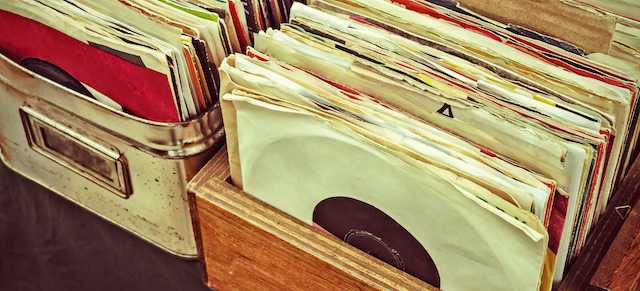 Resignation links
Respect for your subscribers, good email marketing practices and applicable law all require you to make it easy for anyone wishing to unsubscribe from your mailing list to do so. Resignation links enabling any subscriber to leave your database should be easy to find and places in every email that you send. It's a good idea to ask anyone who unsubscribes if they are willing to tell you why they have decided to do so but they should have no obligation to answer. Such information can help you to make necessary changes to your message and alert you to problems that you may not have noticed, helping you to avoid similar mistakes in the future.
Welcome email
Getting new subscribers to your newsletter is hard enough but keeping them and engaging them is an even bigger challenge. Successful email marketing depends on building relationships with customers and, just as in real life, first impressions count.
Just as customers expect to have a pleasant experience in a physical store, they also want the same experience when dealing with a virtual retailer. You should set the tone immediately after new subscribers join your mailing list with an email welcoming and thanking them. Use the opportunity to better introduce yourself and your company or organization, explain what kind of messages you will be sending and how often or even to send an incentive to buy now in the form of a coupon, discount code or other promotional tool. It's also a good idea to ask that your sending address be added to the recipient's address book or safe list to ensure that future messages are properly received.
Look at this great example from the fashion label Forever 21. Right away, new subscribers are welcomed to the club with a 21% discount (get it? 21?) off one item that they get by using a special code given in the mail. Any and all contact information a new subscriber could possibly want is there - social media buttons, toll-free phone number and even links to things like a store directory. There's also a request that recipients add Forever 21's address to their address book to ensure proper delivery of future messages. Most importantly, there is clear and simple language explaining why subscribers got the message ("You received this message because….") and a link allowing anyone who wants to unsubscribe to do so.
Dorothy Perkins also welcomes new additions to their newsletter mailing list with a discount, this time applied to the whole order. Their welcome mail features a more prominent graphic asking subscribers to add the address to their contacts to make sure that future mails don't go to the wrong folder. Everything is there - unsubscribe link, physical location and lots of links to other offers that new subscribers might find interesting.
Collecting email addresses in e-commerce
Using pop-ups
When you see an increase in traffic to your internet store, you should immediately think about how to get those visitors to join your newsletter subscriber list. Use a pop-up to display an invitation to get information directly from you via email. If you think this method might be a bit too aggressive, then check Google Analytics to see which page on your site gets the most visits and put a sign-up form there.
When using pop-ups, remember to include things like:
a discounted offer for subscribers
access to special offers
priority access to offers
instant rebates
a mention of how often subscribers will receive messages
Look at those good examples of how to use pop-ups.
What's done right in here:
offering special content
clear CTA
clever newsletter sign-up resignation
What's done right in here:
clear explanation of what you getting
bright CTA color
Create a sign-up form on your web page
There are lots of places on your website where you can easily add a sign-up form for your newsletter. For example, if you use a slide-style presentation on your home page, why not add a slide reminding visitors that they can get access to special offers and discounts by joining your mailing list?
Wherever you place it, make sure that it gets attention. Here are a few tips that have proven to be effective for increasing the number of sign-ups to newsletters:
use bright colors
use large fonts in colors different than those found on the website
include financial incentives to sign up like rebates or discounts on first orders
make a reference to the number of people already on the list
Here's a great example of a sign-up form.
Don't make the mistake of burying your sign-up form in some deep dark corner of your site like this company did.

Getting addresses at points of sale
If you run a physical store, don't forget about the ROPO (research online, purchase offline) effect that email marketing can have? Customers visiting your point of sale are also potential additions to your subscriber database.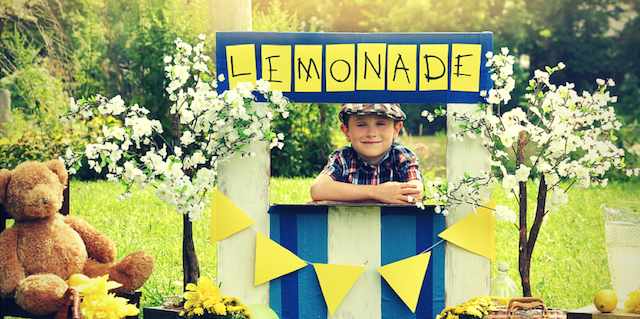 There are lots of ways to get addresses from points of sale:
start a customer rewards program and use a paper sign-up form
when giving a receipt after a purchase, include a small leaflet with information about the newsletter and use a dedicated website for adding new subscribers
create an in-store display announcing the benefits of joining your subscriber list
leave printed information about your newsletter at places convenient for your customers at the point of sale
use a program to allow you to get sign-ups on a tablet in-store
Remember that personal details given to you on paper should also be stored in an appropriate and secure manner. Try to transfer them to your digital database as soon as possible.
Getting addresses over a drink
Traditional stores are not the only physical environment where you can organize efforts to add to your subscriber database - restaurants and similar establishments can also be great places to encourage customers to sign up for your newsletter.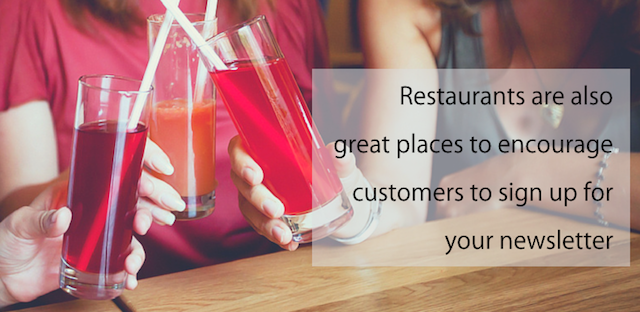 It's always best to keep it simple:
leave a paper sign-up form on your bar or in your lounge
install a mobile application for tablets for your staff to use
add a sign-up form to your electronically printed customer checks with an instant discount for joining today
Don't forget to mention your newsletter on your internet page as well. Encourage visitors to leave their address with a code for a free drink or dessert. The code can be sent in your welcoming mail - setting it up is easy and the FreshMail system can take care of the rest!
Collecting addresses during conferences and workshops
Share valuable content
If you are conducting any kind of training session or material for professional meetings, then you surely have a lot of content to share, and content is what drives business on the internet. It's definitely worth your while to share your content on your blog, web page or other online presence. Use this opportunity to promote your newsletter and ask readers to leave their email addresses and join your mailing list.
Remember that you can also restrict your valuable or popular content to those who subscribe to your newsletter. Use pop-ups to inform anyone who tries to access that content that all they have to do is leave their email address and everything will be at their fingertips.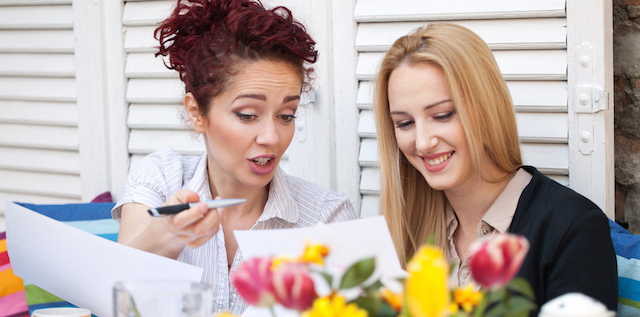 Get new subscribers during workshops
We all like to be a critic. Take advantage of this by preparing a survey after a training session or workshop to ask participants what they thought about it and inform everyone that you will share the results with them - by email. Lots of attendees will want to know what others think and will agree to join your database in order to find out.
Do it the right way…
Remember that paper sign-up forms can sometimes be difficult to read when it's time to transfer them to your digital database. Make sure to prepare your paper form with individual boxes for letters and characters in email addresses to minimize the chances of being unable to read them later.
Collecting addresses in tourism
Create a customer reward program
An emphasis on joining customer rewards programs should be made at every point of contact with potential customers - both online and in offices. Prepare a simple and easily understood incentive program that gives customers a discount for each additional holiday purchase. Make it clear that joining the program is conditional upon filling out a form that includes the customer's email address.
Remember that paper sign-up forms can sometimes be difficult to read when it's time to transfer them to your digital database. Make sure to prepare your paper form with individual boxes for letters and characters in email addresses to minimize the chances of being unable to read them later.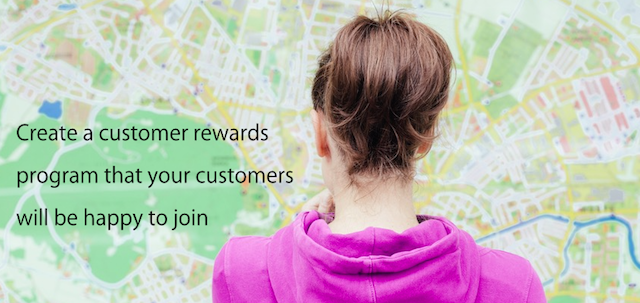 Use mobile devices
Use a tablet or mobile device to sign new subscribers up directly to your database. Make it clear to everyone that:
their personal data is safe
their personal data will not be shared with third parties
they will not receive an irritatingly high number of messages
they can unsubscribe from the list at any time
subscribers to the newsletter get special offers and discounts
Let hotel guests rate their stay
Leave a survey form in every room asking guests to give you their opinion about the room and other aspects of their stay. Not only will you get valuable insights into the strengths and weaknesses of your hotel but you also add to your database.
Put a sign-up form on your web page
Those looking for accommodation will eventually visit your web page. Ask them to subscribe to your newsletter by offering some kind of incentive - discounts, upgrades, etc. Not only do you add to your database, but you just might get a customer out of it as well.