Modal Survey
Creates surveys with open and closed questions

Creates quizzes with answers

Organizes voting

Examines results in the form of an interactive charts
To assure a high level of quality and customer service, you should conduct surveys and do market research to get a better understanding of the interests, needs and problems of your subscribers. The Modal Survey plugin from WordPress will help you get it done. After integrating with FreshMail, you will be able to collect email addresses from those who completed surveys.
Easily design and create surveys
You don't have to know how to code in order to place surveys on website. Creating your own with Modal Survey is simple and you can customise everything about them in an interface that is easy to use.
The designer lets you modify surveys and quizzes to suit your needs by using hundreds of Google fonts, color settings, shapes, positioning on the page, backgrounds, frames and much more. Everything can be enhanced with animations as well. The setting look like this: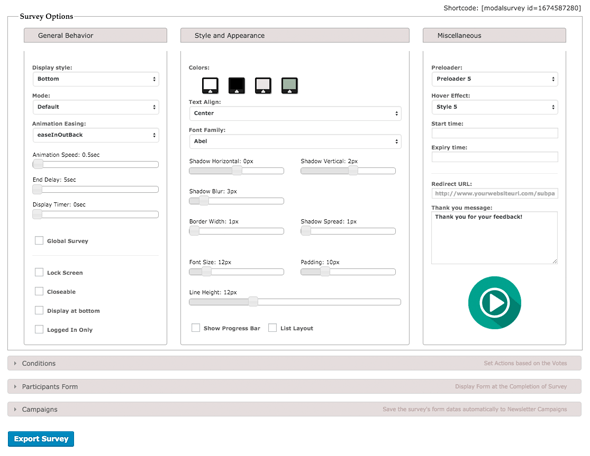 The surveys you make can appear whenever you want. It could be at the moment visitors arrive on a site, after they spend a certain amount of time there or when they reach a certain point on the page. This is an important tool since some surveys may be related to how familiar visitors are with you page.
The results of the survey are presented in charts, which makes reading and analysing them very straightforward.
Integration with FreshMail
The Modal Survey plugin can be integrated with FreshMail and help you build your subscriber database.
To get started, go to the Participants Form tab (see the screen below) and arrange for the system to automatically add a sign-up form at the end of the survey. Then go to the Campaigns tab, just below, and select the "Enable FreshMail" option. Enter your API key and API secret along with the hashtag of your FreshMail lists and you're set.
Now, anyone who enters their address on one of your surveys will be added to your subscriber lists.