Popup Manager
Creates surveys with open and closed questions

Managing popups

Collecting mailing lists through WordPress and saving addresses in FreshMail
To integrate Popup Manager with FreshMail and collect email addresses, go to the plugin page or log in to WordPress, from the left-hand menu select Plugins -> Add new and on the right side in the search field enter "Popup manager"
Next go to your FreshMail account and from the top menu select "Subscribers".

This is where you will see all of your mailing lists. If you don't have any yet, create a new one by clicking the white "Create list" button and then fill in the name of the Name and Description. If you already have a list, go to the next step.
Click on the list to which you want to add addresses gathered from the popup. On the menu on the left, select Signup form and then Subscription form creator. Scroll down to the bottom, where you will find the HTML code and copy all of it. That's your sign-up form.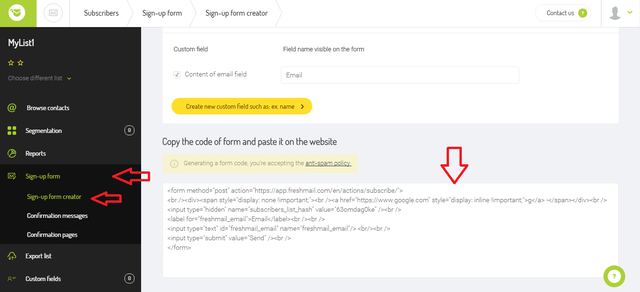 Now log in to your WordPress account and from the menu on the left select Popup Manager and then Add new. In the first step click the Email button in order to display the templates for popups that gather email addresses. Select the one you want and go to the second step, where you will need the code for the signup form from your FreshMail panel. Paste it into the text field labeled Email Form Configuration and the list of supported email marketing systems.
The next step is about choosing the kind of introductory animation, appearance and time or trigger for your popup. When you set all the options the way want you want them, go to the fifth step, where you will receive a shortened code for activating your popup.

This code ( [popup_manager id="1"] in the example shown) can be pasted wherever you want your popup to appear. Remember that if you paste it into a static page, you have to use the text view instead of the visual view: