Zapier
Pair a multitude of apps available in Zapier with FreshMail
Automate the process of data exchange between apps
Boost your work efficiency and save time
Zapier – integration on a new level!
We would like to introduce you to FreshMail 2 – a new version of our plug-in! With this new integration, you will not only add and remove new email addresses or send transactional emails but also update your existing list of addresses. The new plug-in also introduces a novel authentication mechanism – API keys are replaced with the bearer token, which is much more convenient to both use and manage.
In addition to the current advantages of the newest plug-in FreshMail 2, we plan to enhance it with new functions, such as:
creating templates and sending email campaigns, 

adding or removing tags assigned to particular subscribers,

adding or removing specific email addresses from subscriber groups,

sending text message campaigns.
In the future, our plan is to add triggers, including:
email bounces, message opens or clicks on links,

the addition of a subscriber to the list or their removal, 

the creation and sending of a new campaign.
If you're still using the old version of the plug-in, you first must re-authorize it to upgrade it to its newer version. Check the INSTRUCTIONS to find out how to do this.
The old version will no longer be developed, and it is scheduled for expiry in the coming months.
What is Zapier and what opportunities does it offer?
Zapier is a tool that helps you to connect to various applications and automates the flow of information between them. You don't have to have any tech knowledge and a few clicks is enough to integrate FreshMail with countless applications and internet tools like Gmail, PayPal, ZenDesk and Unbounce. You'll find a full list at Zapier.com.

How does it work?
Zapier's simple interface will enable you to integrate FreshMail with an unlimited number of websites and apps.
If you still have no FreshMail account, you can set it up easily

here

.

You also need to open a

Zapier account.

Go to

Dashboard

and click: "Make a Zap!". Select a Trigger, such as adding a new email address in Gmail. Then select an action, such as adding a contact to your mailing list in your FreshMail account.
This is how Zapier works. An action performed on one site results in an action taking place on another site.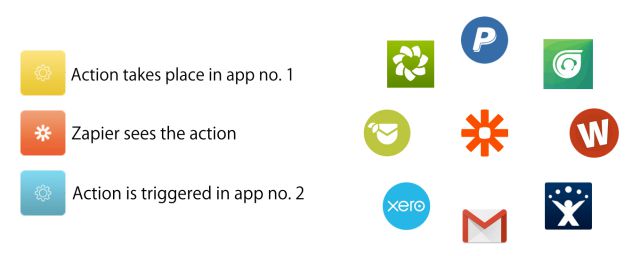 For example, sending an email to a specific address in Gmail causes one of five actions in FreshMail.
FreshMail allows you to perform the following actions:

Add Contact – a specific action on one site will add an email address to your subscriber list in FreshMail.
Update Contact (new version only!) – a specific action will update your subscriber's details on a selected, existing subscriber list in FreshMail.
Add or Update Contact (new version only!) – a specific action will add or update the subscriber to your subscriber list in FreshMail.
Delete Contact – a specific action on a particular site will trigger the removal of a specific email address from your subscriber list in FreshMail.
Send Transactional Email – a specific action on one site will mean that an email with transactional email content of our choosing will be sent to a specific contact (email address).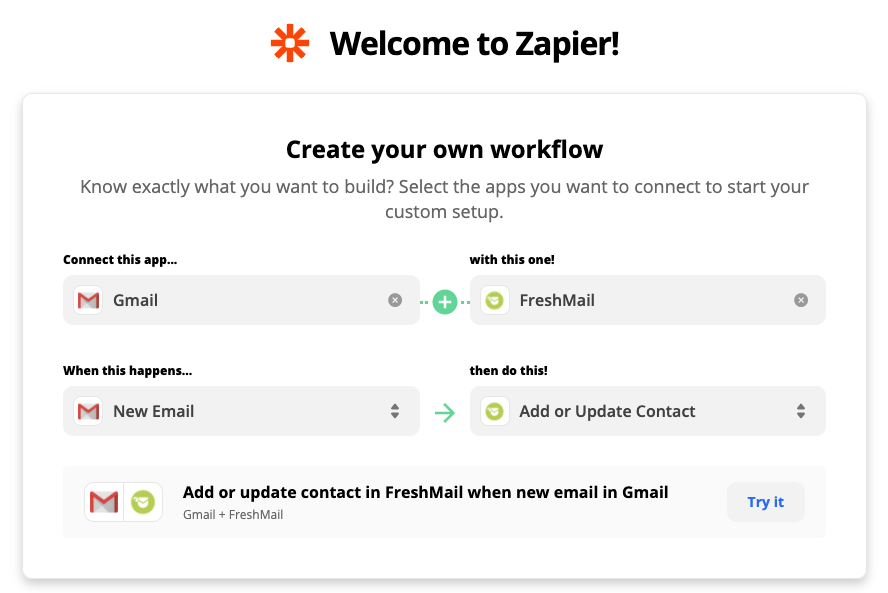 See sample Zaps
Below you will find sample integrations. You can find the full list here.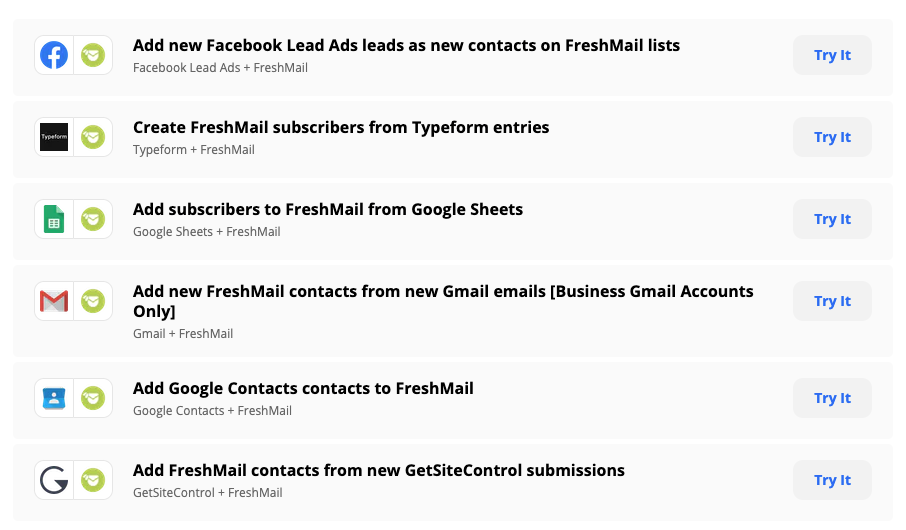 Other plugins

Start building your newsletter subscriber list and maximise the sales potential of your Magento store.
Magento 2.x

Synchronize subscribers of Magento (1.0 – 1.8) build in newsletters with your FreshMail account.
Magento 1.0-1.8

Use data from Google Analytics to increase your goal conversion rate.
Google Analytics
Show more