FreshMail has always valued the opinion of our users so we have collected their opinions and decided to share them with you and present features that a good mass mailing system should have. According to our customers, these are the 12 features that a good mass mailing system must have.
1. Easy to use
It's no surprise that this is a key feature of a good mass mailing system. Complicated tools not only extend the time of your work but can also discourage you from using them. A simple and intuitive system enables you to enjoy the process of creating your campaigns, it does not take more time that it is really necessary and it allows you to prepare everything without the help of third parties.
2. Expert support
The support of experts is necessary even if the system is simple and intuitive. There can always be a situation in which you will need assistance. Easy access to support and quick contact with experts constitute another part of the basis for a good mass mailing system. Our customers love our Customer Service Center and our Emergency Response Team knows FreshMail inside out. You can contact us from Monday to Friday from 7:00 am to 11:00 pm.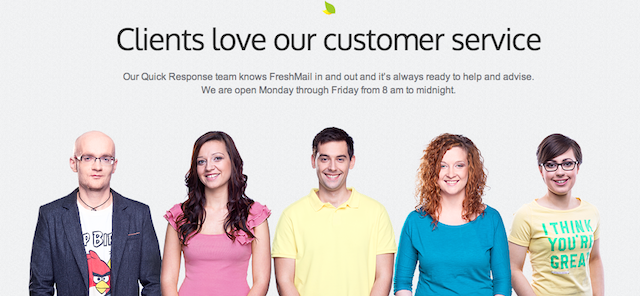 3. Good email creation tools
Not everyone is a specialist in the field of creating emails. The HTML code is, for a large number of people, highly unmanageable and as we know most mass mailings are based on this code. That is why it is of paramount importance to use a tool that will facilitate the process of creating your emails. FreshMail Designer is a great example of how easy it can be to create professional emails without worrying about HTML code. Using "drag & drop", you can select various blocks and use them to create a professional template. You can learn more about the FreshMail Designer in our guidebook.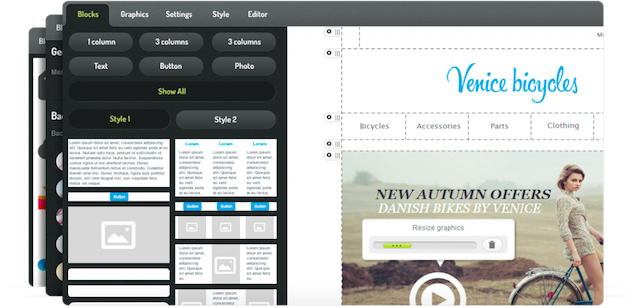 4. Availability of different templates
Like I said above, not everybody is good at creating. This isn't a problem, though, because FreshMail offers ready-made templates to help you design the email that's right for you. The huge selection of templates combined with the ability to customize almost everything means that the possibilities are endless. Whatever design you have in your head, you can make it in FreshMail.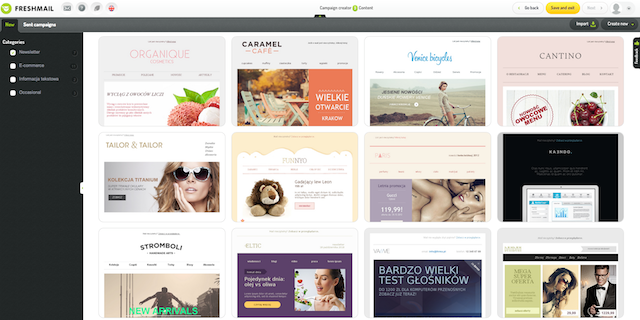 5. Optimization supporting tools
A good mass mailing system should also give you the possibility of testing your own creations. Not checking your campaigns means missing out on a lot of information that can help you in the future. Probably the most basic tests are those that allow you to see your messages in the same way they will be viewed by your recipients and inbox tests that will show what your email will look like in various commonly used email providers. Another very useful function is an analysis of the HTML code used in your email, which will help you to verify that everything is arranged so that it displays properly. These tests can help you to avoid mistakes that would otherwise result in many of your messages never being opened or read.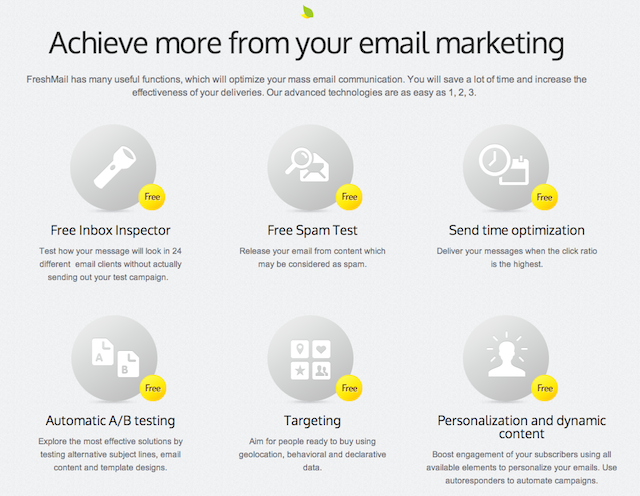 Other useful applications give you the possibility to see what names used in the 'subject' and 'from' lines of your email are more likely to be opened by your subscribers and the optimal time of day to send your campaign. 
6. Anti-spam analysis
The biggest fear of those preparing email campaigns is the possibility of their messages being labeled as spam. Having a tool to use to help you avoid this is crucial. The anti-spam analysis and spam tests in FreshMail make it possible for you to check if your email contains elements that can increase such a risk.

7. The ability to segment your database
Remember that well-personalized mailings will be better received by your recipients. To create such campaigns, you will need a tool that will make it easier for you to prepare highly personalized e-mails. That is why the possibility of using broadly defined segmentation is a very important feature of a good mass mailing system. The system should be capable of segmenting your database relying not only on the data included there but also based on subscriber actions, so-called "behavioral targeting".

8. The ability to automatize your actions
A good mass mailing system should be automatized. Repeatable and cyclic processes should be executed without your interference. These include sending confirmation messages after signing up for a newsletter, sending welcoming e-mails or sending reports to the indicated address after completing a campaign. This facilitates your work and saves time.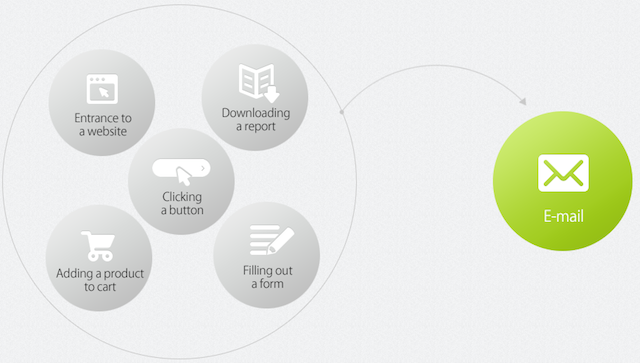 9. Expanded reporting
Another significant feature of a good mass mailing system is expanded reporting. The possibility of having insights into detailed and accurate statistics will help you become familiar with actions performed by your recipients which in consequence will help you find out more about their preferences.
Reports should give you as much information as possible – not only the number of e-mail messages opened but also the most popular domains among your recipients or in your geographic location. Of equal importance is that the statistics be updated on a regular basis – without having to wait for them to be updated. FreshMail lets you see the results of subscriber actions immediately. 
Reports should also enable you to measure the effectiveness of your campaign by means of other programs which can be integrated with the system. An excellent solution for this is integration with Google Analytics, a program that allows you to check the number of visits on your website that are a direct result of your campaign.
You can check the statistics not only in Google Analytics but also in your FreshMail account. The statistics included in the reports you will enable you to compare and analyze your campaigns and make changes to areas that need improvement. When comparing campaigns, remember that it is important to examine them over the longest possible time periods – e.g. with last year's campaigns. This way, the measure of the effectiveness of your actions will be wider and more reliable.
10. Sending speed
The speed with which you can send your e-mails is another important matter. Available tools for mass mailing allow sending e-mails within several seconds (of course the time depends on the number of recipients). You don't need to wonder any longer if the dispatch of your campaign will take a whole day.
11. Deliverability
No system would work without having this crucial feature. A good mass mailing tool needs to ensure high deliverability in order to ensure that you reach all of your subscribers.
12. The ability to integrate with other platforms
A good mass mailing system should be capable of integrating with other tools such as recommendation systems, platforms which run on-line shops or analytic systems. Check which programs can be integrated with FreshMail.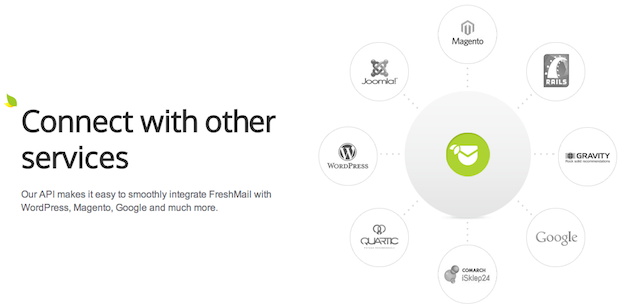 Good mailing systems have lots of functions which can facilitate and diversify the process of preparing your e-mail marketing campaigns. The twelve that I've listed here form the foundation of a good system - look around FreshMail to see additional features and benefits!