The ecommerce market has long recognized the need for a strong recommendation system. Exeperience has shown, however, that integrating such systems is time consuming and the results are often not worth the time and effort put into them. Thanks to new functionalities from FreshMail, you can now create simple recommendation systems that work all by yourself!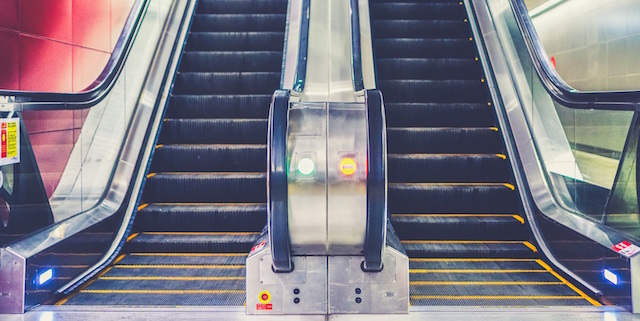 The benefits of introducing a recommendation system
Ecommerce defines a recommendation system as activities designed to propose products based on set assumptions. In simple terms, it makes customers aware of products they might be interested in. We all know that keeping customers we have and trying to sell more to them is cheaper than than gaining a new one.
In the case of new customers, the path to making a decision to buy online consists of two stages - considering the purchase and evaluating the competition. By contrast, regular customers who have already made bought something from a particular online store have a much shorter path. The "closing" of this funnel within a brand is possible with the help of a smart recommendation system. Newsletters are a great way to communicate these recommendations.
First step - targeting and segmentation
We always say that one of the first things you should be when preparing your campaign is to segment the database you are going to use. Until now, FreshMail has enabled you to segment based on:
declared data like name, address or interests
behavioral data like opening or not opening a certain message, clicking on a link
transactional data related to purchase history
Thanks to this arrangement of your database, you can adapt campaigns to the behavior of subscribers or to information they have shared with you. By creating segments that deliver appropriate offers and content, you avoid sending the same message to all subscribers. Now you can go one step further.

How to create a recommendation system with FreshMail
A recommendation system based on tagged links allows you to create segments of subscribers who have shown interest in specific categories of products in recent campaigns. The recommendations made depend on the behavior of recipients of your newsletter.
Let's start with an explanation of the tagging mechanism that makes it possible to create your first recommendation path.
Start with planning your tag links
Tags are simple stamps that let you appropriately organize your offer. Let's use the example of an internet store with camera and photography accessories to illustrate how they work.
In your store, you regularly make use of email marketing and send offers to subscribers in your database. In your next campaign, all you have to do is add links with tags that are associated with defined product categories like compact cameras, lenses, professional accessories and other gadgets. Just attach these tags to links in every newsletter that you send. Later, this will enable you to know which links were clicked by which subscribers in your database, when then allows you to group together those who displayed an interest in similar products.
You can add tag links in FreshMail in the fifth step of the campaing creator (Advanced). They will be visible each time you enable this option to make it easier to add the same tags to more than one campaign.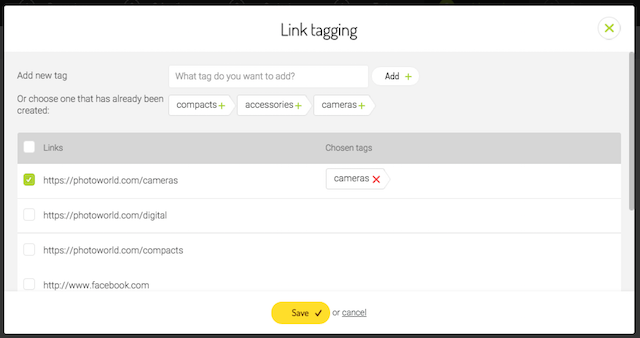 Create segments on the basis of clicks on tagged links
If you consistently tag the links in your campaigns, you are just a step away creating segments of users with similar interests and planning your own recommendation system.
Create segments within your subscriber database that include anyone who has shown an interest in a particular line of products in the last few months.

Staying with the example of a photography business, how can you use tagged links to promote a new offer? Anyone who clicked on a product in a certain category but didn't buy it (and you know which customers did this from your online commerce platform) should get an offer focused on a premium model in that same category.
Other possibilities created by using a recommendation system based on tags include a cross-selling newsletter with accessories or gadgets to those who have already bought a other products that match them (this allows you to present the offer in terms of items that go with something that has already been purchased).
Creating a simple recommendation system using email marketing has never been so easy. Just a few minutes invested in setting everything up can bring huge returns and drive your conversion rates to new heights.