Let's travel back in time for the sake of an experiment.
We're in 1917. This is one of the ads I found while reading the Electrical Experimenter magazine. Don't ask why, I had my reasons, but I was surprised to find so many interesting advertising examples and compare it to what we are getting today.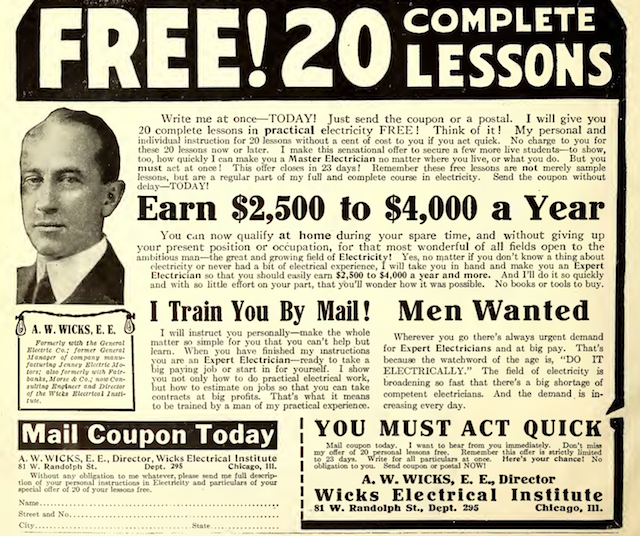 There is no doubt that we are living in a new era, and that certainly applies to marketing. But why are we still receiving something similar in our inboxes every day even though 100 years have passed?
All the triggers are here:
A.W. Wicks is a professional – you can trust him
There's a free trial – see for yourself
You can change your life and start earning more money - it's tempting
You must act now – you are not deciding rationally, but emotionally
I'm not saying it doesn't work anymore. It really does, it's basic psychology, and we fall for it. But the question is for how long? And is it possible even now to use messages that directly sell.
Here's another one from the same magazine: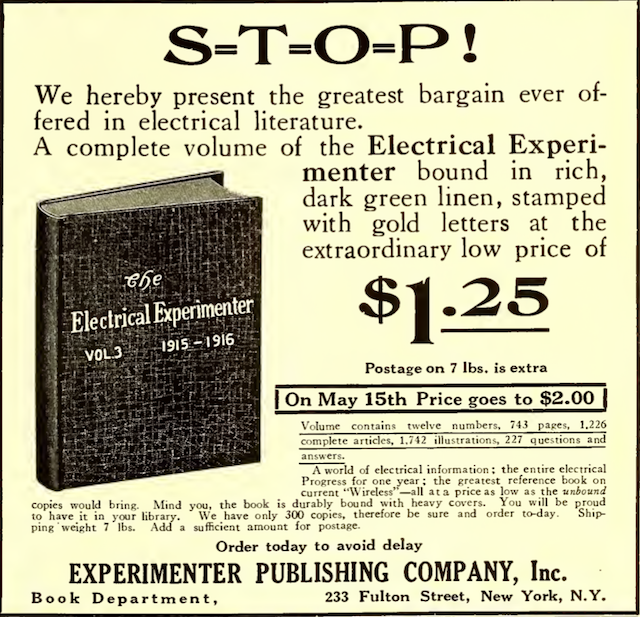 On the over-flooded market of today it's not enough to produce and sell, your company needs to step up the game and look for more sustainable ways to become visible, memorable and wanted. You can have the best product ever or produce something revolutionary, but if you don't tell the right story, you'll fail to reach your customers.
If you don't tell the right story, you'll fail to reach customers via @nina_cvijovic #emailmarketing #content Click to Tweet
Storytelling

Storytelling, nothing new, seriously. Cavemen did it. Big brands have been doing it for a long time.
The only difference is that the word is trending right now and we are starting to be aware that we've been storytellers all our lives and that using these skills is indispensable when it comes to marketing. Customers are very sensitive today to being sold to and they lack the time to rationally consider facts and details of your product or service.
Stories bring product to a higher level, they flow into your worldview, they trigger your irrational thinking and stick with you for a long time.
The Company can start a story and nurture it, but the consumer is the one that keeps it going. That's the biggest power of storytelling.
Note: If you're interested in the subject of storytelling, Seth Godin's book All Marketers Are Liars will help you see the full extent of it.
What about emails?
In one of his interviews, Terry Dean gave an example of a story he sent via email and how it turned out to be the piece of content people would remember for years:
"I wrote an email way back in 2000 about how the Internet allowed me to work from anywhere. I chose to live way out in the country where my nearest next door neighbor was a cow named Oscar. The cow was owned by the neighbor and regularly came up to fence to eat the grass on our side of the fence.
I sent one email about that. I've had dozens of people ask me about Oscar over the years. When speaking at conferences, people who were on my list way back then still ask about the cow...
They remembered the message of freedom I shared, because they remembered the story."
Story goes beyond words
It's your idea, your product, your values, it's the look of your website, the choice of colors or font style, it's about the words you choose, content you produce, and not to forget, your customer support is a big part of the story. Take a look at Bookmark's landing page video to get a sense of what kind of story they are relating and how you feel about it.
So the bigger picture of a brand story is not about how you describe it using words, but how you manage to connect every part of your business around the most important idea you follow.
Storytelling is also a writing skill that makes your content more memorable and interesting to read.
But here's the thing:
Having the skill and using it to tell a story means nothing if:
There's no bigger story to support it
It's dishonest
Every good story you write adds up to who you are and what you stand for. In the first place as a person, and then as person who is part of a company headed in the same direction.
Email marketing
Email campaigns are a great channel you can use for storytelling, because they are permission based. People believed in you in the first place and decided to hear more.
For your email newsletter you can combine words, images, gifs and even video content to create the whole picture and reach your customers.
Just take a look at FreshMail's app to get the idea of how beautiful and easy it is to be memorable. It's only your choice to decide what your strategy will be.
After I read Ann Handley's book Everybody Writes I subscribed to MarketingProfs just to see what kind of emails they send. It came as no surprise – they are good.
This is how they use a storytelling skill to talk about their new course: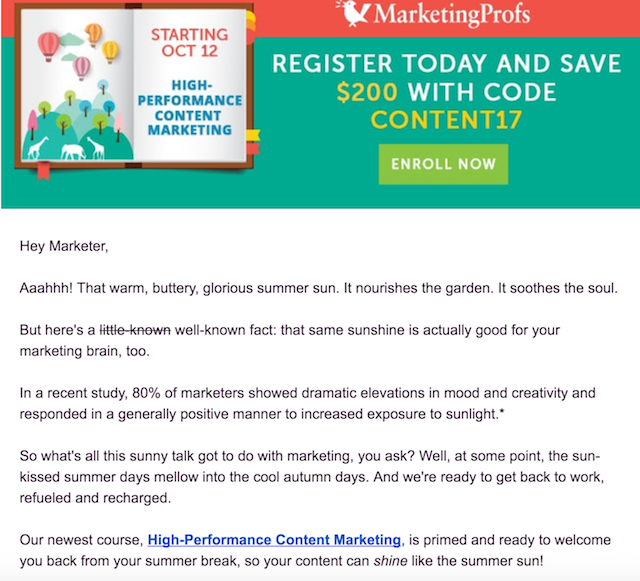 So what are they talking about here? It's the end of summer, we enjoyed our vacation and we are ready to start a new season. We are ready to invest in the better versions of ourselves. This kind of message resonates with the reader on a different level.
Look at another one: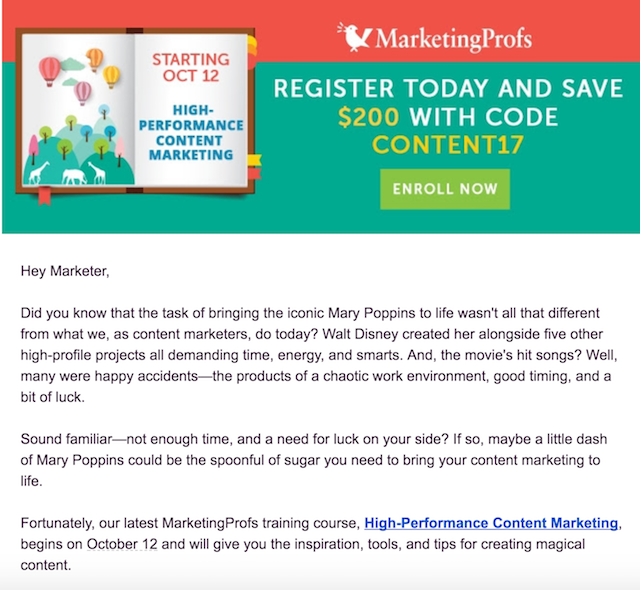 It's the Mary Poppins analogy, and I'm sure you felt the magic. Your brain can retrieve feelings you had when watching Mary Poppins as a kid, and connect it to content marketing offer.
Guess what, the next email I received was about Game of Thrones. Right on point.
Now let's make a little experiment.
How would you feel if they did it 1917 style:
Subject: Get your registration discount today
Register at once – Today. Just click on the button and save 200$. Think about it!
We can make you a master of high-performance content, no matter where you live, no matter what you do.
Start earning what you deserve.
You don't have to give up your job, because you can learn everything in your spare time. No matter if you have no knowledge about content or no experience, we will take you in hand and reinvent you. And we'll do it so quickly and with so little effort on your part that you'll wonder how it was possible. No books or other courses to buy.
Register today!
If I saw that subject line and that first sentence, my finger would instantly condemn it to trash. Of course, I exaggerated it a bit, but you get the point.
Here is something more natural and more up to date, definitely more sophisticated but the message is the same, you are here to be sold to and you need to decide now:
Subject line: You have two hours to claim this suit
First sentences: Go ahead and pinch yourself. The price ain't changing.
Now, don't get me wrong. I'm not saying you should never offer discounts and sell directly, or say what your product is made of. You should. From time to time.
But relying on it as your biggest marketing strategy is not sustainable.
You're not unique.
There is always something similar, and if people are not attached to you emotionally, they will find a next best offer and go there.
If you are unique, without a good story people won't be able to figure you out.
That is why storytelling really matters.
Don't you think so?