Our recipients' inboxes are constantly being flooded with thousands of messages. Here's how to make sure that your customers don't overlook your emails. Learn to stand out!
The subject of your message, along with the sender's name, is your calling card and the first thing people focus their attention on. It isn't easy to create an original subject to increase your Open Rate. There are, however, any number of special symbols to help you with this -  ✄ ♡ ☎, etc.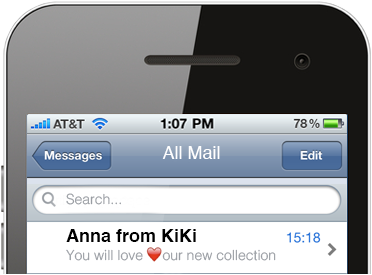 How do you add symbols to the subject line of a message?
FreshMail will help you to add special characters right in the message editor page. All you need to do is use the "insert symbol" button in the first step of the Campaign Creator - 'Parameters'.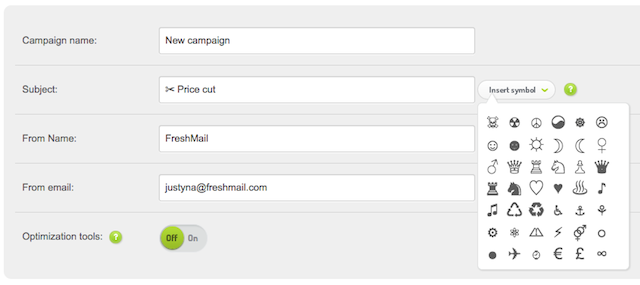 If you haven't found the right symbol in the FreshMail assortment, you can get more on the CopyPasteCharacter website. Just copy the symbol you like and paste it into the subject line of your message. Done!
Using symbols in a creative way
The Unicode alphabet is huge,  giving you almost limitless opportunities for giving your message line a little life or color. For example, if you're working as a travel agent, you can diversify your messages like this: 


or if you have an online store:

or if you are sending monthly newsletters.
Remember your target group
While creating the subject of your message, keep in mind that different segments of your subscribers behave differently. Sometimes adding special symbols might not always be the best idea. If you're not sure how your subscribers will react, test two versions of your subject by using A/B tests. This way you can find out which variant works best and improve your Open Rate.
Symbols definitely draw people's attention, especially those who are bored of looking through their inboxes. There are many possibilities. However, you need to use symbols in moderation. Too many such characters can make anti-spam filters flag redirect your messages away from a subscriber's inbox.
Which email applications display symbols?
We have researched the most popular email services and currently most of them accept symbols. You can check which inboxes will display symbols by sending a test campaign or an Inbox Test. When you are sending your campaign be sure to exclude from your mailing lists those email service providers that may not display symbols.  
Take a look at the examples below of symbols displayed on iPhones and iPads. Colorful symbols can be also viewed using outlook.com. Other email applications may only display black-and-white symbols.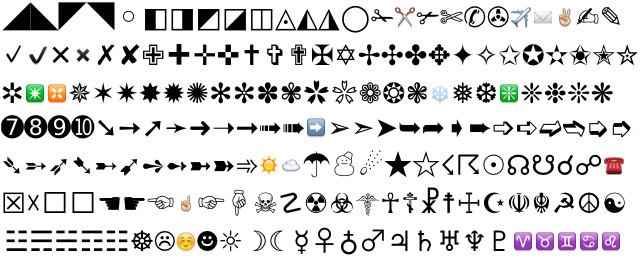 Show us what works for you!
Do you have examples of creative subjects with symbols in your inbox?
Share them with us. Comment and inspire others :)