What would happen if you couldn't send messages to your subscribers for a week or more during the holiday email rush? How would it affect your revenue if no one knew about your Cyber Monday sale? It could be disastrous to your bottom line, especially if you rely heavily on email marketing to drive traffic. Just look at Zulily: their stock experienced a 20% drop due to significant email deliverability issues in Q3 of 2014.
Busy time for email marketers
With less than 2 months until the retail holiday Black Friday and the ecommerce holiday Cyber Monday, now is the time to start preparing your email list for your holiday marketing efforts. Perhaps you've already been preparing your email marketing strategy, and you feel pretty good about how well you've thought through this year's campaign. Hopefully you've embraced mobile design, and made sure your landing pages are mobile friendly. While it's great to be prepared, none of this matters if your message doesn't get delivered.
Historically, the weeks leading up to Black Friday, and particularly the day of, bounces, deliverability issues, and blacklists go through the roof. It's logical to understand why: everyone is trying to get their sale in front of potential buyers. While there are plenty of reasons your deliverability can suffer during the holiday rush, we are going to focus on blacklists.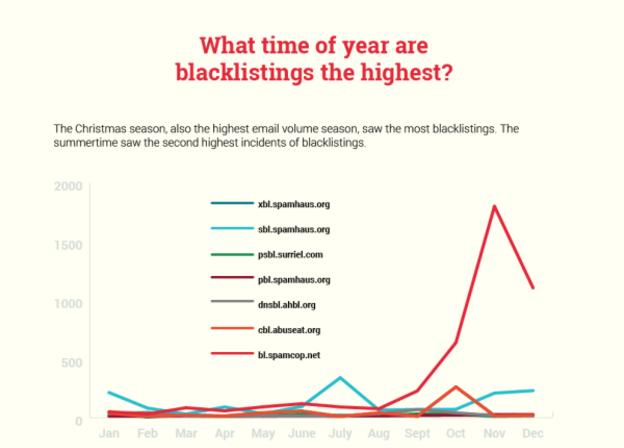 Let's focus on blacklists
It's important to understand what causes a blacklisting, and the necessary steps to prevent it from happening.
A blacklist is used by inbox providers and ISPs to identify and block senders that have been identified as spammers. Depending on the popularity of a blacklist, one single listing can result in as much as 60% of a sender's email being undeliverable. It's easy for a "good sender" to get labeled as a spammer and get blacklisted. What's even worse is that many of the factors that cause blacklistings can be prevented in the first place.
typos in email addresses
spam traps on your email list
sending to a purchased email list
sending to an old email list
sending to subscribers who have not received mail from you in a long time
sending to non-permission based email addresses
understanding what constitutes permission-based
volume of email being sent
seasonal fatigue
spam complaints
high bounce rates
Blacklistings can last anywhere from one day to fifteen days, with 68% lasting around six days. What would happen if you were blacklisted a few days before Black Friday or Cyber Monday and couldn't engage with your customers until after the holiday?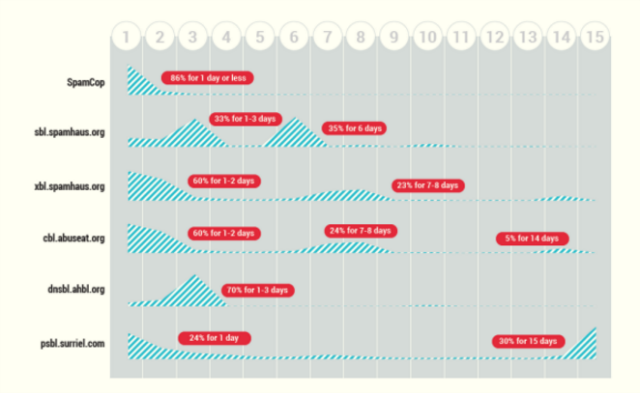 How to prevent blacklisting?
While all marketers experience deliverability issues, the extent of the problem is often correlated with the quality of data on an email list. Fortunately, email data quality issues are easy to get under control with a few proactive steps. The best way to handle a blacklisting is to prevent it from happening in the first place.
Perform an email list audit first.
Send a reconfirm campaign to inactive subscribers.
Ensure your email sending infrastructure is set up properly.
Always use double optin or confirmed optin.
Never buy an email list.