Email service providers constantly try to create mechanisms that can distinguish spammers from marketers who are operating on the principle of permission marketing. The purpose of these efforts is to ensure that only valuable and interesting content reaches our inboxes.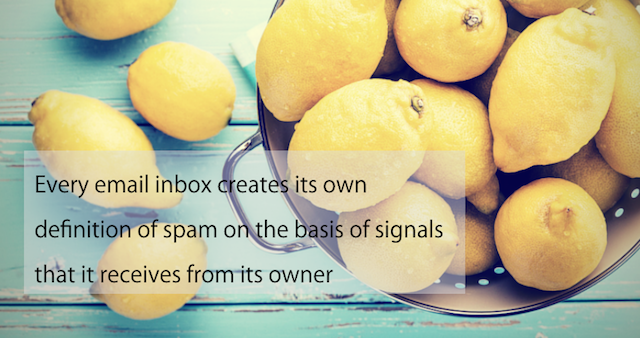 In February of 2015, the Email Evolution Conference took place in Miami and featured a discussion panel with representatives from Gmail, Outlook and AOL responsible for message deliverability. Information about how the almost mythical "engagement rate" - an indicator of whether or not a message should land in inboxes - is measured was discussed in a public forum for the first time.
Given the influence that Gmail has on deliverability as a result of their dominance as an email service provider, you might be interested in learning more about what they have to say about making sure your messages reach inboxes instead of spam folders.
There's more than one definition of spam
We all know the dictionary definition of spam and lots of readers of FreshMail's blog have also read the legal definition as well. For most email service providers, however, there is no one consistent definition of what spam is. In fact, every email inbox creates its own definition of spam on the basis of signals that it receives from its owner. From a marketer's perspective, it's very important that there be more positive signals than negative.
6 positive signals that increase your deliverability 
It's obvious that the content of your mail is important to anyone who opens it. This is why it's crucial that you only send content that will interest your subscribers. Part of the marketer's job is to use A/B tests to see what is best received by various lists of subscribers.
My experience tells me that when starting a conversation with new subscribers, you should do everything you can to minimize the distance between you. Part of this is using the name of an actual person for your sender name - Mike Smith - or connect a name with the company - Mike Smith from GeoIndustries. In email communication, people trust individuals more than entire companies. Remember that email inboxes are one of the most private, personal places that we have on the internet.
If you already know what sender name works best for your campaigns, focus on optimizing the subject of your messages and the time frame when you send it. Remember that the title of your email is one of the first bits of information that recipients notice and it needs to be intriguing enough to make them open the message. For example, you will probably agree that a title like "August, 2015 Newsletter" isn't really going to get anyone excited.
While taking part in panel discussion mentioned earlier, Paul Rock (AOL), Sri Somanchi (Gmail) and John Scarrow (Outlook.com) clearly explained their positions on the subject of the monitoring the number of clicks a user makes in an email and the influence it would have on deliverability. Such activities would violate the privacy of email users and that's why this strategy is not used.
The experience of FreshMail users shows, however, that those who have a higher CTR also have higher deliverability. Of course, this may be a result of the fact that they are sending valuable and interesting content as well. Nevertheless, an analysis of campaign results should also examine this indicator.
If a subscriber moves your message to another folder, it's a signal for email service providers that the message is considered to be important. The same thing applies to triggers that automatically move messages from one folder to another.
So what should a marketer do? It's a good idea to use autoresponders and create a short educational program with text that doesn't become outdated. When starting out with a new subscriber, try something like "Over the next 7 days I'm going to send you useful and current content on this topic. These messages will be worth coming back to so why not create a special folder where you can store them."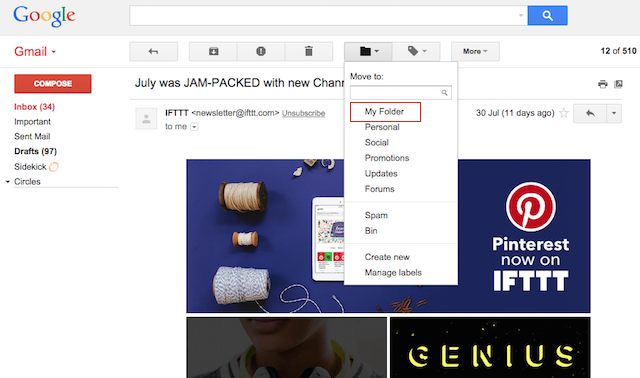 It's even better if you show him how to do it using dynamic content and, depending on the type of inbox, provide simple instructions.
If antispam mechanisms see that we have responded to an email, they will consider that mail to be important to us and correspondingly increase the reputation of the sender. For marketers, one-to-one, back and forth communication with every subscriber seems impossible. They are not in a position to read thousands of emails or answer them completely. So what can they do?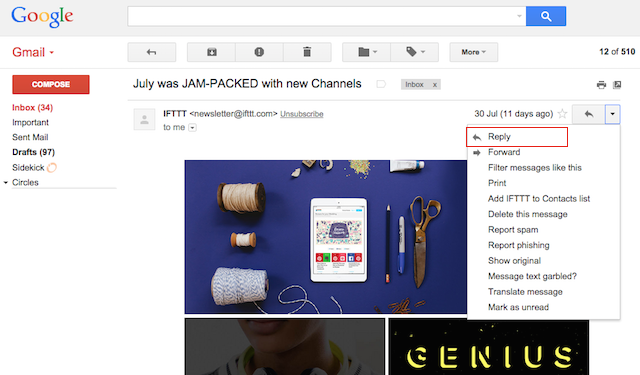 In the initial phase of correspondence with subscribers, I would suggest that you make use of the phrase "If you have any questions, don't hesitate to write to me". Your subscriber list, especially in the early period, will not grow as fast as you would like. If in the first week of your relationship you convince a few subscribers to write to you, you will manage to answer manually.
This is another signal for antispam systems that the information in a message is important to the recipient. The first way to achieve this is to ask in the welcome email that new subscribers add the sender's address to the recipient's contact lists. It's even better if you show how it's done.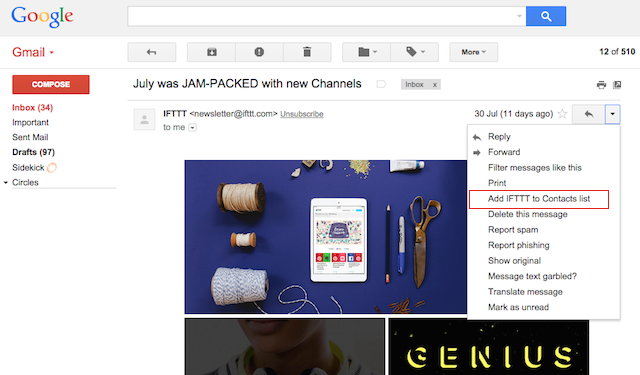 The second way is to start a dialogue with subscribers in which they write to you, as mentioned in Signal 4. This activity automatically causes the address to be added to the list of contacts. This is why it's important that you don't use a "reply to" address that is different than the one found in the "sender's address" field.
Probably one of the best ways to build your reputation among anitspam filters is to show them that something that they identified as spam actually isn't. Marketers often consciously use this fact when creating subscription confirmation messages that automatically land in spam folders. After sending it, new subscribers are asked to check there in order to confirm their subscriptions. Marketers are counting on the the fact that most new subscribers will want to open the message to click on the link. By doing so they mark the message as not being spam.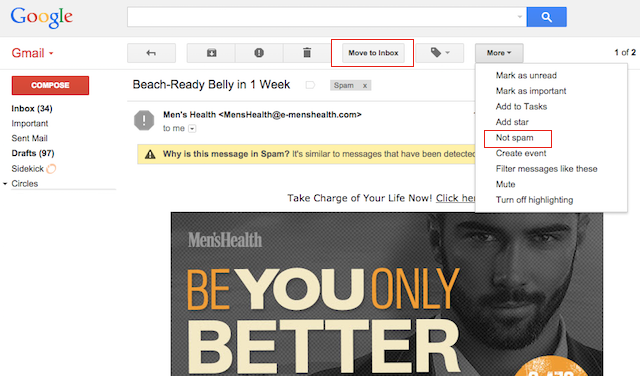 4 negative signals that kill your deliverability
If recipients mark a message as spam, it is a very strong signal for spam filters to lower the reputation of the sender. What can you do to avoid this?
Research conducted by Litmus and the results of tests we have run indicate that the main reason that subscribers resign from a newsletter is that they received too many messages from the sender. The second most common reason is that the newsletters failed to interest the recipients. It's fair to assume that these are also the reasons that drive subscribers to mark messages as spam.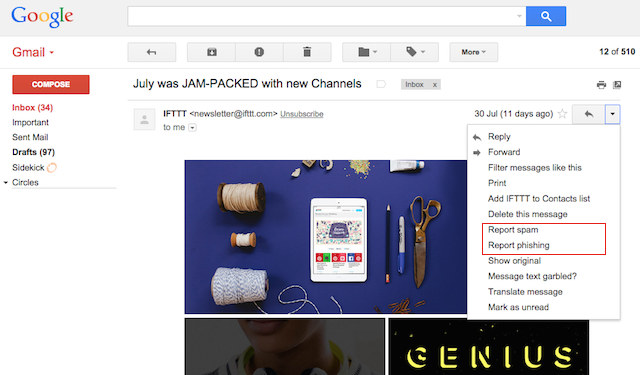 Of course, there are other possible reasons that could cause that button to be clicked. First of all, it could be because someone never signed up to your subscriber list to begin with and you obtained their address through a method that is inconsistent with the law or good practices, like buying addresses or using the single opt-in model. Secondly, the reason could be that people who want to unsbuscribe but can't find a resignation link instead decide to mark your message as spam. This is another reason to make sure that your resignation link is always visible in your newsletter.
A bad signal for antispam filters is when your subscribers delete your message without opening it. It's important that this doesn't continue permanently. This is why it's worth using behavioral targeting and sending completely different messages to subscribers that didn't open your last message. It might also be worth thinking about optimizing the "sender" field of your message or the day of the week and time of day that you are sending your campaigns.

Gmail and other email service providers believe that email marketing operates on the concept of permission marketing, as created by Seth Godin. This is why every subscriber should always have the right to easily resign from your newsletter. If a marketer doesn't allow this or doesn't respect the will of anyone who resigns and puts them back on the list, he will have serious problems in getting his campaigns delivered.
During the conference mentioned earlier, Sri Somanchi from Gmail's Anti-Spam Team stated directly that if a message contains a commercial campaign or newsletter, it should be directed to the "promotions" tab. After all, that's what the tab is for. If a marketer tries to cheat the system, Gmail will definitely find out and the sender will have problems getting his messages delivered.
Don't be afraid of the "promotions" tab. Research done by ReturnPatch shows that if you manage your content well and focus on engaging your subscribers you will still get the results you are looking for.
Ways you can increase your deliverability
FreshMail has an agile mechanism that lets you automatically divide your database into those who regularly open your mails (the group where you don't need to change anything) and those who open them less regularly. You can also create a segment that will include those who haven't opened messages from you for more than a year. It's worth considering if it might be worth deleting that last group from your database.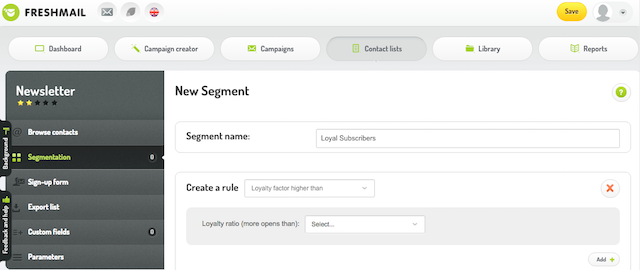 But before you do that, change the address of the sender and prepare a campaign with personalized messages for each subscriber. Mention that you know that they haven't opened a message from you for some time and out of respect for their privacy, they won't receive further messages from you if they don't want to. All they need to do is click a special link. If you run an e-commerce business you can offer a special discount to try to keep them interested in your offer.
It's also a good idea to create a group of subscribers with a rather low level of loyalty, say from 1% to 35%. For this group, optimize the frequency of your communication with them. If you have been sending them daily campaigns, change it to once a week. If you've been sending weekly newsletters, change it to once a month.
Antispam filters really don't like when we send email marketing communication to addresses that don't exist (hard bounces). In FreshMail, you can easily set up a functionality that will automatically clean your database of such addresses. If you send your campaigns more than once a week, we recommend setting it to delete addresses after two hard bounces in a row or three soft bounces.

If you collect email addresses on the internet, remember to always do so using the double opt-in method. Doing so assures you that the given address actually exists, thus eliminating hard bounces, and that the person who provided the address really owns it. This assures that they will likely open your messages and send another positive signal to spam filters. Also, no one will be able to add "spamtraps" to your database and ruin your deliverability.
Recipients of email marketing communication expect content that is tailored to their needs. Use dynamic content and personalization mechanisms to create unique compositions for each of your subscribers.
Remember that this advice applies to every marketer, whether you are sending campaigns to 100 customers or 100,000. Always pay attention to how engaged your subscribers are and good luck in your next campaign!