What to use for your "from email"?
DMARC - a new way to fight email abuse
Giants of the internet like Google, Yahoo, Microsoft, Facebook and others have implemented the DMARC security system to combat the abuse of email.
DMARC (Domain-based Message Authentication, Reporting & Conformance) is meant to guarantee that emails you get were in fact sent by the address shown in the "sender" field. By verifying the sender address, DMARC aims to combat deliberately misleading emails that attempt to obtain information under false pretenses or otherwise threaten the security of message recipients.
How does DMARC work and what does it do for you?
Let's use the following example to illustrate what DMARC is all about. Let's say that when creating your FreshMail campaign you decide to fill the "from email" with your own private email address, say me@gmail.com.
The moment your message gets verified by the inbox of a subscriber with a Gmail address, its security measures will detect that it was not sent directly from Gmail's servers but from an outside server. There is a very high probability that your message will not be directed to the spamSpamNiechciana wiadomość komercyjna. Zdarza się, że odbiorcy uznają za spam każdy mailing, którego nie chcą już więcej otrzymywać, nawet jeśli wcześniej zapisali się do listy odbiorców. folder or rejected altogether.
Remember this when you run tests on your new email marketing system. If you use an address from a free email service provider, the test results can be negatively influenced by a low sender reputation.
Using your own domain to increase your deliverability
So now you know that using addresses from free email service providers as your sending address can be risky but what kind of address should you use to avoid problems? An address in your own domain.
If you don't have your own, think about getting one - the benefits far outweight the small cost.
Why get your own domain?
You increase the deliverability of your email marketing campaigns.

Communication from your own domain address looks more professional and helps to build trust in your recipients.

Having your own domain helps you to build an online reputation.
FreshMail ensures the correct address of the sender
To keep you safe from the dangers of sending a campaign from a risky address, FreshMail checks the address entered in the "from email" field and notifies you of any problems. You can ignore any warnings and continue creating your campaign, but you risk having most of your messages directed to a spam folder or bouncing from your recipients' inboxes.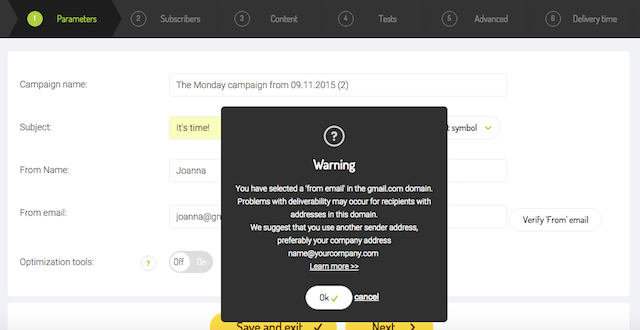 How to change your sender address in FreshMail
If you have your own domain and you want to put your own address in the "from email" field, there are two ways to do it.
Step one - During campaign creation
In the first step of the campaign creation process, enter your new email address in the "from email" field. Then click "Verify email".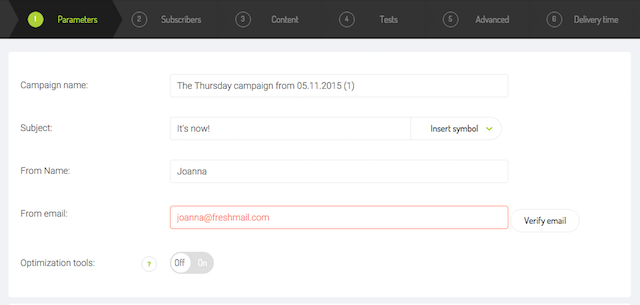 You will receive a confirmation email at the address you entered. Clicking on the link in the message verifies your address.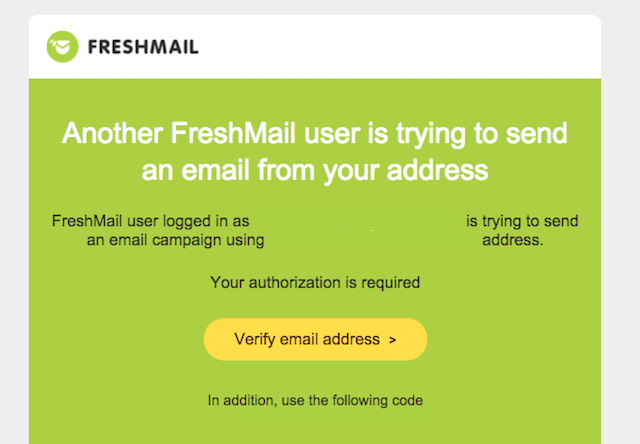 You can also copy and paste the code contained in the message into the field of the "Verification code" field.

Step two - In account settings
In account settings you are able to change your 'from email'. Go to Contact Lists and set it in Default sender email section. It will change for all of your already created drafts and future campaigns.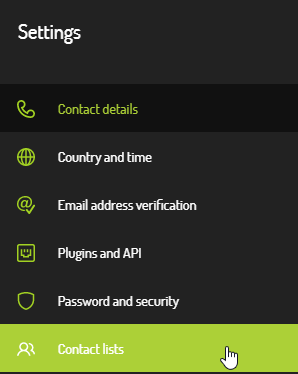 To verify your email clock in the upper right corner of the screen, select Account settings. Then choose "Email address verification" from the menu. The verification process will then run in the same way as described above in Step one.

Pobierz darmową checklistę:
21 rzeczy

, które musisz sprawdzić przed wysyłką kampanii