Modern companies, where the flow of information is vital for project completion, consider internal communication to be of great importance. This particularly applies to enterprises and corporations where employees work from different locations. Therefore, it is worthwhile to make use of tools which facilitate internal communication. One such tool is FreshMail. Discover how you can make the most of its functions to enhance internal communication.
What makes internal communication vital to businesses?
Before anything else, efficient internal communication contributes to the effectiveness and speed of work, the organisational culture, employee satisfaction and atmosphere in the workplace. In fact, it can be used for a number of diverse purposes. For example, it can help you to:
present the strategy and vision of the company or product to employees;

inform them about organisational, personnel and legal changes, ongoing HR activities, marketing campaigns, etc.;

encourage their participation in company events;

motivate, build employee commitment and conduct internal PR;

provide training materials to new employees;

collect opinions and suggestions;

conduct onboarding to make it easier for new employees to adapt to their new workplace.
Moreover, by providing your personnel with the right tools, you will facilitate their communication with leaders and managers, as well as help them to talk to other about work-related issues.
That's a lot of possibilities, right? Since internal communication affects so many areas of work, you should ensure that it runs smoothly. An email marketing system can certainly prove helpful here. 
Why is email the best tool for internal communication?
Despite the fact that there exist countless instant messengers and special tools for communication within the company, the most common method continues to be email. According to a study performed by McKinsey, the average professional spends 28% of the working day reading and answering email. Research conducted by Statista.com confirms that almost half of all employees in the United States check their mailbox every few hours, and 33% do it more frequently. 
According to an international study carried out by the Gatehouse agency, email (sent to everyone in the company) is used most often among all digital tools – as many as 96% of respondents chose this method of communication. The results relating to the most effective tools are also very interesting: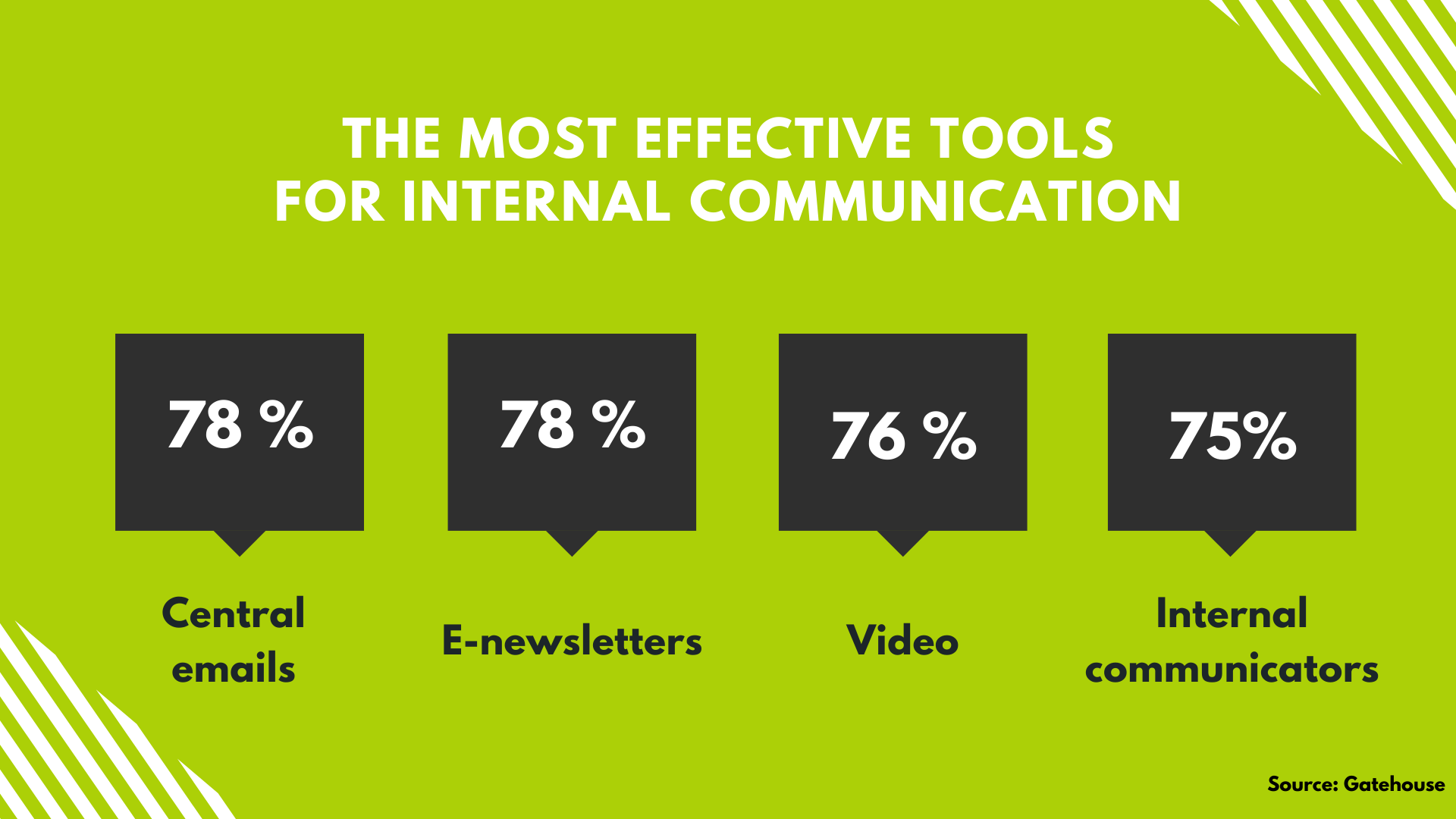 Emails were ranked second (just behind employee engagement surveys) in the ranking of the best tools for providing feedback.
For these reasons alone, it is certainly a sensible idea to implement an email marketing system in order to improve internal communication within the company. A system such as FreshMail features a number of functions that are unavailable for regular email clients (e.g. Gmail or Outlook). They will be described further in the article. 
Immediate and straightforward communication with thousands of recipients
In business, the speed of information flow is often imperative and it pays when employees and sales representatives are up to date with company news or promotions. The management should also be the first to communicate certain messages so that employees do not find out about them from external sources, such as social media. Such openness in communication affects the perception of the employer within the organisation.
A useful idea is to create templates of official messages in FreshMail, which will only need their content amended later on. The process of sending these messages to thousands of recipients is then only a matter of seconds. 
We should not forget that email marketing systems allow us to send photos, graphics and GIFs in addition to standard text messages. This function makes it easier to present certain information, while the employees will find such content more accessible and attractive. 
Make employees more involved by means of company newsletters
Smaller enterprises which occupy a single building may find it sufficient to use a bulletin board to post announcements or updates. However, it's a whole different story if a corporation has branches in other cities or even countries. Any changes in such large organisations occur dynamically, and there is a lot of activity surrounding the brand. For that reason, it is beneficial to introduce a regular corporate newsletter to keep the employees up to date with all the important data and provide them with an emotional connection with their place of work. Sometimes, the information about how much is happening in the company and the news on its development go unnoticed and this is a mistake, because such information contributes to the atmosphere at work and the feeling of security among employees. 
Company newsletters can be successfully used to encourage employee involvement in the life of the enterprise. By encouraging them to participate in marketing campaigns or events, you will transform them into ambassadors of the brand and spokesmen of the company's mission. 
FreshMail allows you to easily create a template for such a newsletter using the drag & drop function.
Statistics and enhanced communication control
I know from experience what large corporations have to deal with. Their first challenge is the need to continuously measure the effectiveness of their activity. This also applies to internal communication. It is not surprising that businesses want to check if the tools they use (and often spend money on) are optimal. Another challenging aspect is more than likely known to you – you send out an important message, but it turns out that not everyone is informed because they failed to read your email. 
All these problems are addressed by unambiguous reports in FreshMail. The available statistics show the Open Rate and the Click Through Rate, allowing you to assess the effectiveness of your messages and to optimise them accordingly. They also let you check if a particular recipient opened the email and clicked a particular link. 
Database segmented
The use of an email marketing system for internal communication does not mean that you have to send everything to everyone. The employee database can be easily divided into segments reflecting individual branches, offices, etc., and can even be used to separate men from women. This function can prove useful on the occasion of the International Women's Day, for example. Thanks to database segmentation, information that is to be delivered only to sales representatives, will not end up in the mailboxes of accountants and vice versa. 
Training and onboarding
The email marketing system is also a perfect tool to introduce new employees to the company, send them the most important information and conduct training or an e-learning course. The best part is that you can automate all these messages and get the system to send them all on your behalf. For example, you can create an online training course so that new employees receive one autoresponder with a lesson every day for a week, allowing them to become acquainted with selected topics in the right order.
I recall very clearly using FreshMail for the first time. I was given training on the system and then was asked to prepare a mailing with information about myself, which I was then to send to other employees of the company. In this way, I introduced myself to my new colleagues and provided them with links to my profiles in social media. 
Access accounts with diverse privileges
A FreshMail feature considered important by many companies is the ability to create numerous sub-accounts and assign them different authorisations. As a result, only authorised individuals have access to personal data of subscribers or campaign reports. It is also easier to share tasks without disturbing anyone.
Block the unsubscribe option
FreshMail makes every effort for its campaigns to meet the highest standards possible, so we insist that each message contains the unsubscribe link. However, internal communication is an exception, and on request we can block the unsubscribe option for employees.