Data is everywhere. For marketers, the rise in data has happened so quickly that it can be hard to keep up with its many applications.
Data-driven marketing has become the default for companies that want to run their marketing activity based on data around what their customers, users, and visitors are doing.
The tools available for businesses now make it easier than ever to implement data into a marketing strategy to achieve a wide range of goals. Online marketers can now track every interaction with their site.
With this newfound information, companies can understand what works and act upon new insights that allow them to convert more potential customers.
We're going to look at some ways in which this is happening. We'll demonstrate some quick and easy tactics that will move you towards a data-driven strategy and ultimately help you to convert move site visitors into paying customers.
What is data?
But first, what do we mean when we talk about data? This can often be a vague term that is used without real clarity on what it means.
The truth is that data can mean many different things to different companies. But generally, data falls into three main categories - first, second, and third-party data.
We want to focus on first-party data here - that is data that is collected by your company. This could be analytics data from your site, data from your CRM, or any other data you actively collect from your customers (this could be from surveys or feedback, for example).
Boosting site conversions with data
Customer journey analysis
Customer journey is the path that a customer takes to become a paid customer. Understanding the customer journey is a crucial part of any marketing strategy. Getting a grip on the journey, where potential customers are dropping off, and what is converting users is essential when looking to improve your conversion rate.
The wider availability of data is making these insights more accessible. Companies can understand what is working at each stage of the customer journey. They can activate this data, using new engagement strategies
The business can define these stages, but usually, look something like this:
Awareness

Engaged/subscriber

Paying customer
Generating data in each of these stages is essential when understanding the customer journey. Online there are many ways to do this,
One data source to do this is the site analytics data generated on each page. Using events and other signals, you can understand how customers engage with your site, what moves them on to the next stage, and what is most likely to convert users.
This allows you to improve conversion by optimizing your content based on existing content that has been successful in converting visitors.
Another way to generate data around the customer journey is by using chat. This method is excellent because it provides a simple way for a user to respond to any specific questions you might want to understand the customer journey.
For example, on your pricing page, you could set a message to ask visitors if they have any further questions about your product's pricing. Repeated questions could mean that you are missing an important piece of information, and adding it might help to boost your conversion rate, for example:
Ask user if they have any questions

Recurring question - does this plan include multiple users

Add the number of users to plan description

Conversion % increases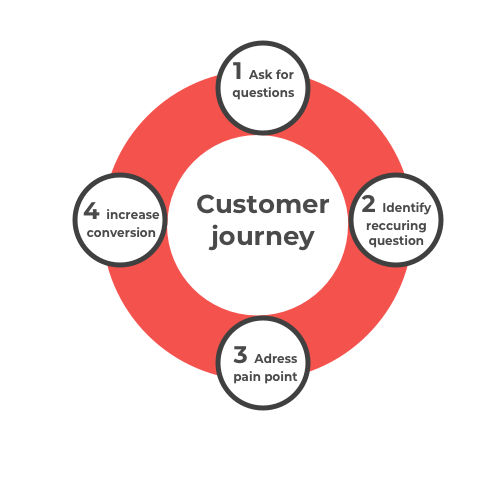 A/B testing
Testing is one of the most essential parts of a successful conversion strategy. To form a reliable conclusion from a test, you need enough data.
There are many kinds of datasets to help understand conversions and perform A/B tests on your site. Some common types are below:
Your analytics provider

Chat data

Surveys (web or email)

Mouse tracking

Heatmaps

User testing

User session analysis
A/B testing is useful because it is more of a black or white process of measuring conversion. A converts more users that B. It's hard to dispute and over time, it's an iterative process that will continue to improve your conversion rate.
Here are some examples to help you get a better idea of the types of A/B tests you can run to optimize site conversion.
Analytics
First, identify the goal that you wish to test. In this example, we will say paid customer subscriptions.
We will then come up with a hypothesis that we can test. For example, we might say that changing to separate enterprise and personal pricing sections might increase the number of paid personal subscribers.
We create the test by building both pages and have 50% of our audience visit one and the other 50% visit the other.
After waiting for a predefined period, we measure the results using the analytics data and adopt the most successful version.
A/B testing using a chat integration
Many chat solutions contain powerful A/B testing built in to allow you to modify copy, delivery time, and other factors to see what is most effective in converting site visitors.
These collect the data around chat engagement automatically so that you can use the insights to modify your chat strategy.
An excellent example of this is to test different visitor messages on key site pages to see which is better and engaging and converting visitors.
You could even test based on chat timing or another aspect of your website chat. Always keep testing and continuously optimize, and you'll be sure to improve your conversion rate.
Website personalization
Data lies at the heart of any successful web personalization strategy. The benefits of personalization are well documented and can have an enormous effect on how successful your site is at converting visitors into paid customers.
To personalize, you need to segment. To segment, you need data. Your segments can be based on any of the following datasets:
Location (users that visit your site from x location)

Analytics data - device type, number of pages per session, number of visits, etc

CRM data - historical information about the site visitor - company, vertical or other attributes
Next, what are you going to personalize? Choosing the right element to personalize can be hard, but just like the last section, testing is vital.
You might try and personalize a CTA, or you might try dynamic content personalization. Even adding the site visitors name to your chat's auto messaging can have incredible effects on your conversion rate.
To achieve this personalization there are many suitable website building tools that can assist in improving the customer experience.
But companies have to be careful. More users have switched to VPNs to protect their online identity and reduce the level of personalization available to marketers. This is why brands need to think carefully about the value they bring to their users at all times.
Not doing this would reduce your access to the data that is fueling all of your conversion testing and optimization, so be sure to communicate the value of cookies and other data collection accordingly.
<
Conclusion
Data is a powerful tool to understand your site visitors, what converts them, and how best to optimize your site.

Understanding the consumer journey is the first step to improving conversions.

A/B testing is a powerful way of testing what changes are affecting conversion

Data helps you to personalize the customer journey, and by combining this with A/B testing, you can build an effective conversion funnel