There are lots of ways to build a mailing list. If your goal is to expand yours as quickly as possible, there are many strategies to use both online and offline. But establishing contact with new customers when offline is now easier than ever with our new tablet application, FreshForm.
FreshForm - Change your tablet into a mobile subscription form from FreshMail on Vimeo.
If you run an offline business, organize meetings and conferences or take part in things like trade fairs in your field, you need to take advantage of every situation to build your email address database.
Anywhere and everywhere you meet your customers - no matter if it's you personally, your employees or your partners - you should be ready to gather email addresses with a tablet using the FreshForm application, which was recently added to both the App Store and Google Play.
What does FreshForm do?
FreshForm is a simple application that lets you create customized newsletter sign-up forms and display them on any tablet screen. The tablet then becomes a mobile sign-up form for you to use anywhere you meet customers - on a cafe table, by your cash register or at the reception.  
Use FreshForm to gather email addresses:
at conferences and trade fairs

at training sessions and business meetings

in brick and mortar shops and restaurants

at reception desks at hotels and similar places

at events

and anywhere else your customers go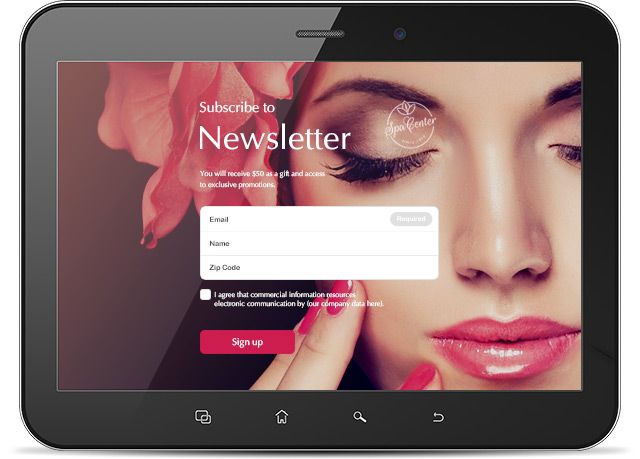 Just like a sign-up form on your website, the FreshForm tablet application should be designed to get people to join your newsletter. If you want them to share their email addresses you should offer something in return. If you are in a B2C business, the best incentive is usually a discount on a purchase. In the B2B field, offering things like special access to guides and reports has proven to be effective.
One of FreshForm's greatest assests is that it can work without any connection to the internet. You only need net access when you log in to your account through the tablet and then you can take it anywhere. All the addresses you collect will be automatically uploaded after you have an internet connection again and they stay safe from unauthorized access through password protection.
Just a few minutes and then ready to go!
Getting your personalized newsletter sign-up form ready in FreshForm takes just a few minutes. Customizing your own template just the way you want is a piece of cake. The same applies to including all the small print like consent forms and legal language. Our intuitive editor makes it easy to add custom fields and edit the text. If you're in a hurry you can use one of 25 ready-made templates and launch your sign-up form in less than a minute!  
FreshForm lets you build your mailing list offline Click to Tweet
Oh, and one more thing - the price. There isn't one. The FreshForm application is completely free. The only thing you need to use it is a FreshMail account so you can use the addresses gathered with the application. That's it. Done.
Get started on building your address database today, faster than ever before. Download FreshForm from the App Store or Google Play and see just how fast your subscriber list can grow!
Visit the FreshForm page!