A few weeks ago I wrote about our work on the new layout of the FreshMail system and now I'm proud to be able to tell you about everything we've done. The main idea behind the changes was to create a more functional, cleaner and flatter interface. The speed of the application has also been increased so now you can get your email marketing campaign going even faster.
We also listened to feedback from you and made changes to how you navigate through the system to make using it easier than ever. FreshMail's main functionalities are still in the same places as before so don't be afraid of getting lost while looking for what you need. To make everything easier we've included a few illustrations of the most important changes below.
Merging the "Campaign" and "Reports" tabs
Starting now, summaries of all your campaigns will be available together with reports. In the basic view you will see all sent campaigns together with icons that allow you to preview, edit or delete a campaign just as in the previous "Campaigns" tab. After choosing a certain campaign you will see the report with all relevant data. All the information that was previously contained in "Reports" will be available here.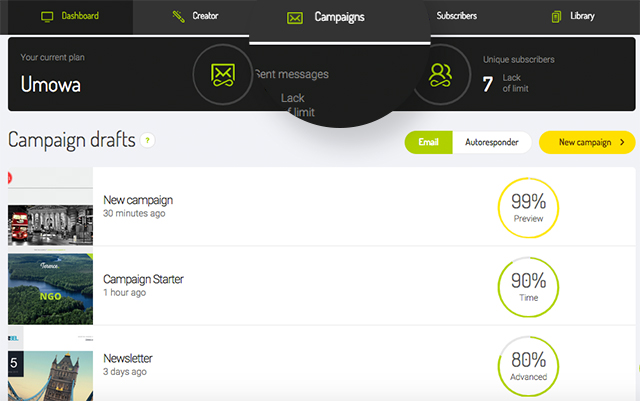 Change the name of a campaign with one click
Now you can edit the name of a campaign at any point with a simple click. In the last step of the campaign creation process - using a snapshot - you also have the chance to change its name or subject without having to return to the first step by going backwards through different stages of the campaign creator.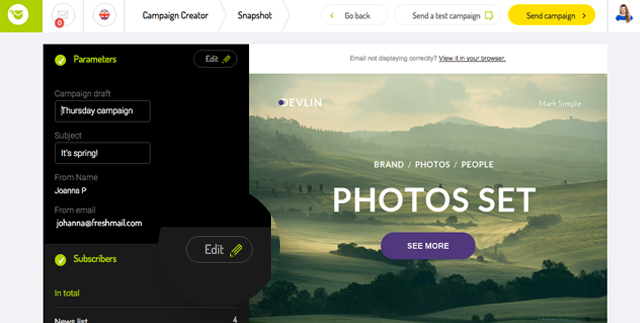 Easier browsing through subscriber lists
We have added the possibility to display custom fields on lists. The view can be adjusted to your preferences. Drag and drop fields to change their order. Show and hide custom fields on the list.
You will also find lots of improvements in the way you navigate through subscriber lists. A chart has also been moved to this view to show the growth in the number of your subscribers so you can follow your progress.
New floating headers stay on the edge of the screen so you can always see the title of each column. You can now assign data to each one without having to scroll up to see which is which.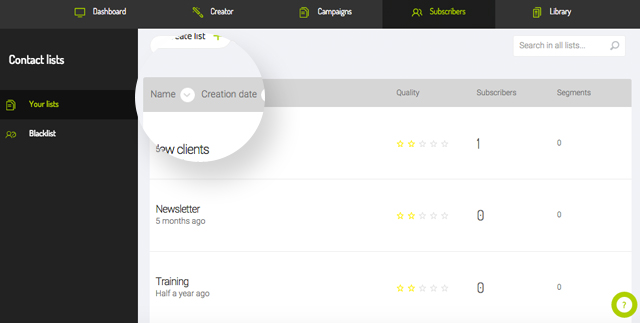 Contact form accessible from everywhere in the system
Another big improvement is the "Feedback and Help" button being placed in the bottom right corner of every subpage in the system. No more leaving your work behind to go looking for it! Use it any time you have a problem with your campaign or need assistance of any kind.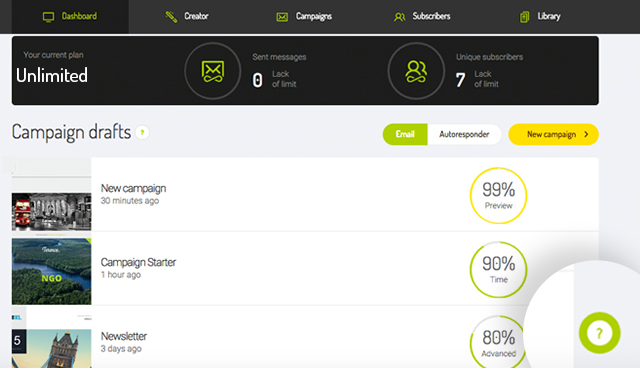 Intuitive navigation
We have introduced breadcrumbs navigation that shows the user's path in the system. This lets you go back to any previous point without having to load all the subpages on the way there.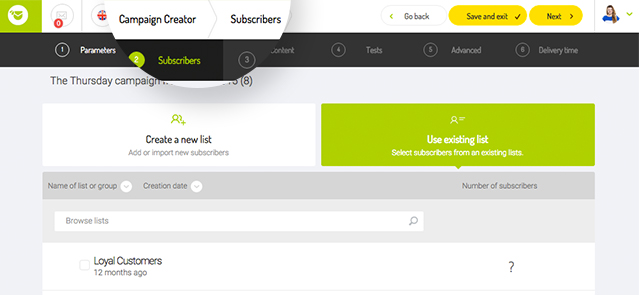 Changes in FreshMail Designer
There are also new gif holders. Until now, in order to properly design a gif in a newsletter you had to use dedicated blocks. Now you can place gifs in your projects using the same blocks that you use for graphics. This means that it's now possible to place text and additional graphics not only on pictures but on gifs as well.
We didn't forget about support for mobile devices. All our templates are responsive so you can preview every project in desktop and mobile versions.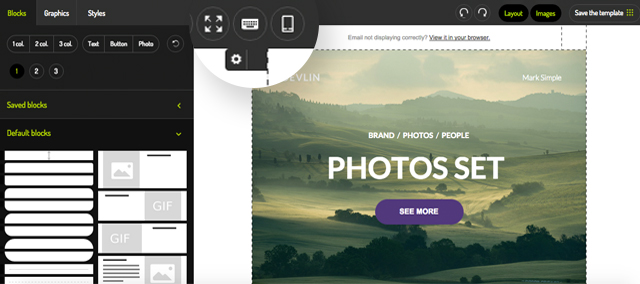 There's another new convenience for users of the Designer - enhanced keyboard shortcut options.
Take a minute to learn these new shortcuts and your work will go much faster! We've put together a handy cheat sheet to show you everything you can do no matter what software you are using to access the program.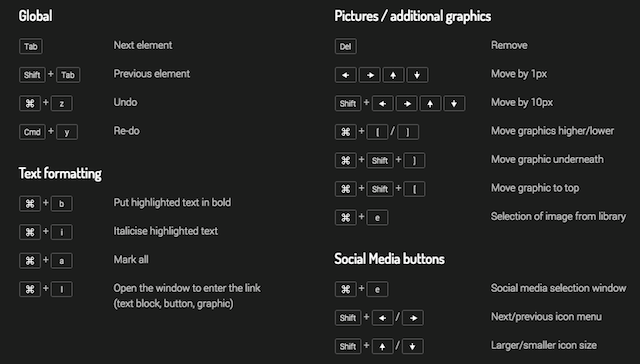 More than 50 new email templates
Our library now contains more than 120 stunning responsive templates. In addition to ecommerce templates and newsletters, you will also find lots of other designs for transactional emails like confirmation of a subscription or completed purchase.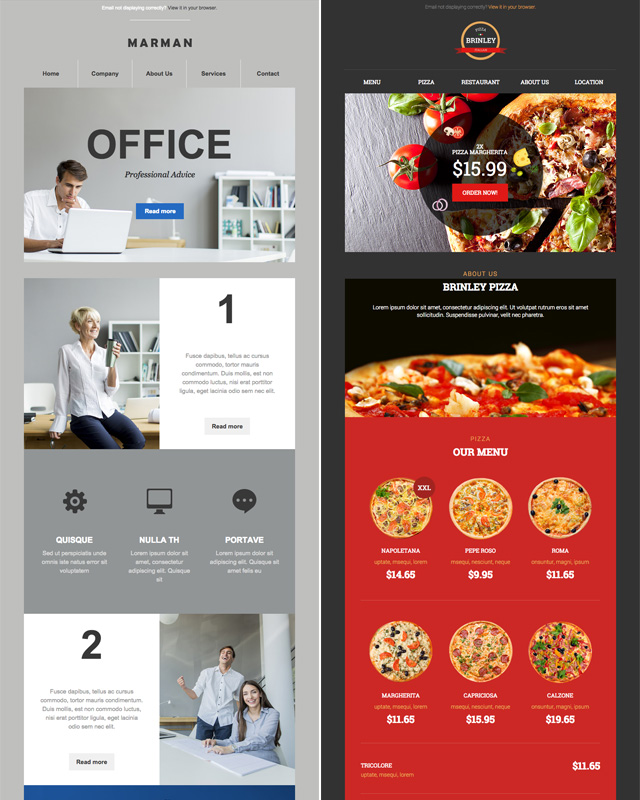 FreshMail the way you want it - personalize your interface
We've been writing about personalization in email marketing for a long time. For our new version, we decided to extend your powers of customization to the FreshMail user interface with lots of new wallpapers. To set the background, just go to the "Personalization" tab, where you can choose your favorite them and enable or disable the yellow help boxes in the system.
We know from experience that many of our customers use multiple FreshMail accounts and we implemented these new additions especially for them to make it possible to easily identify which account they are working on.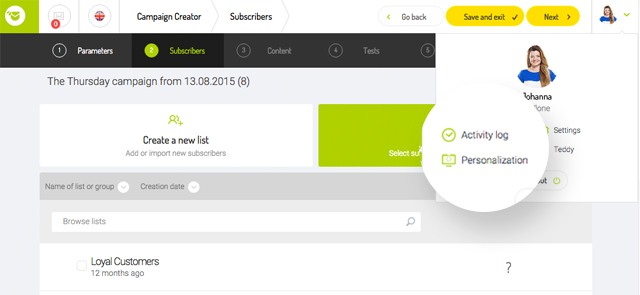 Share templates with other users
Lots of FreshMail users asked us about the possibility of sharing a template they created with others and we have added this to the list of new changes to the system. This feature can be used, for example, by an advertising agency that wants to show their project in FreshMail Designer to a client without having to log in to their account. If you have a paid account you can share any templates you have created with another account simply by entering the user name. This applies to templates created in FreshMail Designer and CK Editor.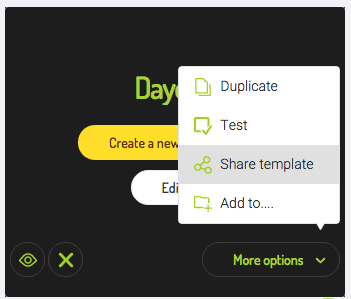 Time for email marketing automation
In December of last year we created new autoresponders in FreshMail. Their functionality has enhanced the work of a huge number of email marketers. In September we will expand this feature with a new Target Autoresponder with tracking codes. When it is enabled, anyone visiting a certain page will get a preset message automatically.
On top of all this, we are putting the power of integration between FreshMail and Google Analytics in your hands. This not only allows you to track the effects of email marketing campaigns on your website, but lets you easily identify users who visit your page. This data can then be used to create highly targeted email marketing campaigns. Target Autoresponders can also be triggered by data from Google Analytics. Most importantly, Google Analytics is a free tool - there is no additional cost for following visitors to your website and the whole integration will take you less than 15 minutes.
More on this subject soon and I look forward to hearing from you on the subject of our new look.