On of the great new features in FreshMail 6.0 is the possibility to set up a cyclical campaign using Cycle Autoresponders. This function was used in a previous version of FreshMail and it's back by popular demand.

As the name suggests, this function enables you to set up a regular campaign using your mailing list. Select a time that's convenient for you, and the system will download a newsletter template from a URL address that you provide and then send a campaign automatically. You only have to set up the parameters of the campaign once and then the system does all the work for you.
When you can use Cycle Autoresponders
Use them anytime you need to contact your subscribers on a regular basis - depending on your needs, it could be everyday, once a week, once a month - the options are endless. You can keep them informed about:
new products in your shop,
a rebate code for a certain collection,
training sessions schedule
business or organizational summary of a time period (a week, a month, a quarter)
the most recent addition in a series of informative posts for your subscribers.
Cycle Autoresponders are good idea whenever your company sends a quite a lot of messages to subscribers.
FreshMail makes sending this kind of campaign very easy - you don't even have to involve a coder to do the work. How is this possible? One person responsible for website content updates the news in CMS (content management system) which is then uploaded to the website with one click and then to the newsletter. FreshMail downloads the content on the selected days every week/month etc. and sends it out as a campaign. Each message is preceded by a test of the campaign and another email which contains an accept request. One click is enough to send the message to clients.
The biggest advantages of Cycle Autoresponders. What do they do for you?
You don't have to remember to set up a campaign each time - the system does it for you and in accordance to the parameters you select.
Whoever is responsible for preparing your template can upload it directly to your FTP server so you don't have to log into the system and set up the campaign.
You don't need a coder to edit your template because you can do it via your CMS.
You can control your campaigns from anywhere - all you need is a mobile device and internet access. If you arrange for the campaign to be sent without your confirmation you don't need to do anything else.
If you want to check/analyse your results you can find all the test campaigns in your inbox and reports will be available on your FreshMail account. You can log into the system and find all of this information at any time that is convenient for you.
You send your campaign regularly, building brand awareness and then strengthening the relationship with the recipient.
You can be sure that your campaigns are always sent on a regular basis, an important aspect of building your brand image and reinforcing your relationship with your clients.
The bottom line is that cyclical campaigns shorten the time spent on the campaign preparation to a minimum and at the same time you automate the process of sending out your messages and establish a regularity of communication with your subscribers.
Security of sending
You can be 100% sure that the campaign looks the way you want it to because the system will send you a test campaign each time. All you have to do is confirm the campaign after receiving the test message (just click 'Accept' and 'Send') or you can skip this step altogether. The advantage to leaving the confirmation step out is that you don't even have to have internet access to confirm a campaign - the system will take care of the on-time sending of the campaign without needing anything from you.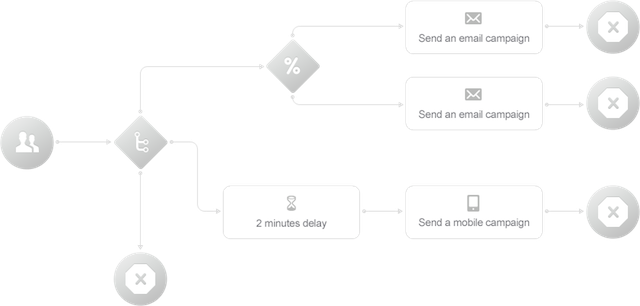 Cycle Autoresponder advantages that make your job easier
Frequency. Just select the days of the week you want to send your message and the frequency and you're done. If, for example, you select Tuesday and Thursday and 'once in two weeks', the campaign will be sent on Tuesday and Thursday in the first week, in the second week there will be a break and the next campaign will be sent in the third week.
The subject of a campaign. While setting the cyclical campaign parameters you will set the name of the sender (we recommend to have one regular name to inspire trust and confidence) and the topic of the campaign.  You can set it up as fixed or enter a different one each time in the code of the template. All you need to do is find the beginning of the html code and in the <head> .. </head> section enter a title  between two <title> ...... </title> tags. Your role in here is to give a new title to the coder while discussing the details of the campaign template.
Planned breaks in the campaign. There are times when you may not want your messages to be sent automatically because the date conflicts with a holiday or some occasion when it's less likely that your email will be opened. All you need to do in order to temporarily suspend your campaign is to go into the settings and unmark the days on which you do not want you mail to be sent. Don't forget to mark them again after the date has passed.
See the advantages of Cycle Autoresponders for yourself and learn how they can make your daily or weekly email marketing tasks easier. If you have your own ideas about how to use cyclical campaigns or if you have any questions, don't hesitate to contact us. Our Customer Service Office is open Monday to Friday from 7am to 11pm. You can also read our article with step by step instructions for setting up a cyclical campaign.