Are you ready to jump into email marketing but afraid that your subscriber database isn't big enough? Are you looking for the best ways to get visitors to your website to join your mailing list? Don't worry, WordPress has you covered with five plugins - software components that add a specific additional feature to an existing application - to help you grow your email community.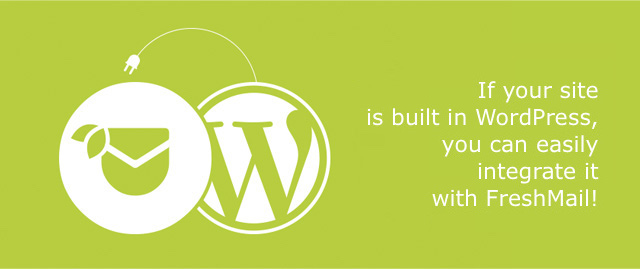 All marketers try to think of ways to quickly expand the growth of their newsletters and start a conversation with new subscribers. Your website is always the best place to start. A well-placed and attractive sign-up form, matched to the page content and displayed to the recipient at the right time, can be an effective call to action that will start adding addresses to your mailing list immediately. If your website is built in WordPress, take a look at these 5 plugins that will jumpstart your database-building efforts today.
FreshMail for WordPress
Turn your page visitors into a subscribers and customers. With Freshmail for WordPress you can easily add sign-up forms and pop-ups and be able to define their time of display. Using our template editor you can choose styles consistent with your website design. You can add custom styles to make your creations even more eye-catching and user friendly. Best of all, you can track the performance of everything! Access reports that display the sources of user registrations in a selected period and see which forms generated the most new subscribers.
Find out more about the plugin >>

Opt-In Panda for WordPress
Restrict acccess to valuable content on a webpage and ask visitors for an email address (opt-in) in order to unlock it. The content could be an interesting case study, report or special offer among many other things. An overlay effect can be used to blur the featured content to create an extra incentive for visitors to sign up right away. Everybody has a social media profile. Make use of it! You can reveal a content to visitors after they subscribe with social media channels, Facebook, Twitter, Google+ or LinkedIn. Additionaly you can collect extra information about your audience, like social profile, name or gender.
Check more possibilities of Opt-in Panda >>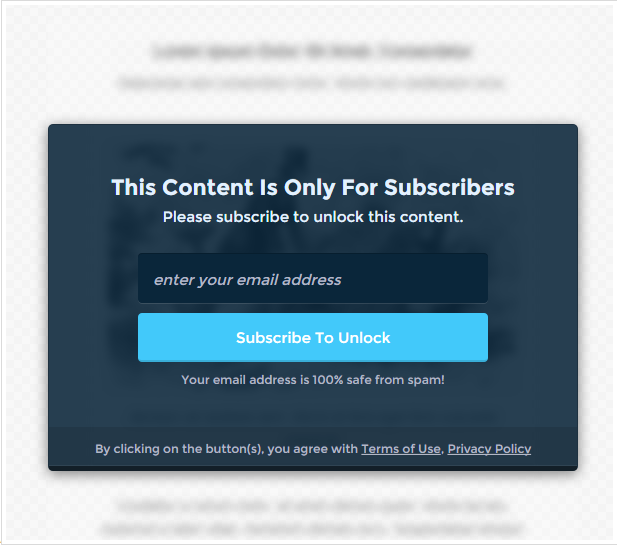 Smart AJAX Subscribe for WordPress
This is another plugin that can help you turn your page visitors into subscribers. In Smart AJAX Subscribe you can add custom fields into your sign-up forms. Knowing the name or city of your subscriber can be useful if you want to personalize and target your email marketing campaigns. Use this data when sending newsletters based on purchase history or when you simply want to welcome your new subscriber. Such small details as greeting subscribers by name will make your message stronger and more personal.
Find out more about the plugin >>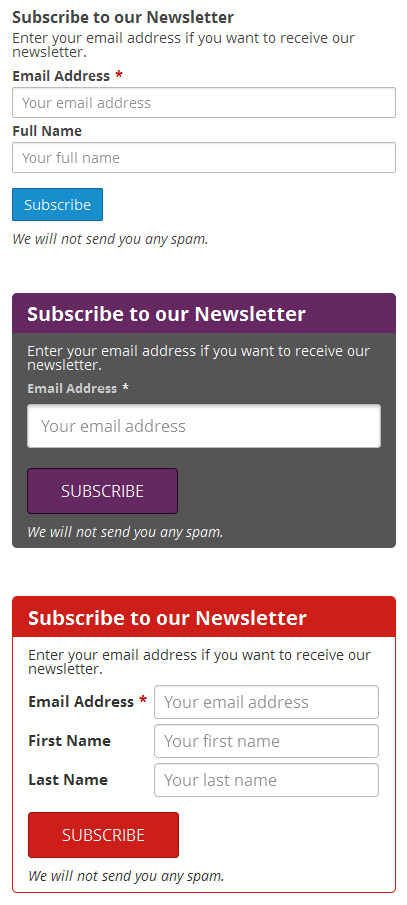 Layered Popups for WordPress
Pop-ups are an aggressive method of list building, yet highly effective with appropriate configuration. Create eye-grabbing popups with Layered Popups. You can enhance them with animations and adjust them to your visitors' preferences and actions taken on your site. You can use A/B tests to make sure they don't distract or irritate your visitors and any changes you make will be seen in real time. Track the performance of the pop-ups with Google Analytics to confirm that this type of opt-in is suitable for your audience.
Read more about Layered Popups >>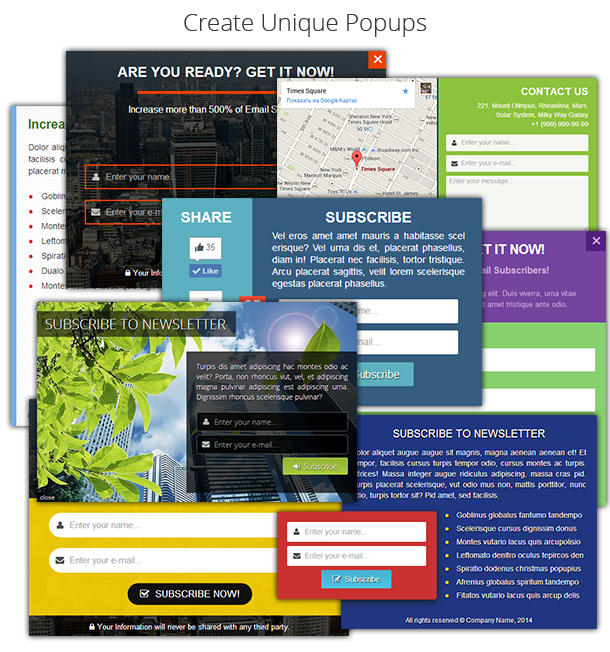 Ninja Kick Subscription for WordPress
Do you want your sign-in forms to be even more eye-catching, classy and mobile friendly? See how a Ninja Kick Subscription can help by using CSS3 transition effects to grab the attention of your visitors. The form can be triggered when a visitor performs certain actions on your website - loading a page, clicking a button/url or scrolling to a specific element. Your opt-ins will automatically adjust to your site's resolution. Track the form's performacne with built-in analytical options. You will be amazed at the results! Check live preview on developers website.
Find out more about NK Subscription >>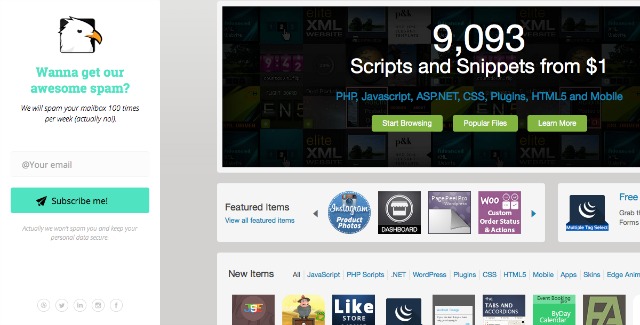 Things to remember when creating a sign-up form
Your opt-in should be visible and consistent with the website's design
Set your popup's parameters so it's not displayed to the same visitor more than twice.
Don't overuse custom fields, no one is willing to spend a lot of time providing you with more data than they want to give
Most importantly, your sign-up forms should not appear to visitors who are already signed up or are in your database. This might sound like an obvious point but it's easy to forget about it.
Select the plugin that looks right for you and track your creations to match preferences of your audience.