The number of Gmail users around the world continues to balloon, creating a snowball effect. In 2015, there were 900 million active email accounts, while the figures for 2018 already indicate as many as 1.5 billion accounts. Impressive, isn't it?
If you want to learn a little bit about the useful features and new solutions introduced by the Silicon Valley giant, you're in the right place!
Changes and features in Gmail that will have an impact on email marketing
To begin with, we would like to share with you our view on aspects which will have – or already have – a considerable impact on the performance of email marketers. Gmail sets market standards as an email service, so it's certainly worthwhile to keep your finger on the pulse.
1. Gmail Promotions Annotation, or how to attract attention in "Promotions"
Google has decided to make it easier for marketers to reach their customers in a tab where recipients often have hundreds, if not thousands, of unread messages. Gmail Promotions Annotation will enable you to catch the eye of your potential customers by the ability to add an image, header, company logo, the end date of a promotion and many other characteristics.
Your message in the "Promotions" tab could be displayed as follows: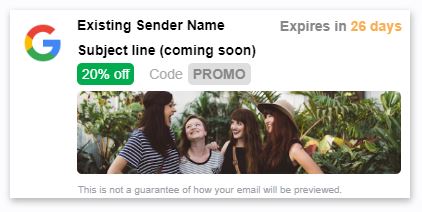 It must be acknowledged that the view above looks much more enticing that the current one.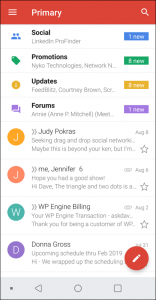 What should you know about the Gmail Promotions Annotation?
These annotations will display only in Gmail mobile app and only to individual users.
Gmail has prepared an HTML code to enable marketers and coders to implement this new function. You'll find it here.
Being quite appreciative of this new function, FreshMail has decided to create an easy to use, free tool that will allow you to create an annotation in our system, without the use of the HTML code. Here you will find detailed instructions on how to activate this function
Log in or create a FreshMail account to try out feature Gmail Promotion Annotation
2. The AMP (Accelerated Mobile Pages) technology – use email to make a booking and go shopping
The AMP technology has been in the spotlight for quite some time now; however, it would be wise to bring it up once more, as AMP heralds the biggest change for email marketers in... hmm, many, many years :)
What you need to know about AMP
The Accelerated Mobile Pages technology has been actively promoted by Gmail in recent years. It aims to accelerate the display of websites to users. Currently, Gmail uses this technology to create dynamic emails. This means that a newsletter prepared with AMP's assistance will behave almost like a website. These increased in-mail capabilities will allow us to check what's on offer, manage our newsletter subscription and even pay for products and services from the email level.
This is what it looks like:


If you use Google Docs, you've probably noticed that you can currently respond to your comments directly from your mailbox. This is only one example of how AMP technology can make our lives easier.
This new solution was announced as early as February 2018. Initially, AMP was tested by companies such as: Booking, Pinterest and Doodle. Detailed instructions on how developers can use AMP technology are now available to everyone.
It should be remembered that, for the time being, these new features are limited to Gmail users, so you will need to designate an appropriate segment in your campaigns.
In my opinion, AMP will accelerate the loading of emails and prevent the mailbox from becoming crammed with graphics and attachments. Another advantage will be the ability to engage in direct website interaction in the email window, which in practice shortens the path that must be followed by the recipient who decides to make a purchase or to register.

Recipients want to have access to information, knowledge and promotions here and now, and as announced by Google, these messages will be updated, so the customer will only see the current offer. I believe that this feature will change email marketing to a significant degree, as it will allow for greater involvement of recipients in the content and make the mailbox more enjoyable to use.
Paweł SalaFreshMail's CEO
Useful Gmail functions for everyday use
In any case, email marketing is not the sole focus of a marketer's work. Not a day goes by when you're not swamped with all types of ASAPs, deadlines and hundreds of emails which you need to reply to immediately. Therefore, in this section I will focus on useful functions that will facilitate your daily mailbox management. I hope that some of these solutions will prove useful in your everyday work.
3. Schedule the time when your email is sent
You arrive home back from holidays. Dozens of emails are waiting in your mailbox, but you are unable to reply to them all in one day. The "Snooze" function comes in particularly handy in such a situation. It allows you to postpone replying to a message, as the application will remind you to so at a particular day and hour of your choice.
How is this done?
You can choose one of three methods.
You can select the required message and then click the clock icon. You can then either choose the reply date suggested by Gmail or set a specific date and hour.


Another method is hovering over the message and choosing the "Snooze" option from the available icons. You can perform this action for several emails at the same time.


The last method consists in postponing a message once it has been opened.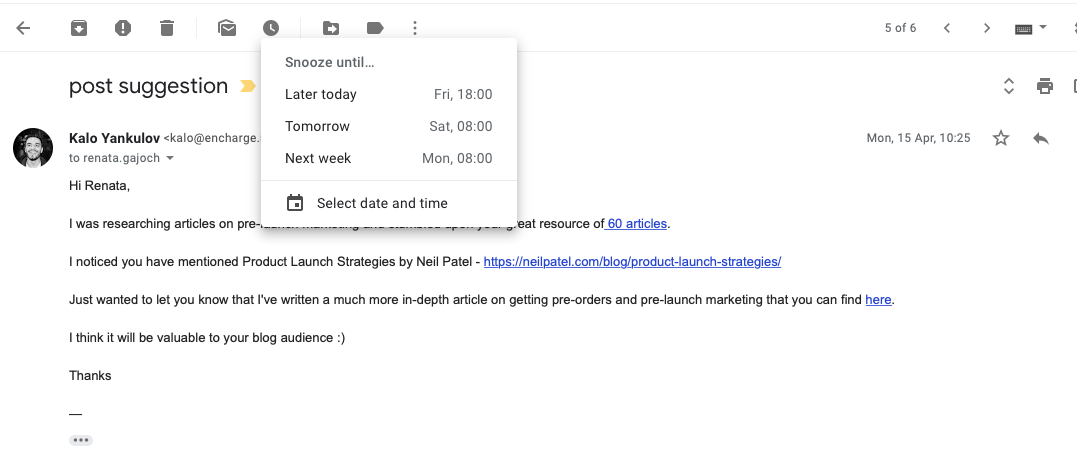 4. Write your email now, send it when you want to
One of the latest Gmail innovations which ordinary users can find very useful, is the scheduling of message sending. As a marketer, you certainly appreciate being able to send your email campaigns at a specific time without having to monitor this activity. You can now do this by sending a simple message.
How is this done?
Next to the "Send" button, you will find a blue arrow pointing downwards – click it and select "Schedule send". You can choose a specific day and hour for sending the message.
5. Undo sending an email
In all probability, we all have sent an email too hastily or accidentally sent it to the wrong recipient – to a person who most definitely should not have read it. It's likely we've all done it more than on just one occasion. Now, Gmail lets you quickly undo the sending of an email.
How is this done?
In the lower left corner, you will see the message "Sending" and the options "Undo" and "View Message", then click "Undo".
In my opinion, this function has the potential to receive the Nobel Peace Prize :)
You can also specify for up to how many seconds you want to have the ability to undo a sent message.
To do this, open your Gmail account.
In the upper right corner, click the gear icon and select "Settings".
Select 5, 10, 20 or 30 seconds from the "Undo Send" options.

6. Canned responses
Do you send the same reports on the progress of your work every single month? Your email looks almost the same every time, and the only difference is the attachment? You can now create a template response to save yourself time.
How is this done?
When writing an email, click the three dots at the bottom of the page and select Canned responses, then save the message as a template.

7. Gmail offline
Do you travel on business, and Internet access is often unavailable? You can take advantage of Gmail offline for Chrome. Here is how you can activate this function.
Go to Gmail offline settings.
Check "Enable offline mail".
Choose your settings, such as how many days of messages you want to sync.
Click Save changes.
Detailed step-by-step instructions on how to do this can be found in the Google blog.
8. Create an event directly from your email
On receiving a message about an upcoming meeting you wish to create an event immediately so that you don't forget about it? There's nothing simpler! Just click the three dots at the top of the message and select "Create event".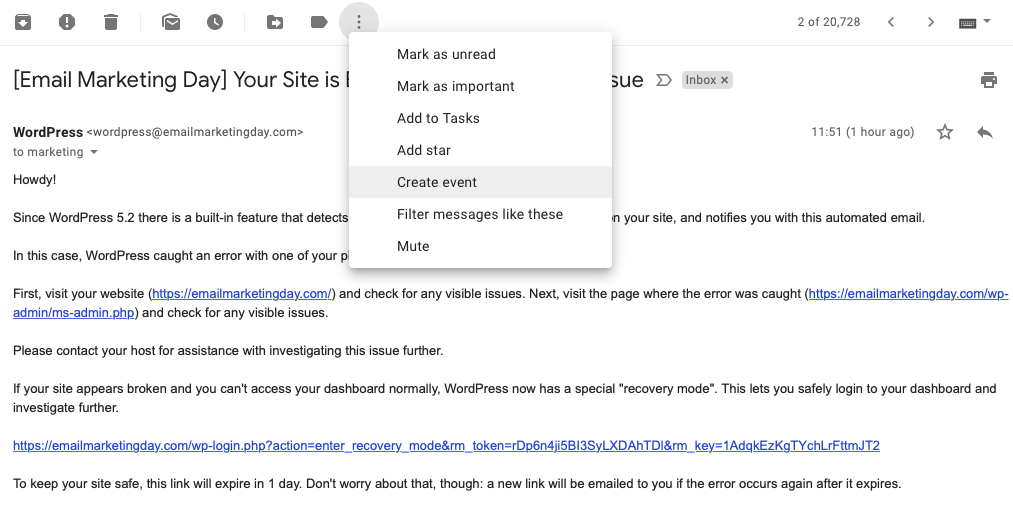 You will then be automatically taken to your calendar, and the event will feature all the persons listed in the correspondence, the subject of the meeting and a note. You now have a meeting set up in a matter of seconds :)
G Suite and Gmail itself have many more practical functions, but here we wanted to introduce you to the most useful ones. Let us know in the comments what new features you've recently discovered in your mailbox and what you find most helpful.