Being great at B2B lead generation means nothing if you are not able to convert your leads into customers.
Putting all of your attention only on generating leads is like dating one thousand people while thinking it is the best way to find a good match. It can work out eventually, but you will be exhausted and you will have wasted a lot of time.
Is there a way to avoid this trap and improving your conversion rate?
Yes, and it is called Lead Nurturing.
Lead Nurturing is the art of following up with your potential clients, giving them a reason to constantly keep your company in mind and building a relationship with them.
Intuitively this should make sense, but if you are not convinced here are some hard data which prove how lead nurturing can impact your business in a good way:
Consumers are 4x more likely to respond to an offer if it's personalized vs generic (Source).
67% of B2B marketers say they see at least a 10% increase in sales opportunities through lead nurturing, with 15% seeing opportunities increase by 30% or more (Source).
Nurtured leads make 47% larger purchases than non-nurtured leads (Source).
Today I would like to focus on 4 B2B Lead Nurturing Hacks that you can implement immediately and which will give you a better conversion rate.
More specifically:
Communicate regularly
Give your leads great content
Create and support a community around your product
Lead segmentation
.@RomeoMan: 4 Hacks To Do #B2B #LeadNurturing Like A Pro Click to Tweet
1. Communicate regularly
Don't pitch your service or product right away.
It is like dating, you don't ask your date to marry you after the first meeting.
So, why still so many marketers ask for the sale right away?
How many times you signed up for a newsletter and after the first email you felt the company cared only about pushing its product?
If you want to nurture your leads, communicate with them regularly and don't push your product too much.
Keep in mind that prospects receive an average of 10 touches from the time they first connect with a company until they're a closed-won customer. The best way to do it is establishing a rhythm of communication.
It could be once a day, once a week, once a month (to find your magic combination you will need to run some tests), but be consistent, no matter what.
And, once you find your pattern, keep on being consistent.
Your goal is to make reading your news a habit, so that people will feel the need to be exposed to your content.
Sound like impossible? Nir Eyal wrote a book on how to do it.
Regular communication will allow you to create a trigger in the mind of your potential customers, but if you want to make your leads even more interested you need to do something more.
Keep in mind to track all the touchpoints you make with your customer so you can measure the return on your investment.
At the end of the day you want to make money.
Google has a brilliant guide on the topic that will make you understand better what and how to measure for your online business. Here is the guide: Measure What Matters Most: A Marketer's Guide.
Regular communication is good but measured regular communication that bring ROI to your business is even better.
2. Give them great and relevant content
Easier said than done, I know.
Producing relevant content sounds a lot like a diet: everybody knows what they need to do, but very few are actually doing it.
The importance of content marketing is growing: in 2017 more than 40% of the marketers expect to spend more time and money on content marketing, so getting it right is a priority.
If you know already your customer persona, you can follow these tips to produce great content to share with your potential leads:
Keep an eye on the news: regardless of what is the product that you are selling, there will always be a chance to connect it with some event.
For example, look at how Expedia smoothly used the Singapore Grand Prix to connect with its followers on Facebook: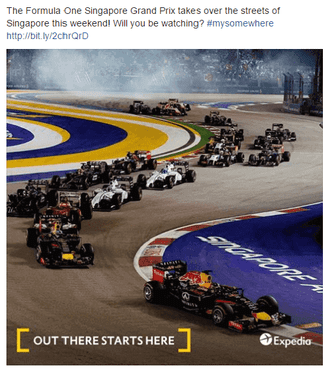 No push, just an honest way to start a conversation.
What about B2B?
Myob, a company from Australia which sells accounting software, created a calendar with all the important tax dates a company needs to remember.
Check it out here.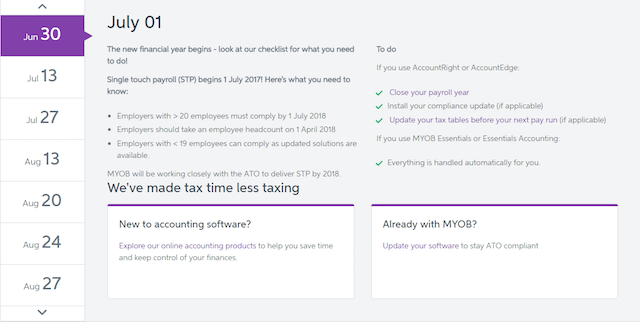 This is a fantastic way to provide relevant and usable content to their potential leads.
Create in-depth content upgrades: You don't have to re-invent the wheel all the time. Maybe you have already some great content available, but it is just outdated.
The pace of change in technologies is getting faster and faster, so it is good practice to check every 3 months which are your most successful pieces of content.
If they are not up to date, upgrade and share them with your potential leads.
Multimedia content creation
B2B communication is not all about having a blog. Video content became the most common form of content online.
Streaming video already accounts for over two-thirds of all internet traffic, and this share is expected to jump to 82% by 2020.
And that is not all.
Video is better received than text content: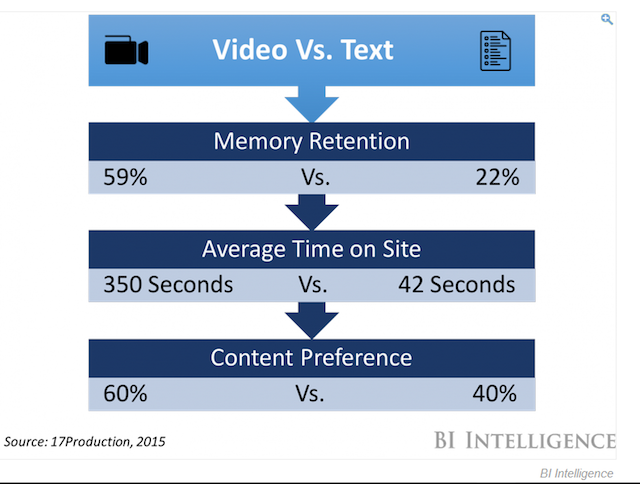 People remember more, like it more and spend more time watching a video than reading a text content.
More companies are trying to exploit this trend, doubling their investment from 5.5 mil dollars in 2014 to 10.2 mil in 2016.
Because of this, it is a good time now to start making video content to share with your potential leads.
And if you don't have a big budget for it, it's ok, you can start using just a smartphone with a camera.
You will look more genuine and people will not mind the quality format, as long as you are telling something interesting for them.
Great.
Now, after reading this to-do list for producing better content, you could feel overwhelmed.
It sounds like a lot of work and it seems that every company now needs to act as a media company, instead of taking care of its core business.
Although this is partially true, there is a great way to produce content faster: document, instead of creating.
Showing the processes that work in your company, or what are you up to will take a lot less time than producing content from the scratch.
The quality will also be very high because it is something unique from your company.
This is what we did in MAN Digital. We build a playbook on how we do at lead generation and lead nurturing. Have a look here.
3. Create and support a community around your product
Having a great content and a great product will give you another advantage: a community of customers ready to be your advocates and promote your company.
The most classic example of community around a product comes from Apple.
If you own an iPhone or have you ever seen a line outside of an Apple store before a new product release, you know what I mean.
Can you apply the same principle to B2B?
Yes, and few companies did it.
For example Marketo engaged and rewarded customers across its live events and digital channels to encourage them to submit reviews. The result? The number one spot on G2Crowd reviews, one of the go-to websites when you want to buy a new software (Source).
Creating a community is not something "nice-to-have", but it is giving you concrete advantages, as you can see in this nice infographic provided by Inversoft.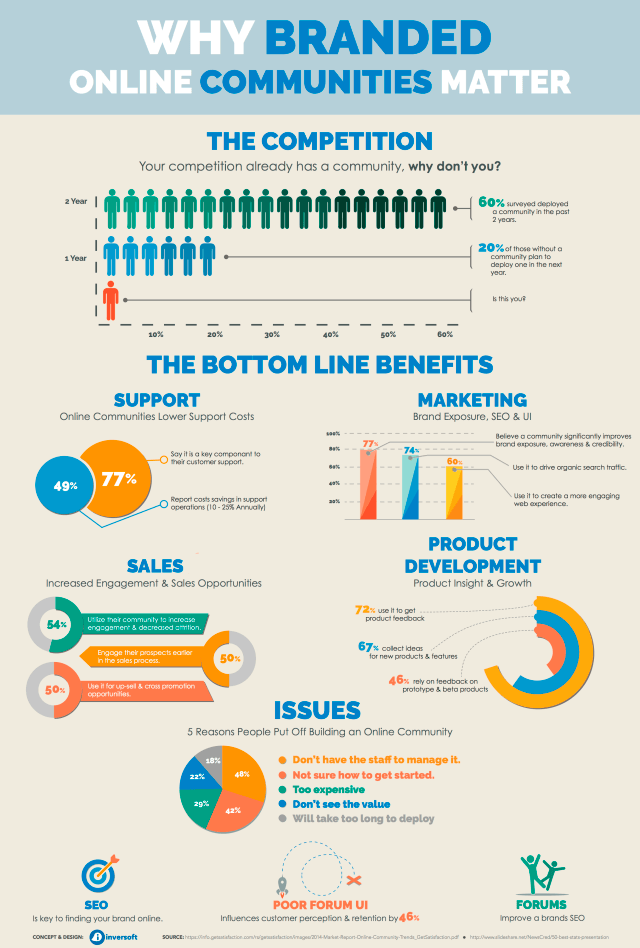 In a nutshell, a community will give you more sales, credibility, and concrete ideas about how to develop your product.
Not bad right?
Now you may wonder how to support a community. The best strategy you can follow is giving your customer and potential leads a chance to interact with you on your social media pages or on your website.
This will keep you in control of the conversation and it will give people a chance to talk about (and with) you.
If then you want to go for the extra mile, you can monitor the social media, looking for conversations about your company.
Jumping in at the right moment can make a normal interaction a memorable experience and it could grant you few more customers.
4. Lead Segmentation
Today nobody wants to feel like a mere number, and every time you send out a canned message, you make your potential customers feel like this.
Treating people in a more personal way pays off: when Oktopost (a B2B marketing agency), implemented a more personal approach to their marketing, they converted 2.3x more leads.
How can you be more personal?
You need to segment your customers into different groups, and give them the content they want. The best way to do it is using marketing automation.
This can sound like a contradiction: how can you use automation to make things more personal?
Using Marketing Automations tools you will automatize repetitive tasks, improving the efficiency and the accuracy of your marketing process.
For example, FreshMail is an excellent tool to build an email list and divide your potential customers into groups, using split tests.
Once you divided your potential customers into different brackets you can use lead scoring to understand which are the warmest leads ready for the purchase, and present them a highly personalized offer.
Conclusion:
Doing lead nurturing right is crucial to improve your conversion rate.
To make your process effective you have to:
Give your leads great content on a regular schedule. It will keep them warm and ready to buy.
Create a community around your product, and let your customers be your brand ambassadors.
Segment your leads and send them high personalized offers, but only when they are ready to buy.
If you want learn more about growth hacking lead generation and creating a lead nurturing campaigns, marketing and sales funnels build on data, not hunches check out my free guide on "How To Generate and Nurture More B2B Leads". Find the free guide here.
No worries, no signup or download is needed. Just free content for you to learn.