Lead generation should be your priority, no matter what business you run. What really does matter is the techniques you use to build your email list. According to HubSpot, 54% more leads are generated by inbound tactics than by traditional paid marketing. It means that you really should focus on creating great content, do SEO, social media marketing, landing pages and marketing automation in order to generate leads with 100% effectiveness. To make this easier for you, we prepared:
21 lead generation #growthhacks that will boost your #email and #sales. Click to Tweet

Growth hack your websites
1. Let them download each of your articles in PDF

Some of your visitors may want to read articles on Kindle or when using other mobile devices while being offline. Let them easily download each one of your texts in exchange for their email address. Remember to create a visible call to action so it won't pass unnoticed.
2. Make first blog post a link to landing page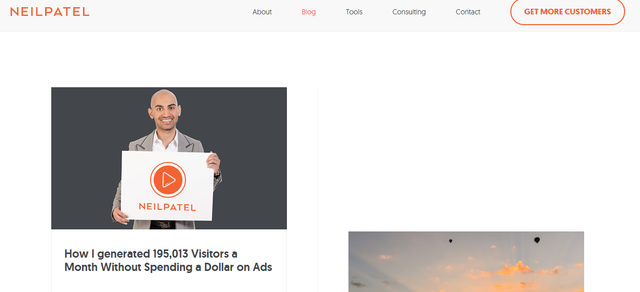 Posts on the blog main page are listed one after another. If you set the first of them as a link to a landing page, you can get more views on it and leads from visitors. Just make sure the title and "post" photo are effectively leading people to click it.
3. Add share plugins to your "Thank You" page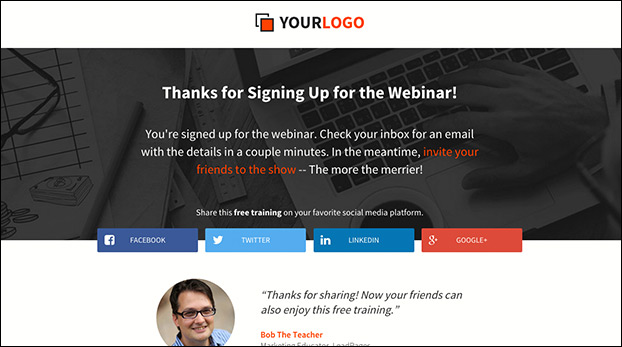 Thanking people for registration is nice for them, but it should also be nice for you. Add a well-visible social share buttons to it so people who subscribed to your email list can invite friends interested in the topic. But remember - share buttons should link to landing, not "thank you" page!
4. Add invite-a-friend forms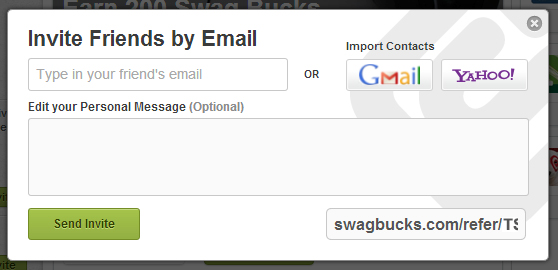 The idea here is simple: your visitor types their friends' email addresses, which then goes to your mailing list. You can put the form on the thank you page, in emails, or even after a blog post, next to social share buttons. After that, the system sends a confirmation email to those new leads and if they confirm subscription, you get fully active subscribers.
5. Create a closed section accessible only after inviting a few friends
Using invite-a-friend form I mentioned before, you can get more quality leads. It's a great way to reach new customers, because people who already gave you their emails are probably friends with similar people with similar interests and needs. Don't hesitate to use it.
6. Put your sign up form above the fold on your website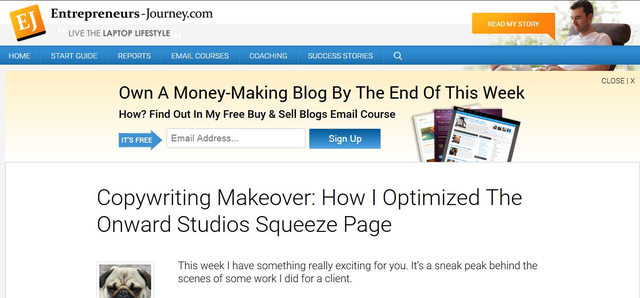 It is important for your conversion to put priority website elements (like sign up form) above the fold, so that your visitors don't have to scroll down in order to find it. Where is the fold line? You can check it with "Where is the fold?" tool. Just type your website address in a field and program will show you where the fold line will appear on popular monitor resolutions.
7. Make people bring new subscribers in order to get stuff for free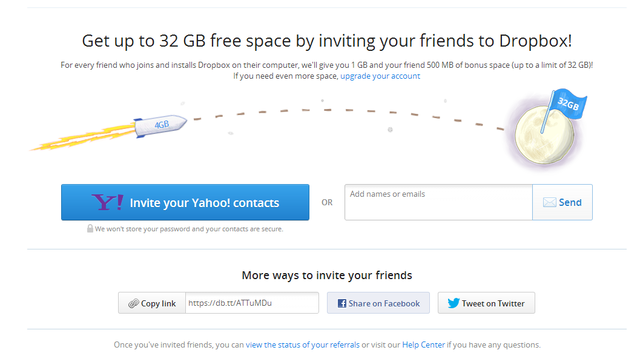 Do you know what Dropbox did to gain new users extremely fast? They gave additional, free disk space to everyone who invited new users to the app. That growth hack worked extremely well and after Dropbox, many startups implemented it. You should try it, but make sure that giving your product for free will not lead to costs increase.
8. Add social proof to built your ad or post credibility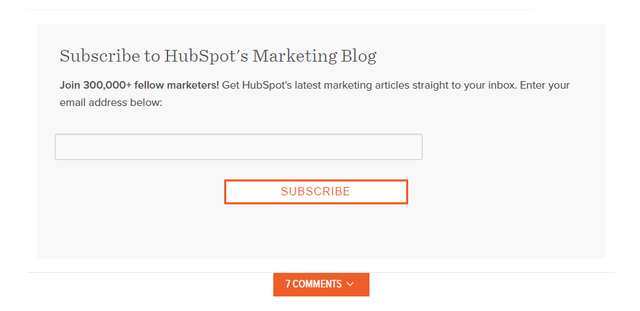 Most people are more likely to buy something popular and sought after, rather than try something new, that no-one talks or writes about. It is quicker, safer and the risk of losing money is not so serious. Creating social proof by showing people how many others trusted you or use your product is a great way to build credibility, authority and a little trust that is necessary before engaging in a longer relationship with the company.
9. Create quizzes and require email address before showing score
While quizzes are engaging content, it would be a waste to use it only for user interaction and fun. To generate more leads, try creating a quiz related to your industry and encourage people to check their level of knowledge with it. The important part is after they finish - script should require their email addresses in order to process and show their score compared to other players. Remember, you can combine growth hacks. In this case, it would be great to implement invite-a-friend feature and social share plugins to your quiz page.
10. Add social sign up and login next to registration forms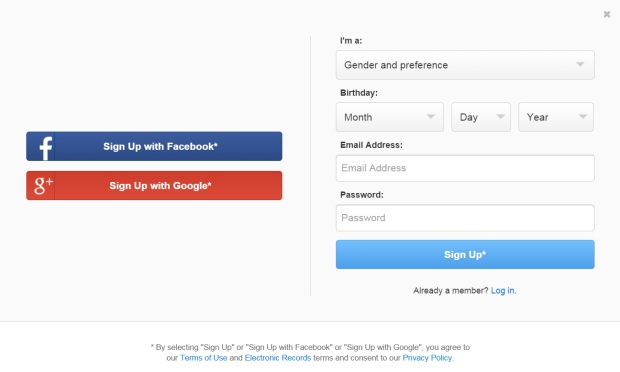 Every additional click people have to make before getting what they want may lower the conversion. Social media sign up feature is simple, fast and easy to use for both you and your visitors. Thanks to that, more people will register on your website, because it costs nothing but a click.
11. Reduce the number of subscription form fields
Collecting additional data about your audience is important, but at the same time, the more fields you require people to fill, the lower the conversion is. At first, try collecting only their email addresses and their names. You can even require just an email address, but using subscriber's name in email marketing significantly improves open and click-through rate. Don't make them fill to many fields. Instead, use segmentation and automation in your email marketing and when you need additional data, ask them about it later.
12. Use Hello Bar to capture more leads
Hello Bar is Neil Patel's lead capturing tool. Why do I recommend it instead of other floating bars with signup form? Because it's shaking! It is really hard to miss something red or orange that says "Sign up!" and shakes from time to time, right? It will catch your visitor's eye and increase your conversion. You can set it up and modify colors, fonts etc. with ease, thanks to it's customisation panel. No coding required. You can learn how to use it in this video.
Growth hack your social presence
13. Add social share plugins (with link to landing) to your confirmation email

Your growth hacking work shouldn't end after receiving someone's email address. Confirmation email can work for your business even after getting a lead. Include social sharing buttons in that first email they receive from you so they could invite their friends to your landing page. 
14. Add sign up form to your fanpage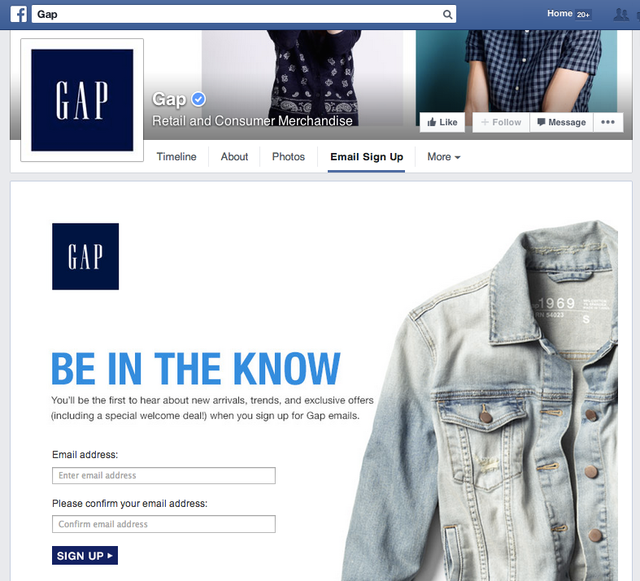 As I mentioned before, each additional click your visitors have to make to give you their email addresses can lower the conversion and make you lose potential leads. You can shorten the way that the visitor needs to go through to subscribe to your email list. Do that using Facebook lead capturing forms and build your list without redirecting people to external websites.
You can learn how to do it in this article:
15. Use Buffer or Hootsuite to promote your landing pages automatically
There's nothing revealing in using Hootsuite or Buffer, right? Yes, but if you use them to schedule 1-2 posts per month that remind people to subscribe to your newsletter, you'll regularly get new leads without putting any serious effort to it.
16. Put big, colorful, bright and visible objects on post and ads photos to get more attention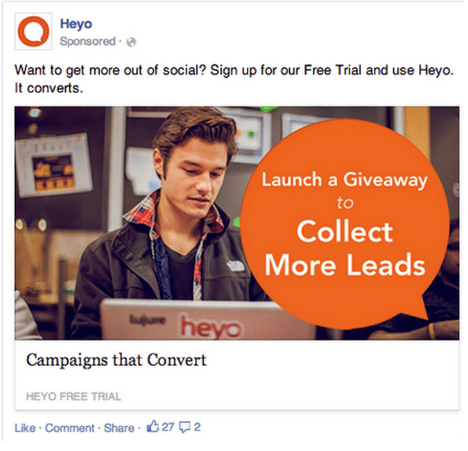 On Facebook, organic post reach and cost per action depend on how many people click it and see your website. To get better results and to save on the advertising budget, you should create post and ad graphics that stand out, catch the eye and make people click them. That one factor could have a HUGE impact on your advertising costs and of course - on cost per lead.
17. Add a CTA to your email signature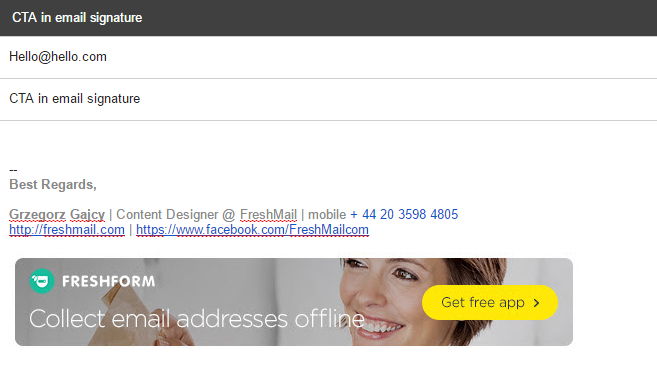 As you can see above, we in FreshMail invite everyone we email to create an account in our system. It costs nothing, so you should do it too. Just create a nice graphic with CTA and button. Link it to your landing page or registration form and set this footer as default for every email you send.
18. Let journalists know you're there
Journalists really need new topics to write about. Try to find as many of them in your niche as you can and contact them. Keep in mind that not everyone will be interested in writing about your business, but don't give up and look for another way to make them help you. Maybe they need content related to your field of expertise and you could write an educational, interesting article that mentions your product? Maybe they'd like to test your product and write a review instead of just writing about what it is? You'll never know untill you ask them so start searching, you won't regret it.
Keep in mind that in most cases, press note about your business will include a link to your main page, so before publishing anything in magazines, upgrade your main page for lead generation purposes (we've talked about it in first section of this article).
Growth hack your content marketing
19. Include webinars in your marketing strategy
Today's technology allows you to run webinars whenever you want it. Try using them, because running webinars is one of the 3 most effective content marketing tactic. Also, you can use them as a sales channel and include a sales pitch to generate profit right away.
20. Record those webinars and reuse them
Webinar systems allow you to record what you present and download it, which means every time you organize a video conference, you can reuse it as a video material and put it on Youtube, send to your mailing list or, to growth hack your lead generation process - offer these webinars as a free material available to download after subscribing to your list.
If you don't like public speaking, there's something you should be aware of. Automated webinar systems allow you to show people a retransmission of webinars without running them by yourself over and over again. It is not only a great opportunity to save some time, but also to generate more leads and sales without much effort.
Growth hack your offline work
21. Use FreshForm on your tablet to capture leads offline

FreshForm is a FreshMail's app that lets you build your mailing list, whenever you are. Everything you need to do it is a tablet and a FreshMail account. This is a great opportunity to capture leads while being at events, networking meetings, or anywhere else, so that you can stay in touch with people interested in your business.
Conclusion
These growth hacks are easy to implement and don't require a huge budget. In most cases, you also don't need to know programming or graphic design principles. You can use them to generate leads much faster, but remember that most important element is always a great product. If you got it, growth hacking can make it a gold mine.
Do you know more lead generation growth hacks? Please share your ideas in the comments below so we all could benefit from them!