Chrome is the most popular internet browser in the world, with around 70% of all online connections going through it. We use it for work, play and learning. It's not surprising, then, that a huge amount of plug-ins have been developed to enhance Chrome's functionality.
We've put together 17 plug-ins that help Chrome to do more to make your work with text and graphics easier. Try them out and you'll wonder how you got along without them before!
You'll learn:
which plug-ins to use to reduce the amount of RAM that Chrome needs

how to organise cards and bookmarks so you won't get lost

how to store text so you can go back to it whenever you want with various tools

about expanding support for content managers

what other plug-ins for web designers can do
Let's dive in!
Saving memory
To start out, let's focus on improving the operation of your equipment. We know that, despite its many pros, one of the cons of Chrome is that it seriously eats up your RAM, which in turn slows everything else down.
Each new tab you open is a separate process. This means that a problem in one shouldn't affect the others. It does, however, demand more of the memory you have available.
So let's first look at plug-ins that save operating memory to speed things up.
OneTab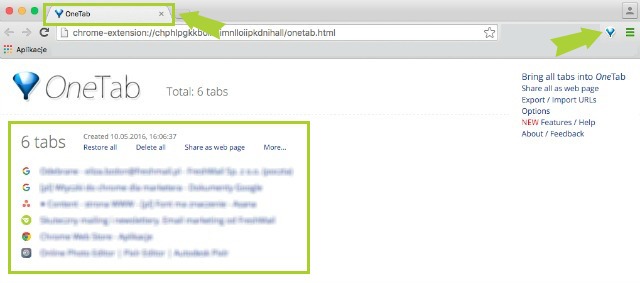 While working on your computer you need to have mutliple open tabs but this will slow it down quite a bit. Save up to 95% of the memory that Chrome uses by installing the OneTab plug-in.
The expansion closes all open tabs and replaces them with just one that shows a list of all the previously used windows. This saves memory and you can go back to any saved page at any time.
The Great Suspender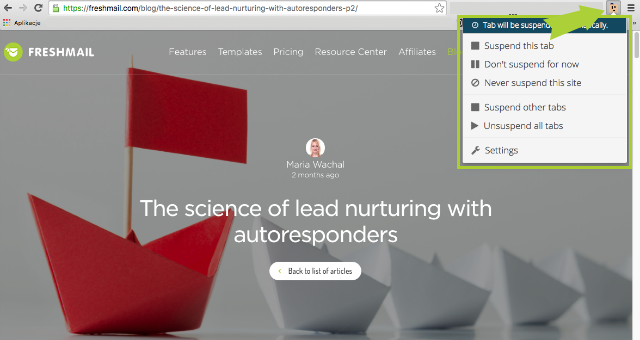 An good alternative to OneTab might be The Great Suspender. It puts tabs that aren't being used to "sleep" and you can set the time after which they go inactive. You can then "wake them up" at any time to put them back to work.
Download now >> The Great Suspender
Data Saver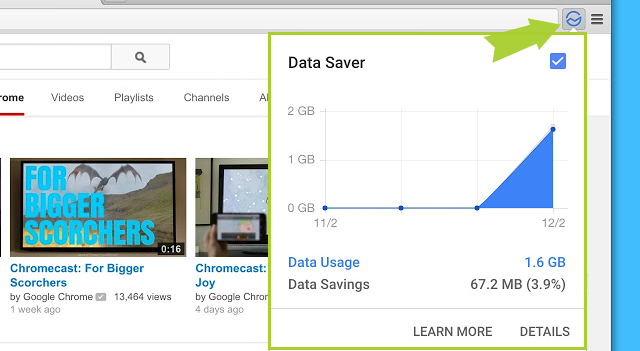 If you often use the internet from a mobile device, the Data Saver plug-in is for you. It uses Google's servers to compress pages before you download them to your device, which reduces the amount of incoming data. In the mobile version of Chrome, it's built it and can be accessed in Settings.
Storing content
Another important part of the work of e-marketers involves organising our tasks. If you often draw inspiration from things you find online, saving links in bookmarks, sending mails and other jobs can quickly create a confusing mess. Clear up your screen with one of these plug-ins from Chrome.
Pocket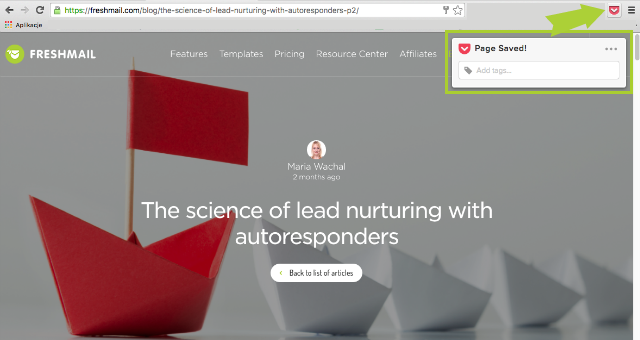 This extension lets you save everything you want to go back to in one place. You can open it at any time on any device, even if you are offline. It's great for time like when you are on vacation or away from the office. Save every article, video or web page and get back to it when you have time!
Evernote Web Clipper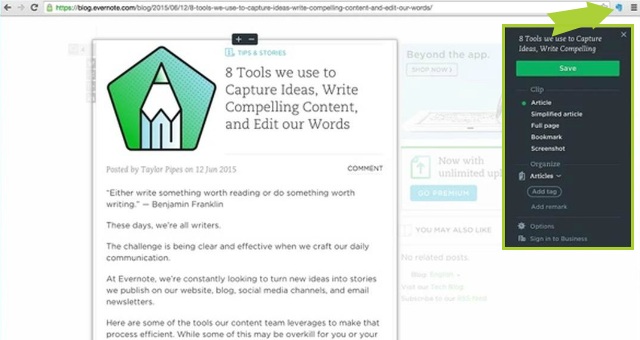 The next plug-in for saving bits and pieces that you come across online is Evernote Web Clipper, which makes it easy to save whole pages and links and individual graphics in the form of a note.
Download now >> Evernote Web Clipper
Google Keep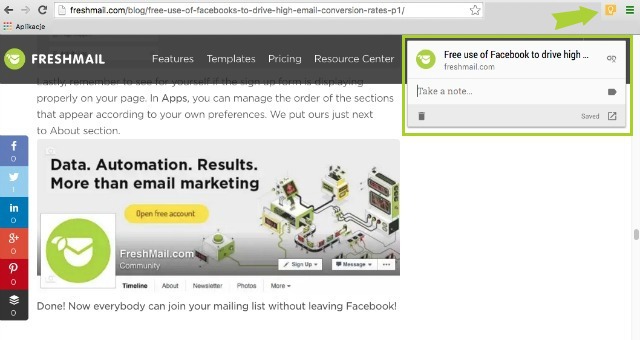 See something cool or useful that you want to return to later? Save it in Google Keep. Use notes to make reminders that are synchronised across your devices. Adding labels and detailed notes makes it easy to keep everything organised and find what you need.
Pushbullet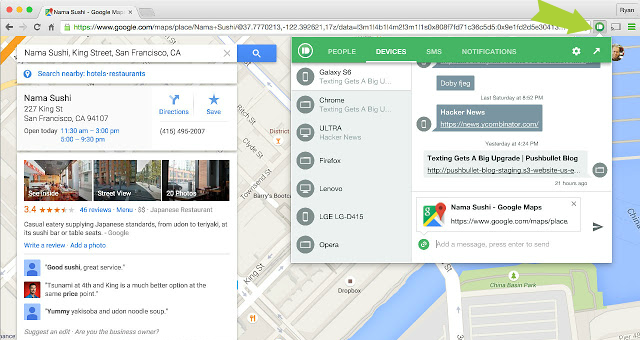 Pushbullet is a great tool that makes your work on multiple devices easier. Send a link or different files between devices with one click and divide content between your computer, tablet or smartphone.
Working with text
Creating content for your webpage means using plug-ins that make it easier to collect and manage texts. Here are some great tools that help you to read.
Readability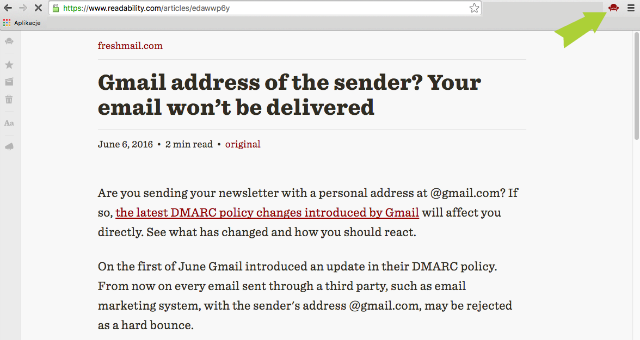 A useful tool for those who read alot online. Readability removes distracting bits from the page and just leaves the text and related graphics. This extension also lets you save articles to go back to later or send them straight to Kindle.
Grammarly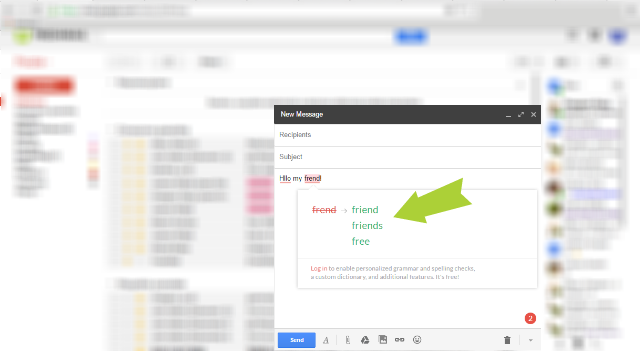 Grammarly helps us avoid the little mistakes that we can all make by checking your text to make sure everything is in the right place. Grammarly is a free plug-in for Chrome that analyses everything about your text and suggests improvements. Don't think you can't benefit from a little help!
Project Naptha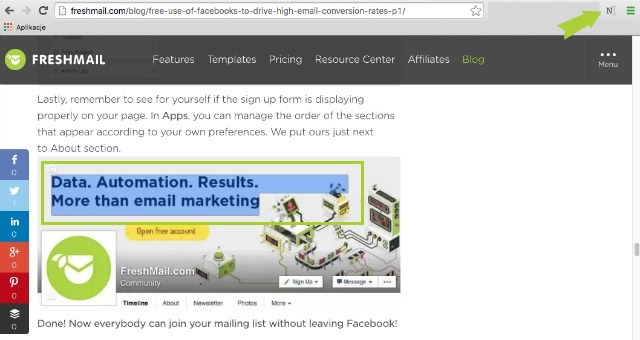 What would you say if I told you that you can copy text from graphics or pictures online? Well, I'm telling you that you can, with the help of a neat plug-in called Project Naptha. It lets you highlight and copy text, translate it and edit it as well. A great tool for any content manager.
Download now >> Project Naptha
Pin It Button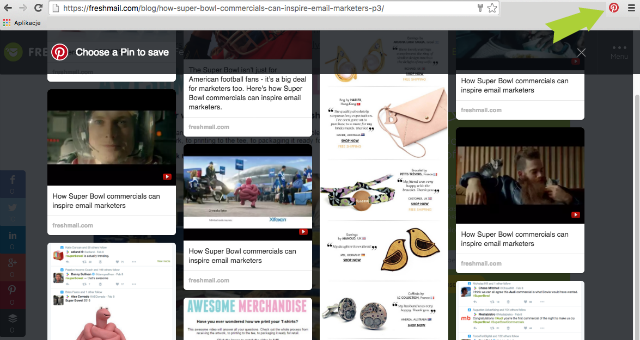 One click and great content gets posted on your tablet. Thanks to this official plug-in from Pinterest, you can attach pics and graphics from any site to your gallery.
Support for web designers
Do you design or create websites? Use some of the tools listed here to do things like take snapshots or download a color from a site. Find out what fonts are used on a website, verify that a project is put together well or see how a design will display at different resolutions.
Awesome Screenshot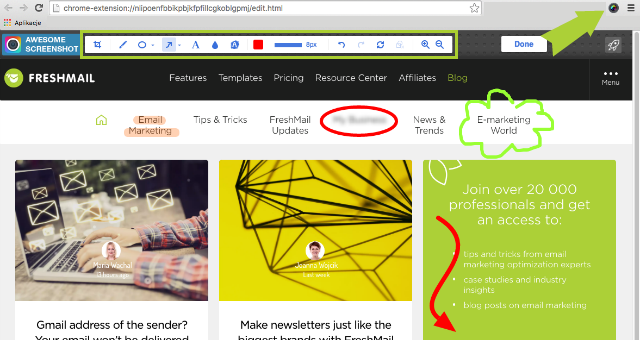 Take awesome screenshots with, well, Awesome Screenshot. This plug-in makes it easy to capture the whole screen or whichever parts you need. Some basic editing tools make your screencaps pop with color or blur details you don't want to share.
Download now >> Awesome Screenshot
ColorZilla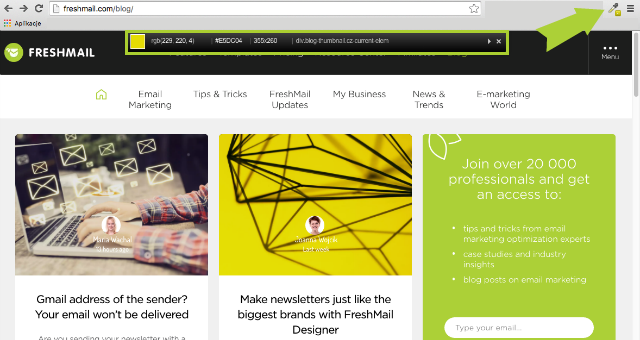 If you create webpages or you work with graphics, you need to check out ColorZilla. It helps you download colors from websites and use them in graphic programs, making everything faster and easier.
ColorPick Eyedropper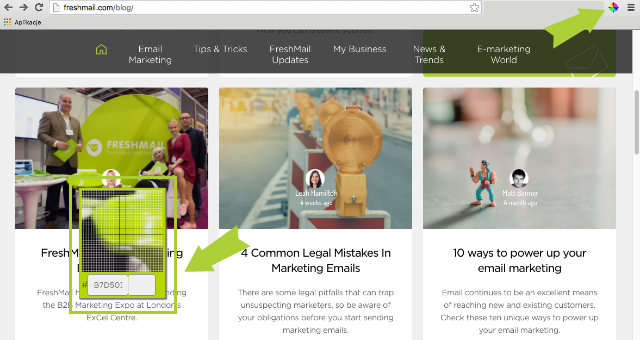 An alternative to ColorZilla is ColorPick Eyedropper, which lets you download colors from anywhere.
Download now >> ColorPick Eyedropper
What Font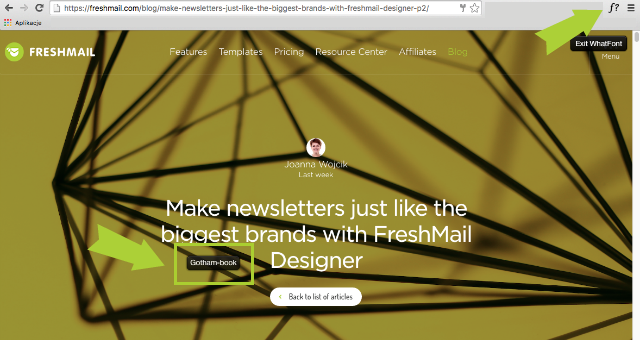 Want to know what font you're looking at? Just download a great plug-in called - guess? - What Font.
PerfectPixel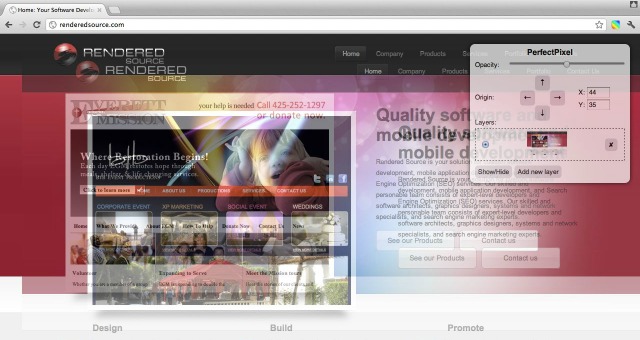 Another tool for webpage designers, PerfectPixel lets you place semi-transparent layers over existing pages to help you see if they match each other.
Window Resizer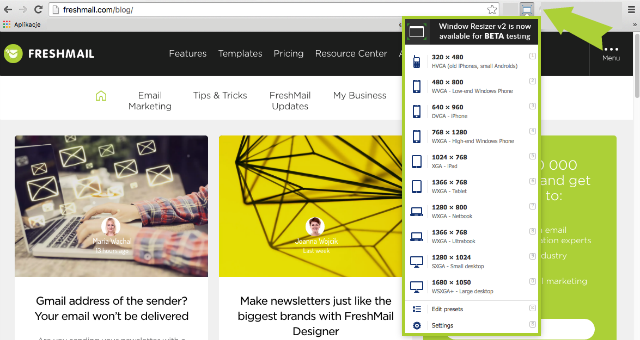 Do you want to check to see if your website displays properly on tablets and smartphones? You don't have to use each device separately to see, just install Window Resizer. It will provide you with a list of suggested resolutions and you choose what's best for you.
Download now >> Window Resizer
Oh, yeah - did I mention that everything from the Chrome Store is for free?