It often happens that you call a representative of a company to talk about working together or setting up a workshop or some other matter, only to be asked to send an email instead of talking to someone.
Why does this happen?
Before the first contact the other party doesn't have enough information about you and so doesn't feel comfortable discussing anything over the phone. Sending an email lets them not only get to it when the can or want to but it lets them better understand who they are dealing with.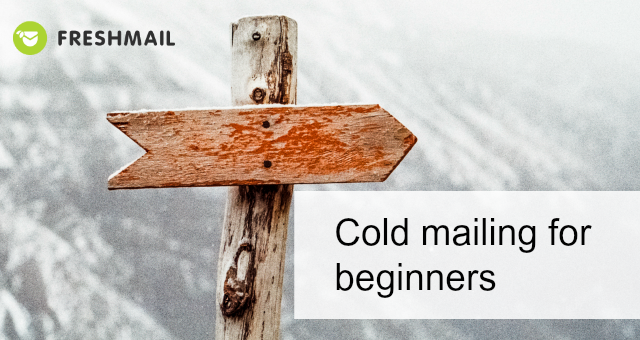 That's why, instead of wasting time and energy on a call, it's best to start out with an email with an explanation of why you're getting in touch. After all, email is still the best channel for B2B communication.
There's another advantage to using cold emails and that's the higher chance that your message will reach the person you're looking for. Getting an email address is easier than getting a phone number.
Remember that your cold mail should focus mainly on the recipient and how your offer can benefit him.
Sending unsolicited commercial information and cold emails
Legal regulations in most jurisdictions forbids sending unsolicited commercial information to anyone who hasn't agreed to receive it. Also, don't send mail to addresses that appear to be accessible by more than one person, like office@, etc. These kinds of messages can be flagged as spam, which and other potential legal consequences.
So how to do it properly and legally?
In your first message, don't include your offer and just keep it limited to the reason you're getting in touch and and request to set up a time to talk or meet. If they're interested in learning more, they will let you know.

Ask for contact with the person who could be interested in working with you or the decision maker for such matters.
What is a cold email?
Cold mail is a quickly growing form of contact with potential customers, especially among new businesses. It's a message aimed at a particular recipient with whom you've not had contact before. Its goal is to sell, open business contact, get an answer to a questions or get help in a particular matter.
One of the main advantages of cold mails is their personal form. To make your mail effective, you need to make the whole message personalised. This is especially true when you want to get a reply.
When writing a cold mail, pay special attention to a few important elements:
A personalised and/or interesting subject line
Information about who you are, short and to the point
Content related to the recipient or company for which he works
A clear explanation about the point of your message - not a commercial offer!
A specific call to action like setting a phone call
A footer with all the basic information needed to contact you
Let's take a look at what you need to do to send a cold mail that will interest the recipient enough to get a reply.
1. Catch their attention with your subject line
The message subject is the first thing that your recipients see. Make sure it does everything possible to get them to open the message.
Here's a good example of a personalised message with the sender engaging the recipient with a request for help:

2. Personalise your message
The next important matter in cold mail creation is personalisation of both the subject and content. Remember that you're talking to a person here. The better impression you make through personalisation, the better the chance that you'll get a reply.
Adapt your message for the position of the recipient and make it clear that you know who they are. Show that you didn't send a thousand copies of the same message to a mailing list but instead you took the time to write to an individual.
Here's an example of what I mean. As with the previous one, the message starts with a personalised and engaging subject. After using the name of the recipient, the sender mentions that he knows what the recipient does. Next, he explains the reason for his message and asks for a specific bit of help he needs.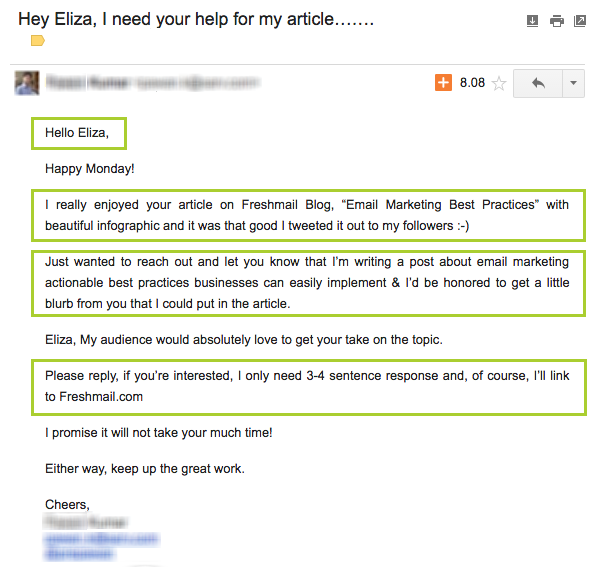 3. Remember to follow up
If the recipient doesn't respond to your first message, don't give up too easily. A few days after your send the cold mail, follow up with another. Jason Zook says that more than 75% of his sales come from follow ups.
Another reason not to give up after the first mail is the fact that it can arrive at a bad time when the recipient is not able to give it the necessary attention. Your message can also get lost among other emails and offers or deleted along with other messages.
When using a follow up, try to make it different from your previous message. Copied text doesn't make a good impression and can be enough to lose the recipient's attention permanently.
Have a look at this example. In the first mail, the sender addresses the recipient personally and then mentions some work she did before getting to the purpose of her message.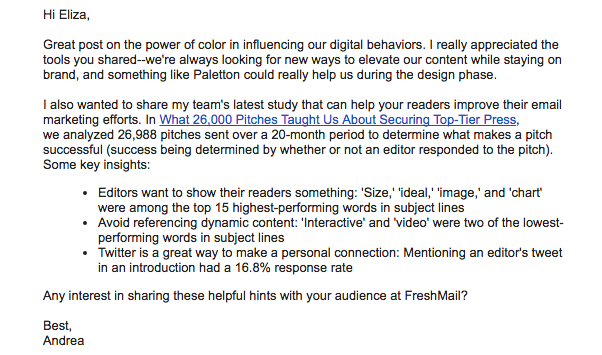 A few days later she sent this follow up: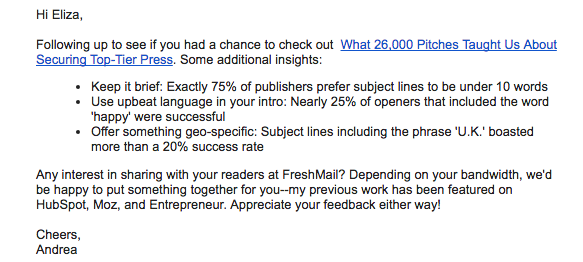 At the end of the message, to increase the credibility of her work, she mentions who she's worked with, which is always a good way of communicating quality.
4. Keep it simple
Remember that your message should be short with simple questions or requests. Try not to use open questions but instead ask about things with specific answers like "Can we meet this week?". If the recipient wants to get in touch with you, he will be able to quickly think about where you might fit in his upcoming schedule and find 15 minutes for you.
You can also make it easier for recipients to reply to your mail. Put together a list of common reasons for the lack of a reply and make a bit of joke out of it. Here's a great example from Bernie Reeder showing how asking for just a number helped his message get a 46% response rate.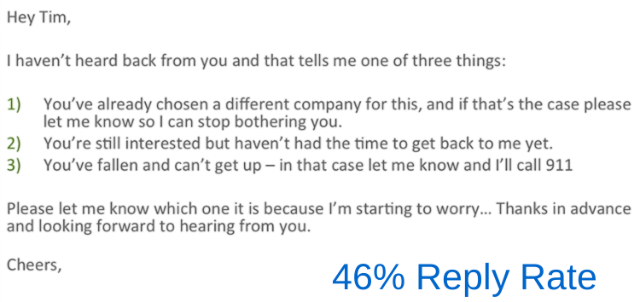 5. Strike while the iron's hot
Have you taken part in an industry trade fair? Or maybe at a conference and you met a presenter? Did you exchange business cards with someone who could be a potential partner? Use the fact that you had some face time with someone and send a message.
How to do it
Wait a certain amount of time - a day, maybe - and then send a mail in which you mention the conversation you had with the recipient or the meeting where you were together. This is a great way to start and keep a connection using follow ups when needed.
Here's an example from FreshMail that shows how to use a new contact to start building a relationship starting with an invitation to get in touch.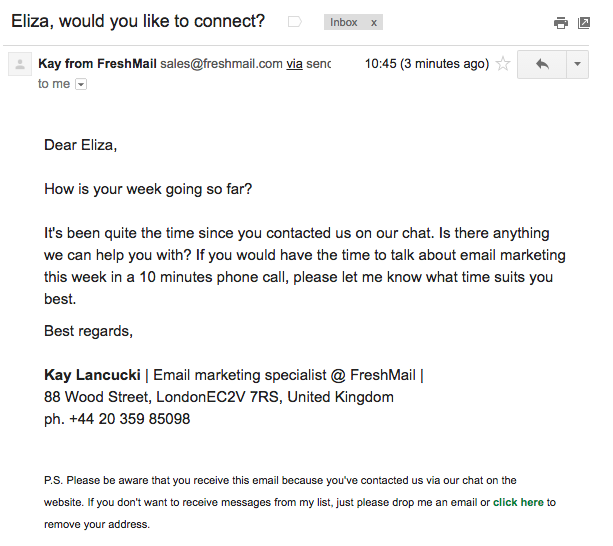 Remember that even if you got an address from the owner, you can't send a commercial offer in your first message because you don't have consent to do so.
6. Ask to be directed to a particular person
If you can't make contact with the appropriate person inside a company but you have someone else's address, ask that person to direct you to where you want to go. It might not be the best example of a cold mail but there's always a chance that you can finally get in touch with the person you need to speak to about working together.
Summary
If you want your offer to reach a particular person, sell a product or service in B2B, follow up on a contact made at a conference or just get an answer to a question, then a cold mail could be just what you need. A well-planned strategy combined with a personalised message and the use of follow ups can result in the conversions you're looking for. You just need to be patient because cold mailing is about building relationships and then gaining new customers.
Bear in mind that your first message shouldn't contain a sales offer. Sending unsolicited commercial information is illegal and not part of good business practices.