You can find lots of information online about new developments in email marketing and trends to keep up with. There is definitely no shortage of advice about taking your email marketing to the next level.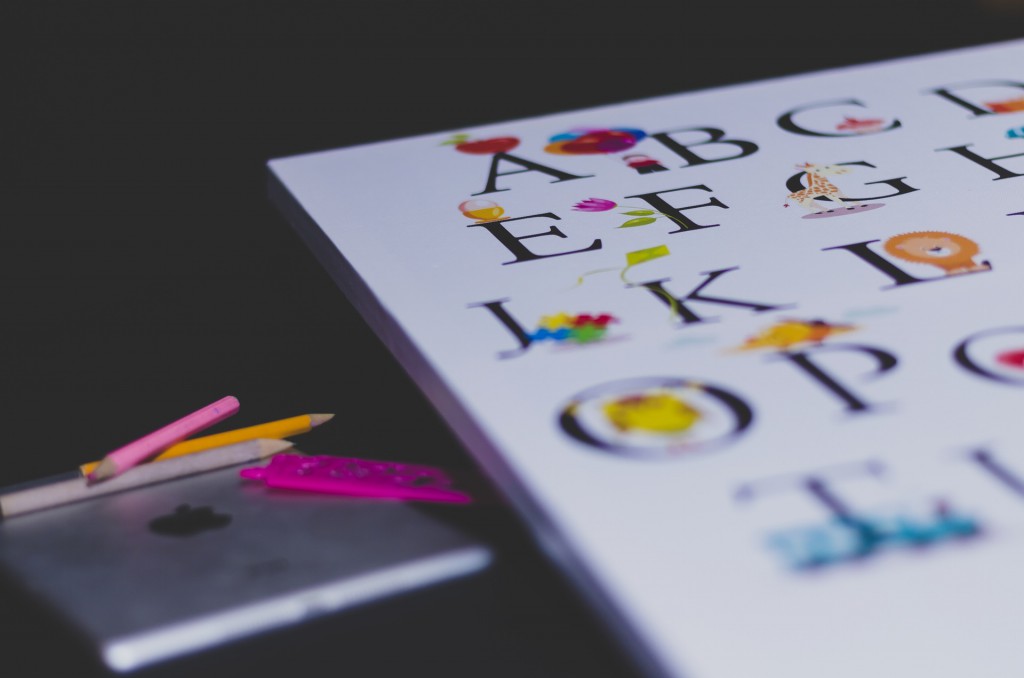 This makes it easy to get distracted from the fundamentals that every successful campaign has to follow. That's why this time we're going to take a look at the basics that you always need to keep an eye on before you focus on what's new and hot in the world of email marketing.
1. Decide what your goal is
Does your email marketing have a broad strategy? Do you know what you want to accomplish with each campaign? If you can't answer these questions, take a step back and think about just what you want to achieve through your email marketing. A good strategy should contain a few elements that address questions like:
What is the purpose of your message? Is to increase traffic on your site, promote a product or maybe to increase the value of the average order?
How often do you want to send a newsletter? A few times a week, once a month or something in between?
What resources do you plan to use to enhance your campaigns? Can you add coupons, discounts, free delivery or an extended period of free use?
Do you want to send standard sales-oriented information or something to help build your brand and engage customers?
How do you benefit?
If you start by planning your email marketing strategy, your communication becomes more consistent. You will know what kind of content gets a good reaction from your subscribers and what doesn't.
Planning also makes it easier to check your assumptions about your subscriber database and identify the activities that increase engagement and which have a negative effect. Setting goals right from the start makes verifying the effectiveness of your campaigns much easier.
2. Houston - we have a problem!
Before you send your campaign, you have to check to be sure that everything is working as it should. Start out by testing the message subject.
Subscribers not only have a bad reaction to wrong written subject lines, but you lose credibility in their eyes. And once your message is sent out to the world, it's too late to correct anything.
Graphics are another important subject. Unfortunately you don't have any influence over how various email service providers work and your email could end up looking like this: You can, however, be sure to include ALTs (alternative texts) in your graphics. Just add a few words that will display if the graphic doesn't that can tell subscribers what they're missing and encourage them to download the visuals.
How do you benefit?
If your message is properly labeled, recipients understand the purpose of your mail immediately. There's a much bigger chance that you can convince them to download graphics and communicate your content.
Here's what an ALTs should look like. Doesn't it make the message more worth checking out?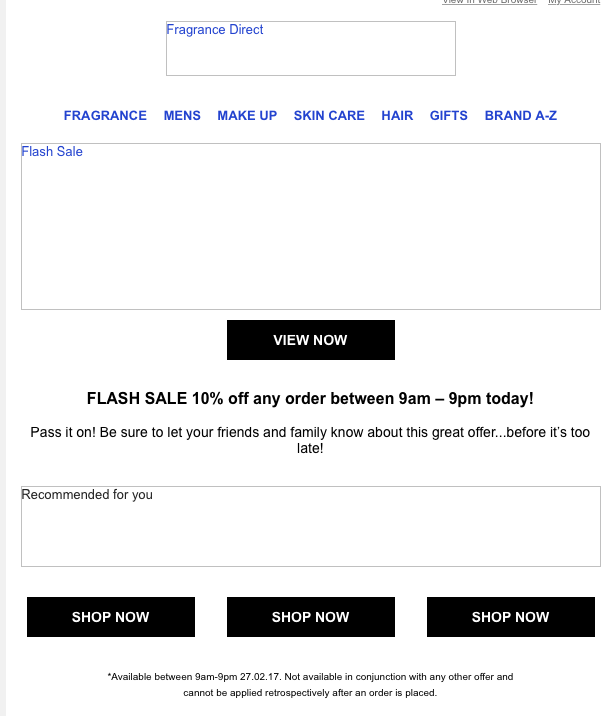 The next thing you should verify before sending out your campaign is that all your links work properly. Links that don't take subscribers where you want can ruin your conversion rates for obvious reasons. Don't expect subscribers to give you another chance after they click on a link that takes them nowhere. That's super important rule in email marketing basics.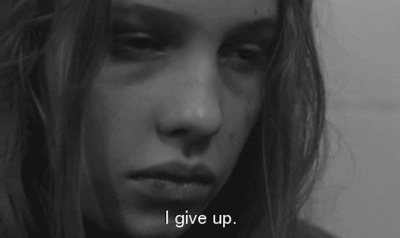 These are just a few of the most important aspects of any email campaign that need to be double-checked before hitting "send".
Learn more about them here:
How do subscribers view mistakes in your campaigns?
3.Personalization
Every marketer knows how important personalisation is. Every year, marketing trends show that messages should be tailored to individual recipients. But, as is often the case, what we "should" do is different than what we actually do. First of all, the numbers don't lie: 39% of marketers personalise their campaigns, meaning the majority of marketers doesn't bother! Just look at my inbox - 14 messages with no personalisation at all!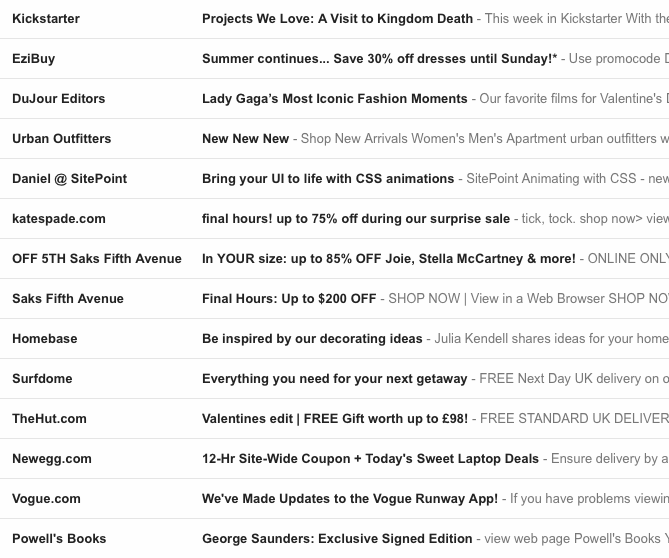 How do you benefit?
Personalisation is incredibly important. Our research shows that you can increase your open rate by over 126% just by adding a name in the subject line. Remember that personalisation is more than just a name and you can also use geolocation data, among other kinds of information. This helps if you are promoting something in a certain area or at particular locations. Don't forget about using behavioural data to customise messages, either. Knowledge of a customer's purchase or browsing histories can be just the thing you need to drive conversions.
4. Wasting your potential through "spray and pray"
Forty-two percent of marketers don't segment their subscriber databases. This is strangely low since everyone knows the "spray and pray" strategy is a huge waste of time and effort.
Segmentation is a must and can be done on the basis of several criteria, including:
declarative data

gender

behavioural data

tags  
How do you benefit?
Marketers that start using segmentation can see the results it brings - 39% say it's the most important factor in increasing their campaign open rates. Segmentation is not optional if you are serious about getting the best possible results from your campaigns.
5. Database hygiene
Is your database "cleaned up"? Do you check to see which addresses bounce and what kind of bounces they are? Do you use the double-opt-in model to make sure that you collect quality addresses?
Always keep an eye on the metrics that help to ensure that your messages land in inboxes and not in spam folders:
don't send to addresses that have resigned from your mailing list
delete addresses that bounce too often
Be on the lookout for false addresses (abc@123.com, etc.)
How do you benefit?
By keeping your database in good order, you:
reduce the possibility of sending emails to a so-called spam trap, a device used to identify spammers
reduce the chances of your messages being labeled
increase your open rate, click through rate and conversions
limit your database to addresses that bring results
save money because you don't send your messages to addresses that will likely never respond
Get back to the email marketing basics and see how you can improve your results by following the most simple rules of email marketing!