Confirmation messages - the first step in the customer communication path
They say you don't get a second chance to make a first impression and it's as true in business as it is in other matters. If you make a mistake right away, gaining back trust can be hard. A customer's first impression often comes from the confirmation mail they receive after joining a mailing list. FreshMail offers sample templates for such messages and we want to show you how you can personalise and optimise them to suit your needs. Since confirmation emails are usually expected and attain rather high open rates, they present a great opportunity to start creating just the image you want to convey and encourage new subscribers to open your future messages as well.
Stand out
Getting noticed is a good thing, right? Bring that mentality to your confirmation message content and show your creative side right from the start! There's no need to always stick with copied-and-pasted formal language from another email you used ages ago. No matter what field you're in, you can always find a way to tailor content to make it more than just a simple matter of confirming a new subscription.
Remind them of the benefits
This is how we do it at FreshMail: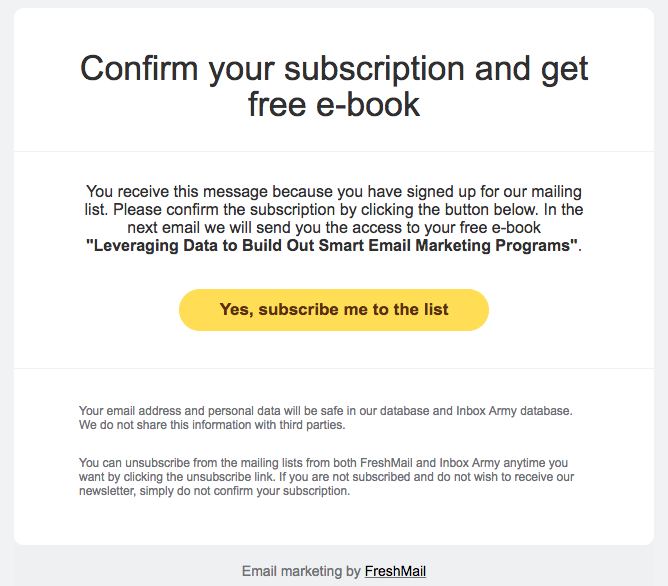 We used our blog to encourage subscriptions to our newsletter and as a reward for sharing an email address with us, we sent a e-book. In the confirmation mail we informed subscribers that they would receive it after clicking the confirmation link.
By clearly showing the benefits of joining the newsletter, you're giving subscribers additional motivation to click on the confirmation link. This means you get to both expand your database and assure new subscribers that they will enjoy and appreciate the content you share. Score!
Follow GDPR rules
GDPR involves a wide range of obligations regarding the storage of personal data. In accordance with these rules, data administrators must provide:
contact information

the purpose of storing personal data

the legal basis for the storage of personal data

information regarding any intention to share the data with a third party

how long the data will be stored

information about the right to:

examine stored data

change or delete stored data

withdraw consent for the storage of the data, which must be as easy as it was originally to provide

information about the right to transfer data

information regarding the right to file complaints with the relevant authorities
You're probably thinking that it looks like a lot of work to comply with the regulations. Thankfully, there's nothing that says you have to have to fit all of this on, for example, your signup form. You might consider including these details in your confirmation message. Recipients will have the information in one place and clicking the confirmation link can constitute consent to the regulations.
How to set it up in FreshMail
Step 1: log in to your FreshMail account
Step 2: go to Subscribers Tab in the Main Menu

Step 3: select the subscriber list that new subscribers will be added to after clicking on the confirmation link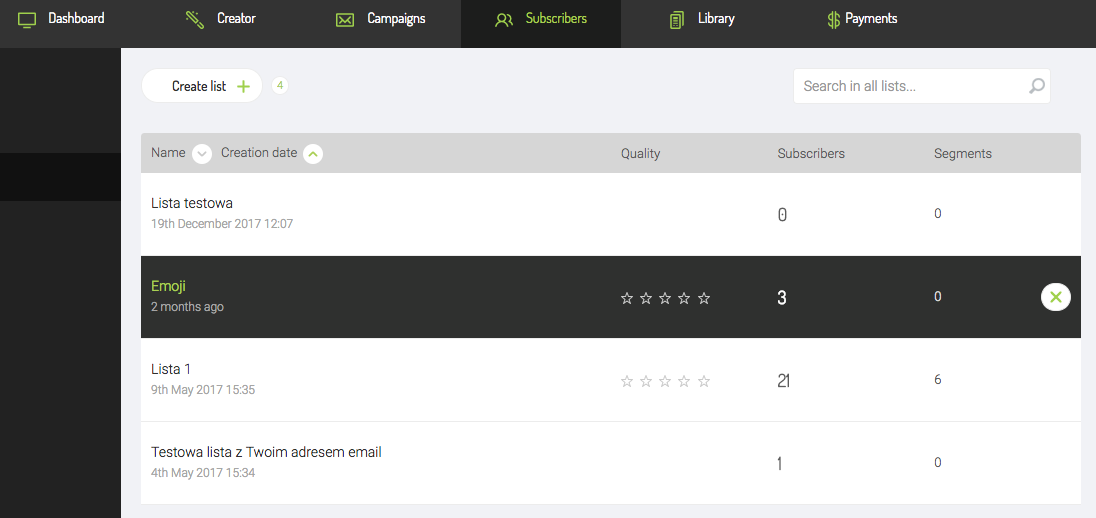 Step 4: in the left-hand menu, select Sign-up form and then Confirmation messages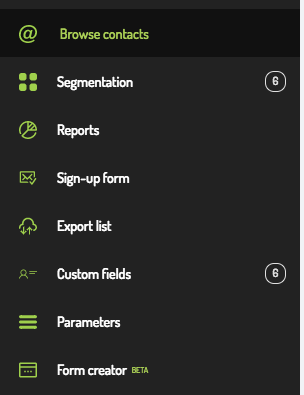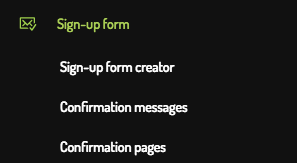 Step 5: this is where you can change the subject of the confirmation message, sender name and sender address. To edit the message content, click the Edit button.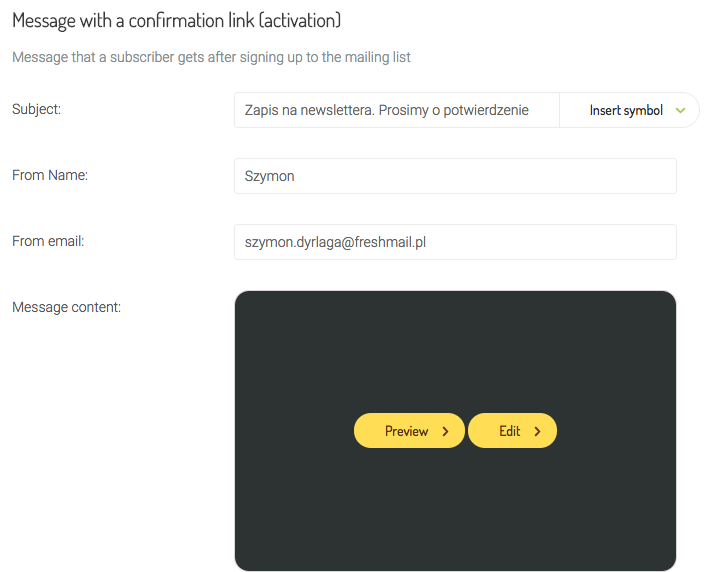 Step 6: edit the appearance and content of the message. Apart from standard editing options, you can also add special characters, lines, quotes, links to videos, graphics or past test from MS Word. When you're finished, just click the save button.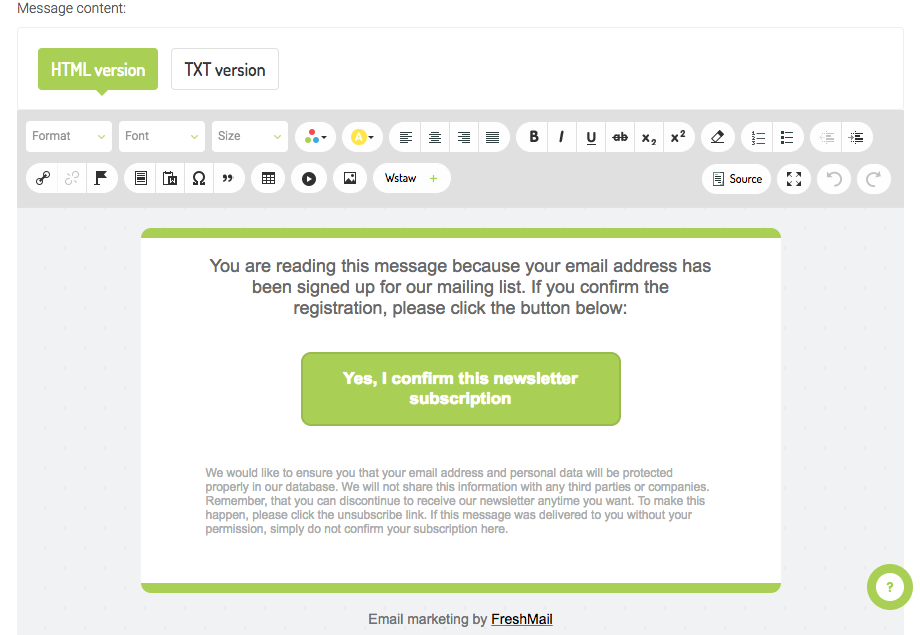 Why double opt-in?
We've written often about the advantages of using the double opt-in model. If you don't know already, it's about sending a confirmation email to the inbox of anyone who signs up for a newsletter. After clicking on the link, their address is added to your subscriber list. The double opt-in model lets you be sure that whoever supplied the email address actually has access to the account and is really interested in you. Also, since you have confirmation that the address exists, you don't have to worry about wasting money to fictional or non-functioning addresses.
The new GDPR regulations governing the protection of personal data stipulate that consent must be:
clear

understandable

voluntary

confirmed
If you use the double opt-in model, you can satisfy all these requirements via your confirmation mail.
If you still use single opt-in, you risk:
adding subscribers who have not consented to the storage of their personal data (legally, an email address is personal data)

legal sanctions against sending marketing messages to individuals who have not consented to receive them (when someone else provided their address)

bots or other spam addresses joining your database, which lowers your deliverability and reputation as a sender

addresses that contain mistakes, which cannot be used and generate hard bounces
Use this opportunity!
When creating your confirmation mail, you have a chance to drive subscriptions and show your creative side, which can pay dividends later in the communication path. It's also an opportunity to share important information required by law. Have you made any changes to your confirmation email lately?