A cycle of welcome messages in email marketing can be a great introduction for a new subscribers or an invitation to first-time visitors to an online store. They can help to make a great first impression that forms the foundation for long-term relationships with customers. This type of message can do much more than just set a friendly tone for your communication. Let's take a look at what else cyclical welcome messages can do for your campaigns.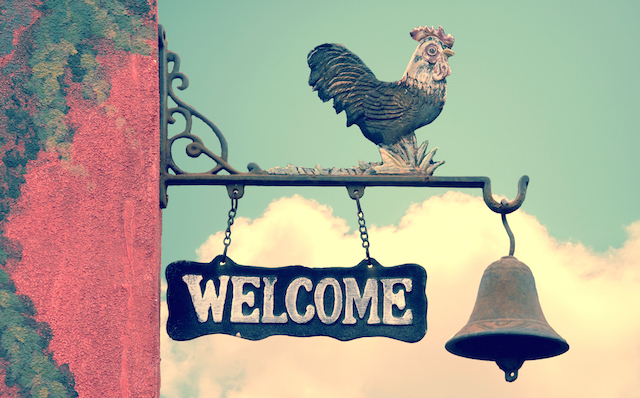 An Open Rate over 50%? How can you say no?
Exceptionally high Open Rates testify to the huge potential of welcome messages. According to The Welcome Email report from Experian, Open Rates can exceed 50%! 
How do welcome messages make such statistics possible? If you collect sign-ups to your newsletter using the double opt-in model, you inform new subscribers that after entering their email address in the sign-up form they will receive a mail with a confirmation link. By doing this you direct their attention to their inboxes and the new message is something expected and lets them complete the subscription process and deliver the benefits that come with it. It could be access to premium content, a discount or some kind of prize. This is the moment of greatest interest and the basis for all future communication so it's worth getting the most out of it.
Use the potential of welcome messages to increase your Open Rates to over 50%! Click to Tweet
1.  Increase your credibility with spam filters
From signals given by Sri Somanchi during the Email Evolution Conference, we can assume that Gmail now identifies spam in part from signals it gets from message recipients. Things like moving a message to another folder or adding an address to a contact list is interpreted as a sign that the message was welcome and wanted by the recipient and therefore the chances of it being spam are minimal.
Providing an email address shows that subscribers are in fact interested in content that they can receive from you. Adding an address to a list of contacts makes all future communication that much easier. For some email service providers, it also means that graphics in your newsletters will be automatically downloaded from your server, which in turn adds to your positive reputation as a sender. For your subscribers, it means that messages from you will not be directed to the spam folder and so they won't miss things like important information about last minute offers only for newsletter subscribers.
If you introduce a cycle of educational or training welcome messages, recipients will get a thematically connected series of emails that they can keep for future reference if necessary. Cyclical messages are a great occasion to ask recipients to create a special folder to keep the mails for easier access later - another signal to Gmail that positively influences your reputation as a sender.
2. Get to know more about the preferences of your recipients and hold on to them for longer
A fundamental aspect of effective email marketing is following the principles of permission marketing. This means that subscribers have given their consent to receive messages from you and do so willingly in the expectation that the content they get from you will be of some value. This consent can be withdrawn at any time simply by clicking a resignation link. This is a standard procedure that most subscribers expect you to follow. But given the pervasive trend of the personalisation of products and marketing messages, it's worth taking this one step further.
Email preference centre is a tool that lets you better adapt the content or frequency to the individual preferences of your subscribers. How? As part of your welcome message, you can send an invitation to fill out a special form where recipients can set their preferences regarding the kind of content they receive and how often they receive it. This is a good way to show that you are less focused on what you want to sell and more concentrated on what really interests your subscribers. What better way to start to build trust right from the beginning of your relationship with new customers?
3. Look after your database hygiene and save money
An expanded program of welcome messages set up through Sign-Up Autoresponders lets you learn more about the actions and preferences of your recipients. Advertising messages are everywhere all the time and so consumers learn to be selective and engage with offers that provide concrete benefits like free items and discounts. According to a report from the Direct Marketing Association, these kinds of offers are the main incentives that drive new subscribers to sign up for a newsletter, even if they then ignore future communication.
Sending cyclical messages to new subscribers with a defined frequency after sign-up is a good way to measure which of them open your messages and click on links. If you are paying for each message that you send through your email marketing system, this information helps you to keep to a budget and not waste money on sending messages to recipients who are not likely to even open them.
4. Educate consumers and increase brand awareness
The mission of lead nurturing is to present potential customers with information that leads them on a path towards the eventual purchases of a product or service. It typically takes the form of a series of messages that contain, for example, customer testimonials, tips for proper use or general user guides. As cases studies from MarketingSherpa show, using cyclical messages instead of a single email can increase your CTR by up to 450%.
Additional information presented in the form of an e-book or automatic message sent to your subscribers after clicking a certain link can be a great way to stimulate future sales. This kind of cycle lets you get more information about how your brand is perceived by subscribers. Advice and small bits of information are always useful in both helping your customers find what they are looking for and helping you prepare your offer to suit their needs.
Using cyclical messages instead of a single email can increase your CTR by up to 450% Click to Tweet
5. Start selling
Many marketers are tempted to make an attempt at selling something in the first email sent after a new subscriber signs up since that message usually has a very high open rate. This kind of "welcome offer" might include something like free extras with a purchase or free shipping - anything to take advantage of impulse buying. Here's a good example of this.
Through the automation of your email marketing with autoresponders, you can also use welcome messages as part of a countdown to a specific date. Reminding customers about limited time deals are a great way to keep them aware of your offer. You can, for example, discount prices on certain products that return to full price one week after subscribers receive the message. Autoresponders can then "countdown" until the end of the promotion with messages halfway through and on the last day. This can help to motivate customers who were interested but needed a little extra push to finalize the sale.
One welcome message or maybe a series of ten parts of a longer educational course? You have lots of options to use the potential of the first message you send new subscribers to your newsletter. Try different things to see what works best for you. Good luck!