When creating content for your website you need to make sure that it will hold the eye of the reader and be interesting enough for him to share it. Not even the most advanced applications can replace a creative mind but here are some free and simple tools can make your presentations much more attractive.
[UPDATE]

Recently we've extended our list. Check 100 tools for content marketers put together in this blog post. Find out if you know them all and make your everyday work easier.

Take a look at this handy list of free tools to improve your content marketing with the help of creative interactive photos, infographics and animation. As a bonus, we've added a list of sites that you can visit to get inspired to write.
Photos, print screens and animation - how to illustrate content in an interesting way
This is an easy-to-install plug-in for the Chrome browser. It allows you to take 3 types of screenshots: the visible part of a website, a screenshot of the whole screen or just one marked part of it. Sounds familiar and not particularly innovative, right? But wait - the real power of this tool is cutting, adding notes, blurring parts of the page you want to hide and the ability to print and save documents on your computer or on Google Drive. It's definitely a great tool for training presentations, blogging, etc.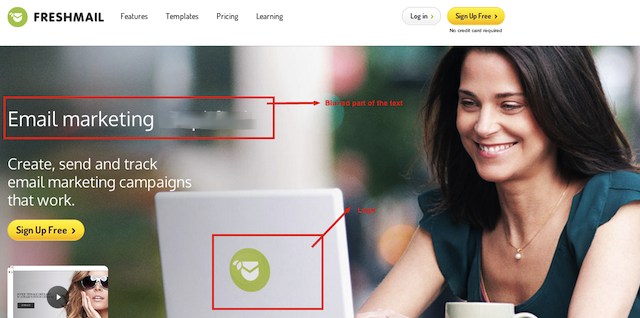 This is another plug-in for Google similar to the one mentioned above.  The blurring tool in this program is more accurate and has expanded features. Let's say, for example, that you want to share a part of your Facebook page but you don't want to include any of your personal data that might be shown. No problem - this plug-in will help you to do it simply and artistically.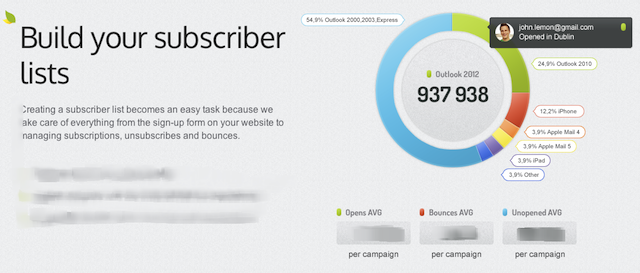 Watch the tutorial:
ThingLink allows you to create interactive content marketing. You can upload a photo and add some small icons that display the information you enter. Or you can make it more complex - you can add photos, videos, links to websites and more. After creating your interactive photo you can embed it on your website or share it in social media. This tool is perfect to 'revive' photos in a simple and effective way. It also features a very useful option - you can add a 'share' icon from all kinds of social media without code interference and it doesn't require any other special skills.
Move the cursor on the photo below to see the effect of the program:
This tool allows you to insert your photos onto a stock photo of many different objects like mobile phones, tablets, laptops, billboards etc. The photo is automatically fitted to the size of the object you selected. If you use free version of the tool, the photo will be tagged with a small website reference.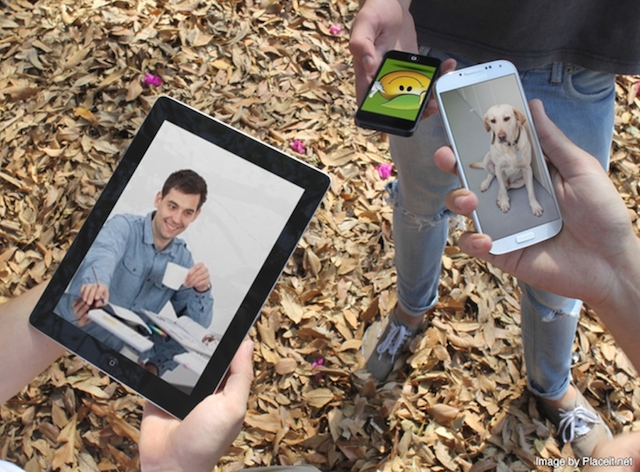 A very easy meme creator that might be familiar to you but worth another look. What do you need to do to create a meme? Select a photo, add text and embed it on the website. Here's the result: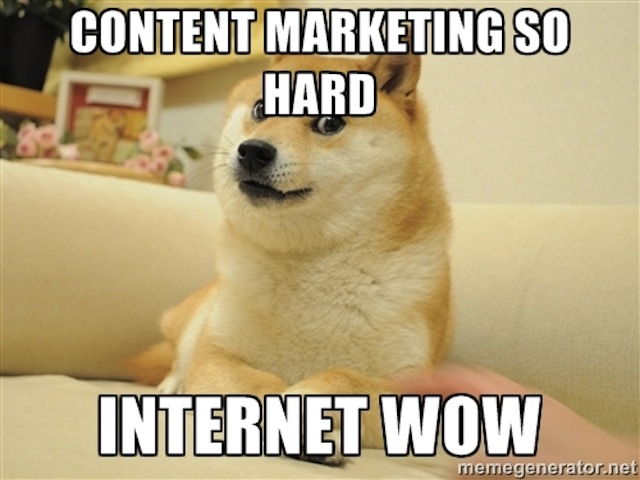 This program is called the 'Youtube for PDFs' because it's a simple tool for publications, presentations and also allows you to share documents, books, magazines, etc. with friends. Uploading PDF files (as well as other formats) and publishing them online in an attractive form has never been so easy or the results so impressive. Content marketing level up.
Take a look at this video to see its advantages:
Adding tweets as a live streaming feautre to your website or article definitely makes content more interactive. But it's not only tweets can be additional streaming elements - they can also be photos or videos as well. On top of that, after posting a tweet, Embedded Tweets gives readers access to all its functions (Reply, Retweet etc.) from the website level. Too complicated? Check out Storify as well.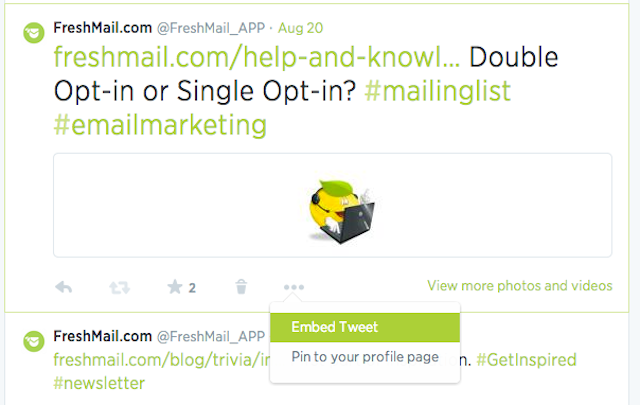 PowToon is a tool for creating simple animation that can attract the attention of readers faster than the most interesting text.
One look at this will explain a lot:

Infographics - how to create an impressive visual presentation of data
This tool will help you to create great looking infographics. You can register or log in through Facebook and then choose from a few templates and then create a unique infographic that is intuitive and doesn't require any graphic talent on your part. You can then share your work in social media or insert it into your website.
Watch the tutorial:
This tool supports content marketing by giving you the ability to create original infographics. In the free version of the program there are several templates to choose from. Piktochart also lets you upgrade graphic elements. Infographics from Piktochart definitely stand out.
Watch the tutorial:
Another useful tool for data visualisation. This platform allows you to create, share and promote your infographics. If you are looking for inspiration, you will find it here in a database of more than 30.000 existing infographics.
Watch this if you're still not convinced:
Content marketing - what to read to inspire your writing?
This is a platform that allows you to collect articles on a topic you are interested in. You can also search for articles on a specific topic which have already been published. A proper search will let you to create original texts and enrich your content marketing.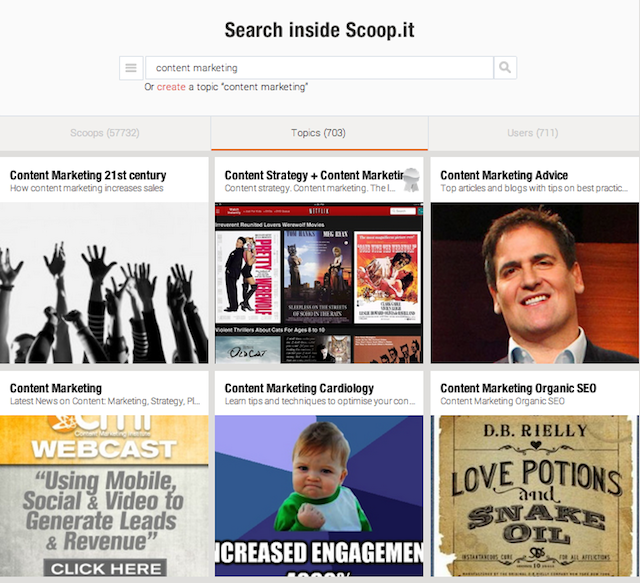 This tool is dedicated to Twitter. After typing a phrase in a simple search, you will see what exactly is the most popular in the platform right now. The potential for analysis is enormous.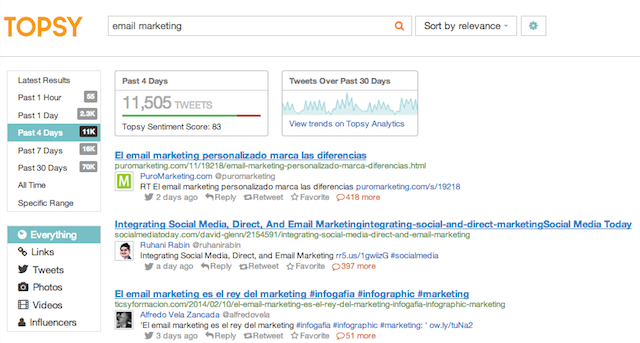 This is a place where you can create lists on any topic, let others to vote for it and add your own subsections. You can also review the most popular lists in leading categories. The service offers the ability to place such content on your own website or Facebook.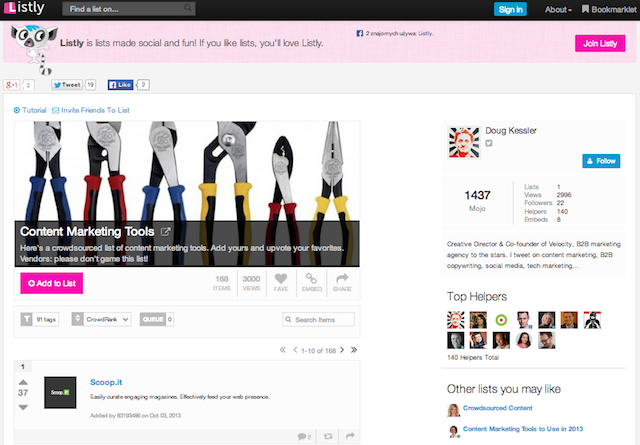 Which tools do you use to support the content marketing?
If you didnt't find any tools to help you, share your own discoveries with us in the comments.