"When all you have is a hammer, every problem looks like a nail." - Abraham Maslow's, The Psychology of Science
Too often, as marketers, we start with the technology, but if our end goal is to help our customers make decisions, meet needs and achieve goals, then shouldn't we start with them?
Instead of only focusing on our own objectives, we should additionally look over at our customers and ask ourselves, "How can we help them achieve their objectives?"
The holistic approach enables us to come up with a customer-centric solution using all the tools we have at hand. That's when we realise we need to reach for the screwdriver as well as the hammer in the toolbox because they help us understand the digital body language that tells us what they're looking for.
Understand the #digital body language of your #customers via @kathpay @holisticemail  Click to Tweet
What is Holistic Marketing?
Holistic marketing begins by identifying all the touchpoints where prospective customers are likely to encounter your brand. Your customer's journey will often begin via search and then continue onto your website, and holistic marketing calls on a combination of messaging styles and sources to successfully move the customer along the path to purchase.
It aligns with the customer's journey to purchase, which incorporates both explicit data (preferences and other signals the customer expresses) and implicit data (from browsing behaviour and search terms among others).
It combines channel strengths to deliver a customised, personalised messaging programme that reflects the customer's data and position in the sales funnel.
It requires automation to deliver those messaging streams at scale.
The model of customer-first marketing combines search ("pull") and email ("push") into a coordinated messaging model that keeps the customer first whilst helping you achieve your own objectives. After all, if you help your customer to achieve their objective (to buy from you), then you achieve your objective!
Would you like to meet Kath? Join us and a superb lineup of speakers on 14 June, London. 

Customer-first marketing is #search ("pull") & #email ("push") combined via @kathpay @holisticemail Click to Tweet
Email is the greatest push channel of them all
The reality is, we don't have to wait for our customers to find us through search or happenstance – our messages show up in our customers' inboxes, and they're welcome because they have requested them. And, if you craft them well, even your unopened email messages can keep you top of mind just by simply appearing in their inbox. What other marketing channel has that power?
With customer attention becoming an increasingly scarce commodity, marketing success depends on delivering relevant, timely and personalised marketing. And happy to say, email marketing enables all the above better than any other communication channel.
In fact, 72% of consumers prefer communication with companies to happen through email.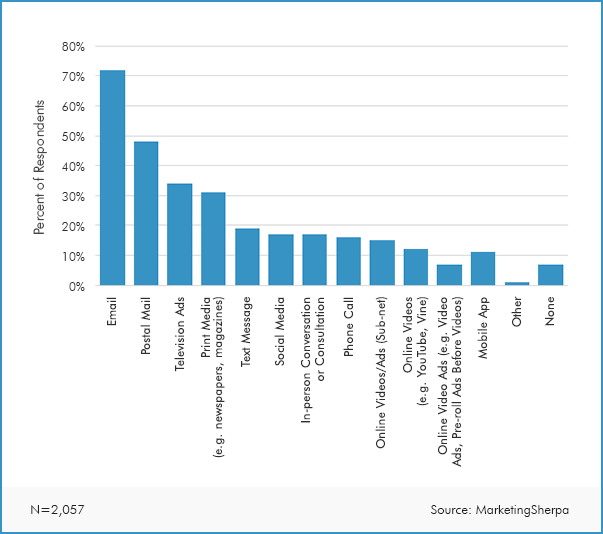 Email marketing helps you understand your audience better and put this knowledge into action into creating successful lead nurturing programmes that service your customer's needs.
Then you are able to create a great experience for your prospective customers and let them know that you know them. Because we all love to be recognised as individuals.
Learn more about the customer-first marketing
Learn how to put customer-first marketing into action and download the guide by Holistic Email Marketing.
You will learn about three marketing pathways based on different positions within the marketing funnel and whether your customer came to you via a landing page or a homepage subscribe form.
Each pathway combines unique landing pages that correspond to each level of the funnel based on the keywords for organic search, or to a specific landing page that coordinates with the link in a paid-search campaign.