We have already written about the importance of testing many times on our blog, in guides and elsewhere on FreshMail's website. But, believe it or not, there are still those who skip testing altogether because they think it's not necessary.
While it's true that you can create and send campaigns from FreshMail without running a single test, they are still the key to getting the best possible results.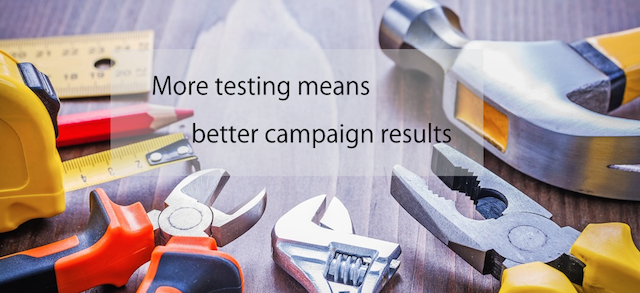 Given the time you put into creating and designing your campaign and its importance to your bottom line, isn't it worth spending a bit more time to consider how you can the most out of it? Learning more about what testing can tell you and how you can use that information to your advantage is the key to making sure that your message is properly delivered and displayed to your subscribers and optimizing the overall performance of your email marketing activities.
A/B Testing
One of the most important optimization tools, A/B tests let you learn which subject lines and sending names get the best response from your subscribers.
How does it work?
The system divides your database into three parts. Recipients in two small groups get the same message with different subject lines or sender names, depending on which you choose to test. You can determine the size of the two groups that receive the message - from 10% of your database (5% for each group) up to 50% (25% for each group). Whichever version gets opened more is automatically sent to the third, larger group.
What do you learn from this test?
Which terms, phrases and names are most likely to get your subscribers interested in what's in your message.
How can you use this information?
First of all, you can see what sender names are better received by your subscribers. Some names are recognized and enjoy instant trust - recipients can easily understand who is writing to them and what they can expect when they open the message. Other names can make recipients automatically associate the message with spam.
Secondly, A/B tests show you what kind of subject line your subscribers best react to and leads them to open and click the message. Some key words and phrases just have the power to get results but to find out what works in your case you need to test several options. Remember that the best results come from testing two very different subject lines - there's no point in trying to determine the difference between using "promotion" or "rebate" but the difference between "free delivery today" and "huge discounts today" will tell you a lot.
Read more on the subject here:
Sending Time Optimizer
This is another important tool for maximizing the results of your campaign by determining the best time to send your message.
How does it work?
The optimizer divides your subscriber database into different groups and sends the same message to them at different times and on different days during the week.
What do you learn from this test?
At what time of day and on which days of the week your message was opened the most.
How can you use this information?
Knowing when your subscribers most often open messages and click on links they contain is very useful for the obvious reason that it helps you decide when to send your campaigns. It may turn out that the greatest number of opens come during work hours but more clicks and conversions come later in the evening. Maybe sending your campaign a bit later in the day will help to keep the message in the minds of your subscribers can get even more conversions?
Since the Sending Time Optimizer helps you see when your messages get the best response, a few tests will be enough to narrow the best possible time to hit "Send Campaign" down to a small window - say, Friday at 5pm.
Read more on the subject here:
Code Inspector
This is a tool that was created to uncover mistakes that can happen in the process of coding your emails.
How does it work?
The code from your email gets analyzed by tools that can recognize irregularities and problems in its structure. Common mistakes that can cause your message to display improperly in your subscribers' inboxes are flagged as elements that need your attention before your campaign is sent.
What do you learn from this test?
Whether or not your newsletter contains any coding errors.
How can you use this information?
There is a risk that your message will not reach the inbox of your subscribers or that it will not properly display after being opened. Coding errors cause your message to be identified as unsafe by spam filters and as a result they will not be delivered where you want them.
That's why it's always worth checking to see if your newsletter contains any technical errors and give yourself a chance to correct them before sending your campaign.
Even a small mistake that doesn't get the attention of spam filters can still cause problems for your recipients. One wrong tag can cause the perfect graphic that you picked out to display as a colorful mess.
Read more on the subject here:
SpamAssassin
This program helps your messages to avoid being directed to spam folders.
How does it work?
The entire email is analyzed for elements that could potentially cause it to be labeled as spam. SpamAssassin scans not only the code, but the text, formatting and graphical content of the message. The system assigns points to each problematic element and any message that receives more than 5 points is classified as potential spam.
What do you learn from this test?
Whether or not your message is likely to land in spam folders rather than inboxes.
How can you use this information?
If you know that your email contains elements that can get the attention of spam filters, you will learn what to avoid in the future, including what words to avoid, proper formatting and how to correctly insert graphics.
Creating a good campaign is time-consuming and it's worth taking the extra time to ensure that your message won't fail to reach its intended destination just because you used too many exclamation points!!!!! SpamAssassin doesn't only tell you about your current project, but it teaches you how to improve future projects as well.
Read more on the subject here:
Inbox Test
If you're aiming for perfection, this tool lets you see what your message will look like when displayed in various email service providers.
How does it work?
The Inbox Test sends your email to the tests provider servers that use actual email clients to open your message and makes screenshots of it that are then sent back to FreshMail. So in a sense, your mail was "opened" by the service and you get to see what it looks like.
What do you learn from this test?
Whether your message looks the same in all inboxes.
How can you use this information?
Every email service provider is different and each one supports different CSS and HTML properties. Gmail, for example, doesn't support responsive emails and deleted media queries codes, exactly the opposite of how the inboxes work on iphones.
On top of that, in addition to web-based and desktop applications, is the increasing popularity of smartphone applications. An email that looks perfect on your screen can display completely differently in other applications, especially if you use elements like borders, rounded corners or gradients. That's why running an Inbox Test is the key to ensuring that your message will display as you intended no matter what domain it is sent to.
Read more on the subject here:
Test Campaign
A simple test that lets you send a ready campaign to your own inbox. This should be a part of every campaign, giving you a last chance to make sure that the message looks the way you want it to, that the links work properly and the graphics display correctly.
Remember!
Campaign testing is a time-consuming but ultimately beneficial task. After starting work on email marketing campaigns, you should take a few months to optimize the shipping time, the selection of appropriate and interesting content for your customers and determine the frequency of your messages. This valuable information will serve you well in your future email marketing efforts. Repeat tests every few months to keep up with changing habits and preferences. Always be on the lookout for conclusions to be drawn from the results and don't be afraid to make necessary changes. Good luck!