Every effective marketing strategy is based on testing. Email marketing is no different - analyzing the results of different methods and solutions is the key to better campaigns.
I'm going to use this blog post to show you the practical applications of A/B tests and how the data they give you can be used to make even more effective email campaigns.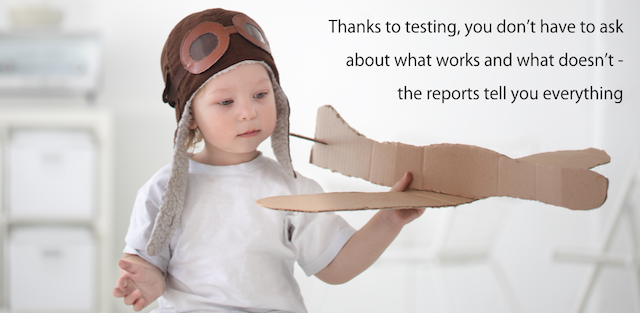 How do A/B tests help email marketing?
A/B tests are a functionality that help you to automatically compare the effectiveness of two variations of the same element of a message. In FreshMail, you can run A/B tests on the subject line and the sender name.
Why those two parts of your message? Simple - because those are the two pieces of information that have the most influence on a recipient's decision to open an email or not. This is why you need to pay particular attention to crafting the best possible names and phrases for:
Sender names. This is the very first thing that the recipient notices. Be careful to select and stick with an appropriate name that your subscribers will recognize and associate with you. You can go with a more official tone (from: Company X), something more personal (from: David Smith) or a mix of the two (from: David Smith from Company X).
Subject lines. This is a very important element of your campaign and should be concise, catchy and make recipients curious about the content of the message. If you have a couple of ideas and aren't sure which would be better received by your subscribers, set up an A/B test to find out. Just a couple of minutes of your time can give you clear proof of which subject line will get the best results for your campaign.
Tips on how to get the most out of A/B tests
A/B tests are a great way to get valuable information about the preferences of your subscribers. Make sure that you prepare them with the following things in mind.
The two variations that you test should be significantly different from each other, not merely separated by the use of two similar words. Finding out if your subscribers prefer, say, free shipping over a discount is useful but learning that they prefer a "discount" over a "reduced price" is not.
If you want to know something about discounts, test whether a subject line offering a percentage discount or a discount of a specific amount (ten dollars or pounds, etc.) gets a better response.
Both versions should be sent at the same time.
Always be on the lookout for certain elements that always get a good response like "Free shipping", etc.
Make sure you are able to identify what variations in the messages are responsible for the success of one version or the other by keeping the difference between them focused.
Remember that the bigger the test group is, the more reliable the test results are.
A/B tests in practice
As an example, let's use a fitness center that wants to motivate customers who stopped going to come back and start exercising again. So the goal is to bring back old customer and sell more gym memberships. What is the best strategy to do it? Use A/B tests to find out.
Let's say that the fitness center creates a special offer and wants to send it by email. We want to test which subject line is more appealing:
the one based on personalization or
the one mentioning the specific offer?
The subject lines could look like this:
and
Use FreshMail's A/B tests to set up a new test. Select how big the test group should be. We recommend using at least 2000 recipients for a test.
The system will show how high the Open Rate for each group is and will automatically send the winning version to the rest of the mailing list. This is how A/B testing helps you to see what your subscribers best respond to and makes your campaigns more effective.
Make A/B tests part of your campaign creation process
A/B tests are direct feedback from the people you need to listen to the most - your subscribers. They help you to avoid having to ask recipients what they like and don't like, what they prefer and what they avoid, etc. because the tests give you the hard data that perfectly reflects what subscribers do and how they respond to different versions of your message. Remember that everything changes over time, so use A/B testing to keep your finger on the pulse of the biggest and most important critics of the message that you are trying to spread.
If you're not using A/B tests already, start on your next campaign and see what having an insight into the minds of your recipients can do you for you.