Do you want to jumpstart your marketing without too much of financial investment? Do you need to get some buzz going around a particular project or launch? Are you trying to get the word out about a new product? If the answer is yes then guerrilla marketing can help you get what you need.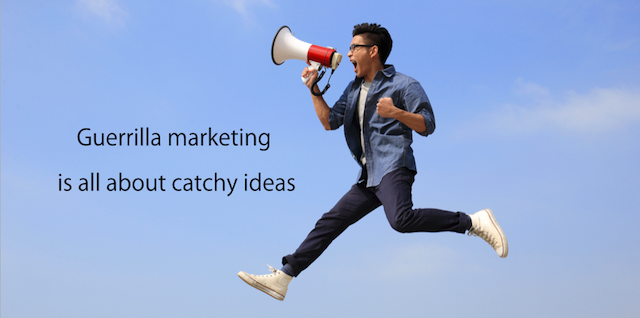 What is guerrilla marketing?
The name itself says a lot about how this kind of advertising works. Guerrilla marketing activities all have the same goal - obtaining maximum results at minimum cost by using unconventional techniques rarely seen in more traditional forms of marketing.
Guerrilla marketing can take many forms. It can appear as something as simple as a word of mouth whispering campaign using ambient media - unconventional, under-utilized media spaces. It can also take the form of more aggressive and controversial campaigns. In the early days of guerrilla marketing, it was a way for smaller companies to keep up with their big-budget rivals but now every marketer uses it as part of an overall marketing strategy.
How do you know it's guerrilla marketing?
The key element is similar to that of viral marketing - get as many people talking about you as quickly as possible and attain an omnipresent  status in the collective consciousness. Your message must take a form that is attractive enough and interesting enough to get people talking about it over morning coffee and sharing it on social networks.
Essential features of guerrilla marketing include:
action based on catchy ideas
draws attention to unusual form, content or placement
it spreads virally, driven by word of mouth
it provokes extreme emotions with deliberately provocative content
it reaches consumers who normally avoid commercial messages by appearing in public spaces
it considers the behavior of the target group, its preferences, how and where they spend free time to shape the form and location of the message
Examples:
graffiti art
stickers placed anywhere and everywhere
ads placed on cars and taxis
visuals in shopping malls
Recipe for a guerrilla marketing campaign
A few useful tips:
unconventional thinking is absolutely essential
use previously un-commercialized spaces that you encounter every day
search for the environments where your target group is likely to be
be aware of mechanisms for social behavior and reactions to various stimuli
The growth of guerrilla marketing is driven by the increasing need to stand out from the crowd, which gets harder all the time. To do this, you need creative thinking and a fresh approach to the challenge of getting your message out. It's not easy but the rewards are there for anyone able to get attention in a crowded commercial environment.