We all know that newsletters are most often about making offers and driving sales. You put a lot of time and effort into designing your newsletter and filling it with the content that is most likely to convert into a transaction and you probably think of your next campaign in terms of what new offers it will contain. However, it can be easy to lose sight of the fact that your newsletter can also be a powerful medium for building and maintaining your customer base through education, training and product information.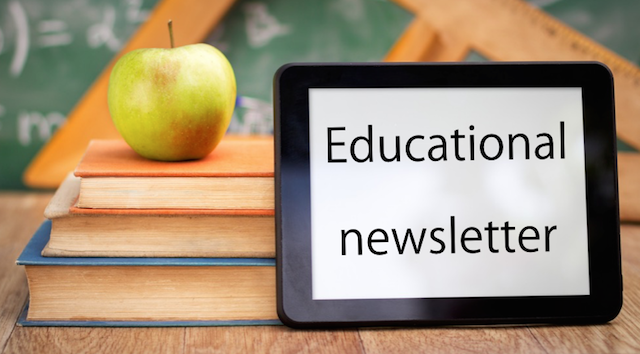 Building a relationship with subscribers through the educational potential of newsletters pays off in the long term. By providing practical information on topics related to your product or service you provide value to your customers beyond the simple transaction.
Interaction now, transaction later
While most newsletters focus on attractively presenting products with pictures and interesting graphic design, it helps to surprise your subscribers with something new from time to time. After all, some of your customers sometimes get lost in the number of products and offers they get in their inboxes. Try to get their attention by giving them something more… It could be fashion tips or detailed information about a product and its use. This is especially important when introducing new products - your customers are curious about new features and applications and why they need them!
Here are some great examples that illustrate some of the best ways to maintain a conversation with your customers through leveraging more of the educational potential of newsletters.
You teach customers something new about even familiar everyday products
This first newsletter from Folica is essentially a "how to" guide for using a hair curler. While nearly all of their customers certainly already have experience using one, it's still a great way to deliver extra tips on its use and include a few words about styles and trends in the process.
Content like this also helps to build brand loyalty by conveying the message that you want people who use your product to get the most out of it. Another thing they do right here is using visuals to make their point instead of text. This might be an obvious step to take but don't forget the importance of showing instead of telling when it comes to this kind of information.
Some products need a longer description than others but marketers often forget that a good description should be thorough while still avoiding overly technical language. By giving more information about the product you prove that you know your products well and you can be trusted as an expert. There are plenty of choices and an undecided customer just wait for your help.
Build your image as an expert in your sector
Business to business newsletters can also be a great source of new leads through informative or instructional newsletters. Just as in direct communication with customers, periodically reinforcing the trust that is placed in you because of your expert status is key.
For this example, let's move away from consumer goods and go to a technical field. Litmus is in the email analytics business so there's lots of room for creating informational and training content to share. This is a great way to simply maintain contact with customers and to reinforce your credibility by informing them of the results of new research and trends in the industry. Something as simple as giving access to a guide to or providing tips for how to do something is enough to help customers think of you when they want to get something done. Remember, you don't just want to make your customers aware of products and services, you want them to think of you when they decide that they are interested in buying.
Let your reputation grow and your products be sold
Generally speaking, the educational function of newsletters is more often used in B2B communication while B2C typically focuses on selling products. B2B can promote their own content, webinars, research and events so they can build brand image to sell their services. This content should be more professional since these are experts talking to experts while in B2C communication we are the experts and we have to educate subscribers with more basic content, simpler topics and an emphasis on the aspects of the product that are most relevant to them.
Just remember the four most important reasons for using informative newsletters in your email marketing:
subscribers are open to the idea of getting this kind of message from you
it helps to build a long term relationship
it's interesting for your subscribers and a departure from the norm
they often lead to sales just like regular commercial email campaigns do