Email as a channel continues to go from strength to strength. Recent research from Econsultancy showed that 73% of respondents ranged email as "Excellent/Good" for delivering Return on Investment (RoI). The DMA's Email Marketer Tracker concluded that the ROI ratio is an astounding 30:1. However, spam rates are also at record high levels - Cisco research states 3,500 spam messages are being sent every second, 2/3 of all global email, and roughly 10% of this is malicious rather than just nuisance in intent.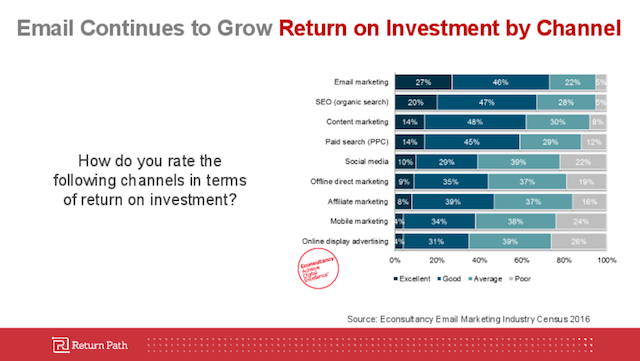 Mailbox providers are faced with a tough job to protect their customers by filtering/blocking this unwanted traffic, while delivering the legitimate permission-based emails that subscribers want to receive. There are always going to be false positives, and these appear to be increasing as the spam battle gets tougher. Return Path's most recent Deliverability Benchmark report, shows that only 79% of legitimate marketing emails are achieving inbox placement globally, with a slightly higher success rate (83%) in Europe. However, this still means that 1 out of every 6 emails is not getting delivered, and given that email is such a phenomenal revenue driver, this represents a significant opportunity cost.
.@returnpath: Only 79% of legitimate marketing emails are achieving inbox placement globally. Improve #deliverability! Click to Tweet
So what can senders do? The reality is that email deliverability continues to be a practice that combines equal measures of art and science! A good starting point is to understand how the major Mailbox Providers (MBPs) see you as a sender. Your sender reputation is like a barometer for your email program – it shows how you are currently doing, and whether you are trending positively or negatively.
Would you like to meet Guy? Join us and a superb lineup of speakers on 14 June, London.

Your reputation is reflected by your Sender Score, which operates on a scale from 0-100, with best-in-class senders typically found in the 90-100 bracket, and enjoying average Inbox Placement Rates (IPRs) of 95+%. You can find out what the Sender Score for your email program looks like here.
Many factors influence your Sender Score, but the most important ones are:
spam complaints,
spam traps,
unknown users,
good sending infrastructure,
presence on whitelists/blacklists,
and subscriber engagement.
Improving performance against these criteria will lead to better deliverability, and enhanced program performance.
How to improve deliverability? Here's a few tips and tricks that email program owners can follow to achieve this.
Complaints
Happy subscribers don't complain, and keeping them happy is all about doing everything right: right message; right target; right offer; right device; right time; right context – easy! But if you're looking for some quick wins, test the following:
DMA research shows many complaints are driven by the unsubscribe process being hard to find or hard to use. So make your unsubscribe link more visible by putting it at the top of the email. You might see an increase in opt-out rates, but you will see a reduction in complaint rates, which is an extremely positive trade-off. Give customers the opportunity to provide feedback before they get to a point where they are going to complain. Use short surveys or "rate this email" buttons to learn what they like/don't like about your emails, and then use those responses to improve what you are doing.
Let your email subscribers tell you how they want to engage. Try ideas like "remind me later" or "take a snooze" from ongoing promotions. Letting them respond at the time of their own choosing will help to reduce complaint activity.
Also be aware that almost 20% of complaint activity is driven by factors not directly related to your email program. Bad publicity, or a negative in-store experience may result in an increase in complaints, and email program owners should respond to these external stimuli.
Data Quality
MBPs associate good senders with high quality lists that only generate low-levels of bounce activity. As a basic standard, a bounce management strategy for both hard and soft bounces should be in place. Sender's should also be signed up to all the major MBP Feedback Loops (FBLs) so that complainers are suppressed too. Then think about:
Implementing real-time email validation to ensure that only correct email addresses are added to your database when new subscribers join.
Also think about how to encourage new subscribers to provide you with their Primary email address. This is their best address – the one they log in to every day, use for their personal correspondence, and their favourite brands. Return Path research shows that over 80% of all email Reads are generated by Primary addresses. Subscribers will supply a Primary address when they trust the sender to use it responsibly. That trust will increase when the following practices are in place: transparency about how the address will be used; an explicit promise not to share with 3rd-parties; provision of choices so subscribers can have influence over the types of emails they receive, and how often.
Infrastructure
A robust sending infrastructure includes things like: customized connection and throughput settings for each major MBP; industry standard authentication such as Sender Policy Framework (SPF) and/or Domain keys Identified Mail (DKIM); and the presence of a List Unsubscribe record in all email headers.
Also be aware of this Gmail-specific consideration. In 2016, Gmail made two tweaks to its service.
The first involved enforcing the use of Transport Layer Security (TLS). This is an encryption standard, that means emails can't be tampered with between sender and receiver. Emails that are sent without TLS being applied will display a broken red padlock.
The second requirement is for at least one of SPF and/or DKIM to be in place. If this doesn't happen, the logo/avatar will be replaced by a red question mark. Both of these will have a negative impact on subscriber trust, leading to reduced engagement with these emails, and ultimately having a negative impact on Gmail IPRs.
Engagement
Every email program owner aspires to have engaged email subscribers who regularly open, click, and convert. MBPs are starting to think similarly, but some of the metrics they use to evaluate engagement aren't necessarily visible to email senders. However, there are some things that can be done to improve performance against these measures:
Forward rates
Viewed highly positively as an indicator or relevant compelling content that people want to share with friends, colleagues, and family members. Think about how to design offers that people want to share, e.g. a cinema chain offering 1 free ticket if a group of 4 go see a film together. Also think of humorous ways of asking people to forward emails, e.g. "we know your husband/boyfriend may need some reminding before Valentine's day!"
Reply rates
Viewed highly positively as an indicator of two-way dialogue, not just one-way traffic from sender to receiver. Get rid of the "noreply" address – let your customers know that there is a real person at the other end, and encourage them to make contact, e.g. "can we help you?", "tell us what we can improve?" etc.
Not spam rates
Viewed highly positively, because the MBP has made a mistake by placing the email in the junk folder, and the customer is clearly indicating that the email was really wanted. Most people do check their spam folders regularly, and the trick is making your emails stand out. Using your brand name, personalization, the knowledge that the email is always sent on a specific day of the week, referring to known interests of the subscriber (e.g. favourite football team) will all help to achieve this.
Deleted unread rates
Viewed negatively, because it indicates the email account holder is active, but only by getting rid of the email you have just sent. There are two parts to this – ensuring recognition will reduce this behavior, so use a standard friendly from that clearly identifies you, and employ a consistent tone of voice that is associated with your brand. The second part involves working hard to create compelling subject lines that can't be ignored. There is a lot of research into most effective keywords, the correct emotional approach, use of personalization, size/positioning of financial amounts/discounts, etc.
[#emailgeeks] Gmail engagement indicators can help you improve #deliverability. Click to Tweet
Black/White Listing
Program owners should regularly monitor blacklists such as Spamhaus and Spamcop. Getting listed with one of these operators can have a dramatic negative impact on deliverability, and senders will have to demonstrate compliance with a range of best practice standards in order to get removed.
Good senders should also consider applying for accreditation with Return Path's Certification program. This is a global white-list recognized by major MBPs such as Microsoft, Yahoo, and AOL as well as many local providers as well. Senders benefit from reduced filtering and increased throughput rates, generating significant uplifts in deliverability, as well as other important metrics such as open and click-through rates. Learn more about Certification at Return Path.
[#emailgeeks] Improve your inbox placement with @ReturnPath's Certification program Click to Tweet