When we feel hungry and there's nothing that looks good in the fridge, we reach for our smartphones and search for a local pizza place. When the plumbing the kitchen is causing problems again, we look for a local plumber. When we're watching a match and we want to check Cristiano Ronaldo's stats, it's also just a matter of a simple online search.
All of these searches are connected by the fact that they're sudden needs we want to satisfy or questions that needs answers now. If you run an online site, you should put yourself in a position to be on the other end of these searches, but how? It's time to learn about Google Micromoments and how to use them to promote your business.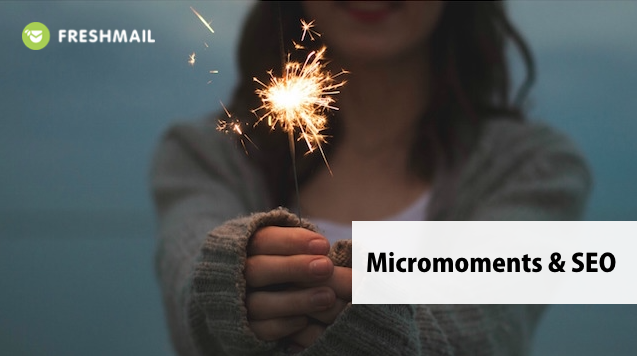 What are micromoments and what are they for?
The term "micromoment" is a creation of marketers.
It's about a small window of opportunity to reach customers looking for a product or service. The problem with micromoments, however, is that they don't have an agreed upon structure about what defines them but there are a few guidelines that help us to know when they happen.
Micromoments can be traced to single word that marks the beginning of a search for answers and information that are needed almost immediately. About 60% of the time, these searches start on mobile devices.
Just as we were talking about the concept of the Zero Moment of Truth (ZMOT) until recently, the conversation has now turned to micromoments.  But ZMOT didn't suddenly turn into micromoments.The constant optimisation of the ZMOT model meant that it naturally evolved into what we now call micromoments. This evolution was driven by the ever-growing use of mobile devices and smartphones in particular.
In a nutshell, ZMOT was focused around receiving complete information about a product before obtaining it whereas micromoments are about having full access to that information exactly when we need it.
Of course, the subject must also be comprehensively described through the use of topical authority rule.
It's also worth noting that the evolution of this trend has had an influence on the habits of users, changes in search engines and technology in general. The changes have resulted in things more specific questions and expectations looking for a specific solution.
Even Google now allows for detailed results that are better suited to complex questions through things like Knowledge Graph and Direct Answers and even through better organic results and ads!
How can you use mircomoments?
In short, be where you need to be, be useful and be fast with your content. As you can see, there is no mention of what users should do, only us and our websites.
When considering micromoments and SEO as well as the question of "being there", "being useful" and "being quick", we can analyze our site like this.
Be There
As I wrote earlier, we should show ourselves to anyone looking for us immediately. In search engines, however, we have a limited space to move.
We can use paid advertisements from AdWords that could be a good solution. We can also focus our attention of getting better organic results. 
If we do everything we can to achieve a high search result - first place it best, of course - there's a good chance that we can get great traffic on our sites. Also, remember the functionalities of Google My Business for getting listed on Google Maps. 
We can also gain more exposure in image results in Google. It all depends on which needs we're trying to satisfy. On top of that there are other solutions like Direct Answers and Knowledge Graph that I mentioned earlier.
To be first in search results you have to optimise the maintenance of your service, which means paying attention to SEO right from the start.
Run regular audits and analyses of your site to make the content better serve users and Google. After optimising the site, promote it further with a long-term strategy like content marketing. Everything should be oriented toward building online visibility.
Having a high position in Google and lots of different results for the same questions means that we have a chance to attract more visitors so make sure you do things right!
Be Useful
When visitors land on your site with a specific need it's good if you're in a position to help. If you're a plumber it's a good idea to have a clickable link with your phone number that opens the phone application on customers' phones so they don't have to copy your number, which can be hard sometimes.
It's also good to have your price list easily available as well. It's a waste of time for everyone if someone calls at three in the morning because his kitchen is flooded and decides to look elsewhere after learning how much things cost.
In the case of an online store, it can happen that customers select something that is currently out of stock or available in colors or sizes they're not interested in. It's good to let such customers know that you may not have it now but you can still get it! We can also use solutions like livechat or callpage.io to engage customers and perhaps find a way to make them happy.
You still need to look at things from the perspective of SEO so search results show products that are available. If we still need to index out of date information on our page, we can inform users. Apart from good communication with users, you also need to pay attention to your content. How you present it has a huge influence on whether or not visitors to your site will be interested in learning more about you and your offer.
First and foremost, content should be SEO-friendly. Keep these rules in mind when adding content to your site:
Give everything a relevant and easily understood title for maximum SEO effectiveness and use keywords if possible. The title of the article will often be the name of the subpage, so be sure to place it between <h1> tags.
Adding keywords and their synonyms is a must. Not only will indexing robots be able to build the right context for the content but users will immediately be able to tell if the content is relevant to what they're looking for.
Linking to other content is also highly recommended, whether on your own site or elsewhere. This helps to build context for answers. A good example is content where all potentially unknown matters are solved through links to other relevant articles.
Create content on the basis of the rules of Topical Authority, which will definitely help the positioning of your page in search results. This especially applies to long-tail phrases of more than three or four words asking about specific things.
Be Quick
Google gives us more and more useful clues about how to speed up our websites with tools like Google Page Speed Insight, server solutions like caching, compression capabilities and miniaturising files as well as mobile AMP.
By improving your load time, you can answer users almost immediately.
This is especially crucial for users on mobile devices.
How to use #micromoments to boost your #SEO strategy Click to Tweet
How to identify micromoments
Micromoments can start with a search for a specific kind of product. They can also come out of a long but specific question. There's no one origin for all micromoments.
We can, however, predict the kinds of questions visitors to our websites might have. If you have a site that's focused on content, it's likely that we will get a lot of detailed questions.
Just how detailed they are can be followed in the Google Search Console in the Search Analytics tab. We can find keywords like:
How to put a sim card in an iPhone,

How do I reset my Netflix password,

What is the customer service number for T-Mobile,

How do I cancel a credit card in Citibank.
To make your site visible in searches like these, you have to have relevant content related to a given topic and have the appropriate optimisation and saturation of keywords.
The subject of topical authority is also worth keeping in mind for this example. Things are a little more complicated for companies with specific services. Users typically add a location in their searches or modifiers like "cheap" or "24 hours":
24 h dentist Miami,

24 hour pharmacy Dublin,

Cheap taxi Sydney,

Manicure Toronto.
These stores can also prepare themselves for their micromoment opportunities! It's just a matter of anticipating sudden needs that require immediate solutions. Prepare the right pages with the right content for such instances. Positioning yourself for a high search result means being able to fill an immediate need and a quick conversion.
What does high visibility in search engines do for us?
Your internet page should be visible in Google under as many keywords as possible. Those who focus on promoting their websites on individual keywords are missing out on chances to increase their visibility. This doesn't mean you can just add every keyword you can think of. It's all about relevance and balance. The higher your visibility in search engines increases the chances that users will visit your page. This might seem obvious but you can't convert if you don't first get your name in front of people searching for a solution to a problem they have.
Visibility of content on external sites
User searches for solutions to their needs don't always have to end on your site! It's enough for them to land on other pages with content or information about you and your offer. If someone reads about you and your brand somewhere and it's clear that you can address his needs, you've got another chance to direct that user to your own site and take another step down the conversion path.
External sites - just like your own site - are positioned. This doesn't mean you should randomly link to every site online but it you should always be on the lookout for opportunities to take advantage of the placement of related sites where the presence of your content can benefit everyone.
Creating content following the rules of topical authority
This point has a lot in common with the first one. Using topical authority lets you prepare content for a website that responds to multiple keywords at once. The more keywords that actively engage with our text, the bigger that chance that various long tail keywords will achieve high search page results. Take advantage of online tools that find the right keywords for your content and boost your topical authority as high as possible.
Optimising your site for conversion
Optimising your site is absolutely crucial both for being seen online and enhancing the user experience for visitors. There are two important steps in the process of optimisation - an SEO audit and adapting your site to the user, also known as UX optimisation.
Failing to properly optimise your content according to the rules of topical authority means making a connection with users difficult.
Using content marketing
Content marketing is the cherry on top of the micromoment sundae. Thanks to a well-prepared CM campaign, the right choice of tools, keywords and lading pages, the chances of sparking interest in your product or service grow enormously. There are lots of variables at work and each one of them contributes something to the success of any content marketing strategy.
So how do you weave micromoments into your SEO strategy? 
When optimising your site remember that it should be prepared for the convenience of users. All calls to action, descriptions and multimedia elements should be clear and communicate all relevant information. If additional content is complex and expanded (especially keeping with the rules of topical authority), there's a good chance that you will meet the needs of users and finish with a positive micromoment.
What about generating micromoments?
Effective generation of micromoments is really preparing content in such a way that is answers one of four types of micromoments:
I-want-to-know Moments
I-want-to-go Moments
I-want-to-do Moments
I-want-to-buy Moments
This is where interesting and engaging content comes in and opens possibilities for creating micromoments on external sites. But no matter if you want to generate micromoments on your site or an external one, remember to make the content interesting, engaging and oriented towards users in your target group.