If you work on the web then you need to know about rich snippets. Odds are that you've worked with them before — but just may not have been aware of what you were dealing with.
About 90 percent of all online experiences begin with search — and, in those search results, you'll see not only the URL, but a short description of the site it's attached to. That short description is called a snippet. Now, in today's world of SEO, anything marketers can do to increase their search results and user interest is a good thing… which brings us to rich snippets.
What's the difference between a snippet and a rich snippet, you ask? A snippet is the general short description under that search result listing, whereas a rich snippet is an optimized snippet that provides bonus information, like user review ratings, a photo, etc. The "richness" factor will vary by the site type.
For example, a restaurant listing might include a review star rating or popup to an online menu, whereas a search listing for a musical artist or album might display a track list or list of upcoming performances.
Can I get a rich snippet?
Because rich snippets are intended to be highly descriptive and illustrative, not all pages are eligible for rich snippets. At this time, Google supports rich snippets for the following types of pages:
Reviews
People
Products
Businesses and Organizations
Recipes
Events
Music
Not eligible for a rich snippet? You still have that standard snippet, so make the most of it with a fabulous meta description.
So why aren't all snippets rich snippets? Because there is one must-have to be eligible for a rich snippet: Google needs to be able to understand and build context to your page. Help that along and increase your eligibility for rich snippets by developing smart meta descriptions that provide an accurate picture of what the visitor will find on the page, smartly integrating relevant keywords.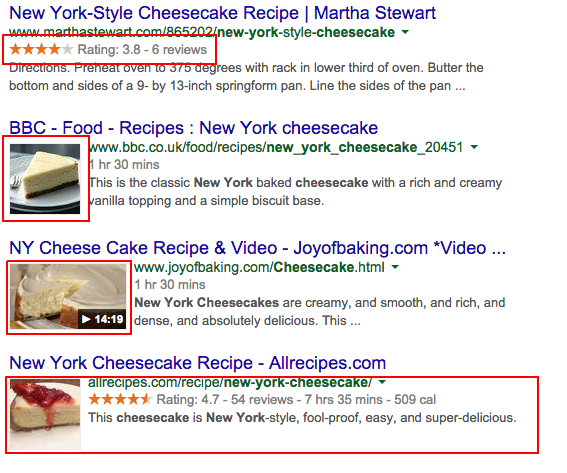 Creating your rich snippets
Once you are eligible to turn your snippets into rich snippets, you'll need to decide how to build them. There are a variety of options, including your markup format and the content mapping for your visible assets.
In terms of the markup format, Google recommends using microdata but it will also accept microformats or RDFa.
I'll be honest with you — it's easy once you get the hang of it, but your initial foray will require a bit of reading. Luckily, Google has provided this handy-dandy user guide — visit it for the full scoop.