Use our new triggered autoresponder functionalities to drive your business!
Wouldn't it be great if your email marketing could automate itself? Just imagine not having to create new messages from scratch every few days or be responsible for sending them. It would be even better if you didn't have to worry about segmenting your database after every campaign. What if all you had to do was give the system some simple directions based on criteria you select and then move on to something else? Sounds good, right? Try triggered autoresponder!
New triggered autoresponder possibilities
Until now, FreshMail's triggered autoresponder helped marketers in a few ways:
By automatically reacting to subscriber behaviour in a particular campaign (Signing up for a newsletter, opening a message, clicking on a link, completing a goal)

By setting up a series of related messages sent in a particular order with their content automatically adapted in html

By arranging for a message to be sent automatically at a set time after another autoresponder
All of these functions are still available but now we're adding new solutions and options to even further expand what you can do with triggered autoresponders.
Now, you can set up a series of messages that is sent out not according to a time frame you determine, but on the basis of subscriber reactions to previous messages. This means you can now prepare multiple paths for subscribers to follow and increase chances of conversion. Click Autoresponders and Open Campaign options are now triggered by subscriber actions in both email campaigns and other autoresponders.
On top of this, you can now segment your database according to subscriber reactions to messages sent automatically.

What does this do for you?
It's now easier than ever to create a customer path, set up everything and let autoresponders do all the work. It's all fully automated once you supply the content you want and you can guarantee that subscribers get just the message you want exactly when you want.

Automation pushes your business to the next level by helping you to tailor content according to the demonstrated preferences of individual subscribers.

Your email marketing efforts will become more productive since you will have to invest much less time in managing everything. Adjusting the settings is easy and intuitive and takes a short time to complete. Tasks that used to demand your engagement can now be automated, freeing you up to spend your time on other things.
Some example of what you can do with these new functionalities
E-commerce. Let's say you run an online store with a wide range of health food products, divided into gluten-free, vegan, vegetarian and kids' products. When you set up an autoresponder to welcome new subscribers to your newsletter, you can include links to each of the different categories. Then it's just a matter of adding a Click Autoresponder to follow up any interest in a particular category with a more focused message that appeals to the subscriber's demonstrated interests.

Each new autoresponder is linked to a previous one and features more of what the subscriber wants to see. You just need to ensure that subscribers who click on multiple links don't receive too many autoresponders at once. You can do this by going to your Settings and accessing the menu on left, as seen here: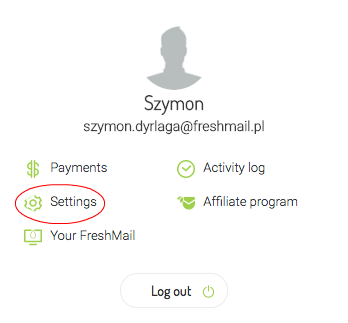 Events. Another obvious example where the fusion of new and existing autoresponders can help is in the organisation of events. When you're promoting a series of events. Let's say you send a campaign with a list of dates that links to a dedicated landing page. Now you can add a Click On Link autoresponder that can follow up with anyone who clicked on a particular date. You can also take a step further and add, for example, an Open Campaign autoresponder to anyone who opened the previous follow-up message. At this point, you will know that someone has a real interest in the event and it's a great chance to get a conversion with a special offer. Each autoresponder can help to move potential customers a step closer to where you want them to be!
Why does it work?
Few people have detailed knowledge of advanced techniques in email marketing. Our most recent research shows that autoresponders were just 1.38% of the messages sent through our system. This is especially odd given that statistics indicate that companies using marketing automation generate twice as many leads. This means a great opportunity awaits anyone ready to get a jump on the competition and put easy-to-use tools to work.
You can read more about setting up a series of autoresponders in our guide.