FreshMail has never been a "boxed" solution. We constantly introduce new tools and enhance existing ones using the feedback we get from you.
There's never a week that goes by that some new improvement doesn't show up somewhere. Let's take a look at some of the new solutions we've introduced lately.
Copying and moving recipients between lists
To make your work with subscriber lists easier, we've implemented a new and easier way to manage them. Now you can save time by copying straight from one list and pasting onto another.
After marking the selected addresses, a green bar with buttons will appear at the bottom of the screen. Previously, you could only delete or change the status of these subscribers but now there are two more options.
Now, after clicking Move or Copy, we will ask you to select the list that you want to add the marked addresses to. If there's no additional field on the selected list, you can select or create one or copy only those fields that exist on both lists. If any duplicates appear, you will be able to choose which additional field data and subscriber statuses should be included (source or target list).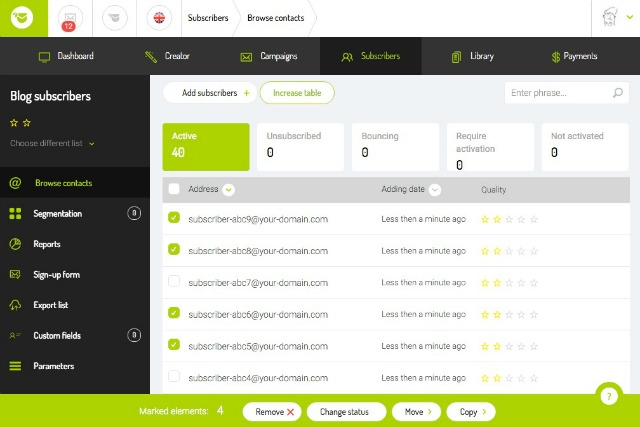 Learn the reason for unsubscribes from your newsletter
The report section of the subscriber list screen has been englarged with a new tab. Here you'll find the results of surveys filled in by subscribers who resign from your mailing list.
The new tab has information about quantitative and qualitative data regarding answers to the question of why recipients unsubscribed from your database. This applies to both to answers selected from a list and to any additional comments subscribers wish to leave. An analysis of this feedback can help you to make changes to improve the engagement of your subscribers to future newsletters.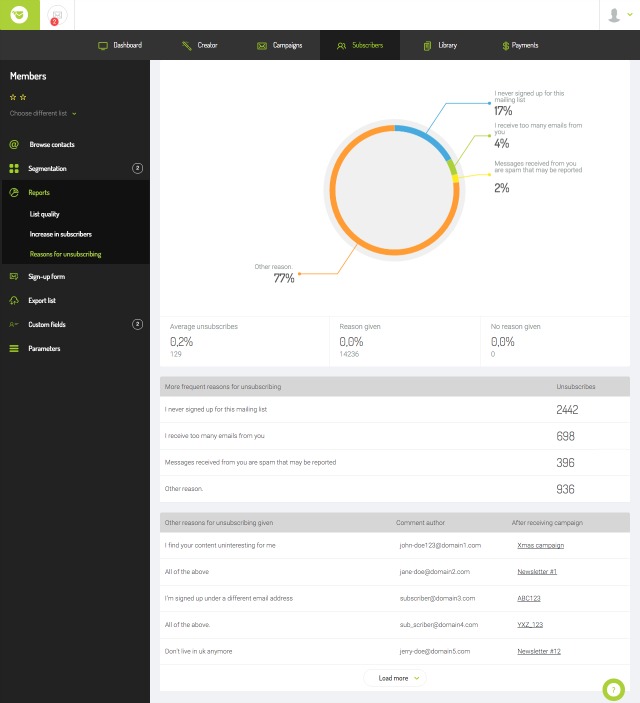 Easier navigation between lists
Until now, to move from one list to another you had to first return to a screen with all of your lists and then click on the one you wanted to view.
Now you can quicky move around by using the "Choose different list" option from the menu on the left side. There, you can click on the list you want and be taken directly to it.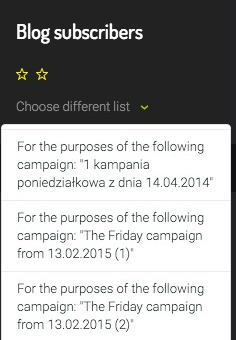 Change the arrangement of the main menu
We try to make sure that the most important elements of your account are the most visible when you are creating or analyzing campaigns. If you feel that your display is not optimized for your monitor, you can change its arrangement to make it vertical along the left-hand edge of your screen. Just go the personalization interface in your settings.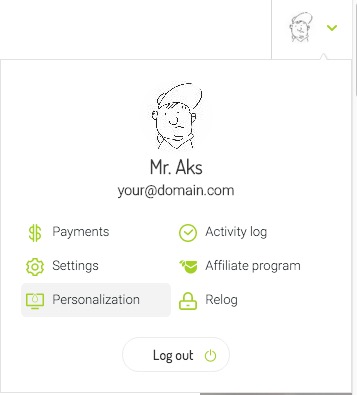 Updated CK Editor
CK Editor is also getting a new look. We have decided to make it more visually similar to our flagship tool, FreshMail Designer. Among other benefits, this will allow you to have more workspace on your HTML templates.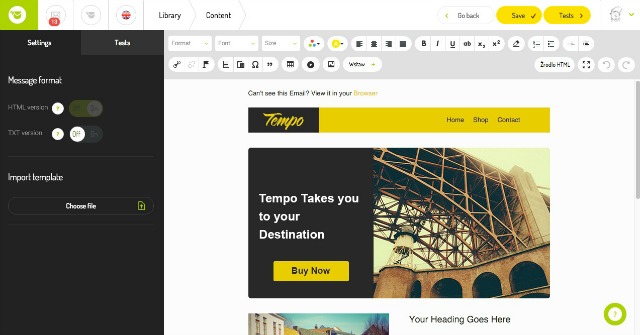 Make shapes in Designer
We've also enriched the section of additional graphics with new editable shapes. To use them, just select and drag a shape onto a graphics block. Adjust the shape to your needs, giving it the color, position and transparency you want.
If you place multiple items in a block, you can also change their layering.

Rebrand links more easily
You probably know that using our system you can make links in your newsletter look better using link rebranding.
Now you can assign a new domain to your links directly from the campaign creator level. Just go to Advanced Settings at step 5 of campaign creation.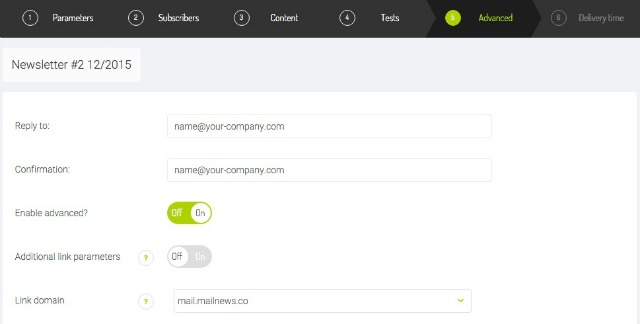 Additional parameter links
We're going to assume that you are familiar with how Google Analytics works and how to integrate it with FreshMail. This powerful cooperation lets you verify how well your email marketing campaigns are received by your subscribers and what actions they take in response. It also lets you take advantage of autoresponders to lead subscribers to conversion or to segment your recipients on the basis of their behavior.
It's also important to remember that if you use Google Analytics you can immediately see how Email Marketing Automation works in FreshMail. This is definitely something you should know about so make sure to read more about it here.
It's possible that you use additional analytic tools like Piwik in your email marketing. To integrate your newsletter with such tools, use the "Additional link parameters". Just paste the paramter in the "Add your parameter" field and you will be able to identify the campaign in your analytical tool. The parameter will be attached to every link contained in the template for that campaign.
New instructional films
You can find more than 20 short video guides to help you get the most out of your FreshMail account.
There are also links in help boxes in the yellow stripes that appear in the system.
Interface adapted to the size of your screen
We are constantly expanding the responsiveness of our interface to make it automatically change to fit the resolution and dimensions of your screen.
Together with the most recent update of FreshMail's look, we have optimized the display of the Dashboard for large screens. For resolutions above 1600px, all headers will be moved to the left hand side of the screen in order to create more space for important data about your campaign.
We recently improved the display of Subscribers and Campaign Reports. If you use a screen set to a resolution of 1440px or less, fonts will be smaller than before.
Thanks to this, smaller displays will be able to show more data. Of course, in accordance with the rules of responsiveness, larger displays will automatically resize the font to display in a higher resolution.
Another enhancement is the automatic disappearance of the main menu bar, which hides when you start to scroll down. To make it reappear, just scroll up.
Little extras
Apart from new functionalities, we also try to make all the small changes that make your work in FreshMail easier.
We really like the new clock that counts down untl you are automatically logged out. If you are inactive in your account for two hours, you will be signed out. A countdown clock will appear five minutes before the automatic logout occurs to let you know that you need to confirm that you want to stay logged in.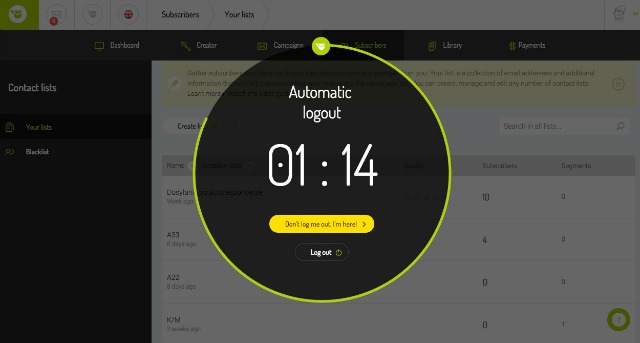 We also introducted a grey information bar that informs you see the progress of active imports.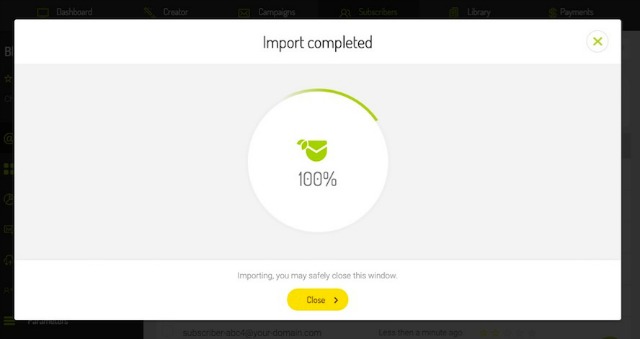 Your report regarding the geolocation of subscribers will also soon get a makeover. Data about the places where your campaign is opened will be available not only in the form of a table but also placed on a map.
Plans, plans, plans...
Everything points to an even busier 2016 for us. We hope that you will love the coming functionalities that will make your work in FreshMail easier and more effective. Stay tuned!