Mobile devices have become an integral part today's lifestyle. As the technology curve minimizes the cost of production, almost everyone now owns a smartphone with cellular capabilities. With the abundance of this technology and rising trends in ecommerce, mobile phones are spearheading the ecommerce industry through improved user experience and new features being released each day. Utilizing mobile devices as forefront for promotion through various strategies, online businesses have transitioned to a mobile first design approach to boost their mobile commerce, reviving email marketing practices into this platform.
Why Optimize for M-commerce?
Mobile commerce as itself has made huge leaps through technology over the past decade. From mechanical buttons to touch screens, and from WIFI to LTE, every aspect of hand held mobile devices has met revolution.
Portability:

Users can browse web stores at any time and any location, which means they can view emails anywhere.

Personalized Experience:

Mobile optimized emails reinforce customer trust that the web store is authentic, hence eliminating chances of it being marked as spam.

Location Specific M-commerce:

Mobile phones allow location detection, which can be used to identify regional customer tendencies and demographics to create personalized emails.

Customer Reach:

Accessing emails is very simple on mobile devices and notifications instantaneously alert users.
Top 7 Email Marketing Tactics
Email marketing for m-commerce holds enormous potential for boosting conversions to increase revenues by exploiting an untapped niche of customers. Following are 7 proven email marketing tactics designed for m-commerce that will benefit your brand.
Optimize Emails for Mobile Devices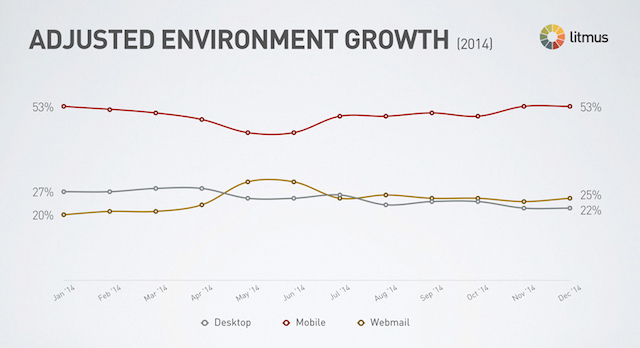 According to recent survey, 53% emails are accessed through mobile devices. Furthermore, the emails are opened using various clients that change their appearance accordingly, which means a recipient viewing an email on different clients will be seeing them differently. This can lead to various elements of an email being distorted from what they were originally designed to be. Oversized buttons, font, images, CTAs and even slider takes toll in this. Optimizing the outline and the elements within it can bring immediate in your M-commerce campaigns.
Email Subject and Header
Optimize the subject of your email by adding engaging marketing phrase within the first 30 characters to ensure it is instantly read and understood by the recipient. Since mobile users spare little time to decide whether an email is worth their time or not, persuading them to convert through email subject is a proven efficient method.
Customized Buttons and Social Media
Give your customer the ability to immediately proceed to actions through CTAs. For example, 'Click to Call, Get Quote Now, Subscribe Now, Register Now' etc. This will facilitate the mobile user to directly access the page from the email link and consequently reduce their reaction time.
Also consider placing social media buttons. Social media channels are the hottest streams of mobile usage. Adding social media links gives a direct doorway to recipients to access the brand's social pages such as Facebook, Twitter, LinkedIn and Instagram etc. According to the latest survey, a landslide 74% use social media to consult reviews before purchasing, while 60% of those actively engage with the seller before purchasing.
Images for the Win
Although images and videos are infamous for increasing load time in emails, certain modifications can be done to suit mobile responsiveness and show visual content on the frontline.
Images are more effective in delivering the message than plain text oriented emails, which lends them a greater degree of convincing power when deployed correctly along with design templates.
Sending Promotional Emails
Emails encompass a more personal nature, making them perfect for sending potential customers promotional content. This entices them into purchasing products and services. With a conversion rate of 66%, promotional content in email marketing surpasses the success rate of many other online marketing strategies brands practice.
Promotions can include, highlighting the products and services being offered on discounted rates, informing about upcoming sales, giving special preferences to customer types and introducing new line of products in process. You can also provide links so they can be directly accessed and utilized for a brief sales pitch in a sentence or two. This is guaranteed to stimulate customer action. Utilize cookies to check the items your recipient has browsed to send them promotions which are suited to their interests for maximizing chances of conversion.
Incentivized Emails
Utilize analytics of your web store to ascertain customer behavior metrics (e.g. time spent on web store, most popular items, median amount per transaction, etc.) and categorize them accordingly. From this data, identify the customers who actively shop from your web store and send them emails with incentives, such as a discounts on their next order or redeemable coupons.
Likewise, send incentivized emails to dormant customers for inviting them to purchase again from the web store by offering incentives such as discounts, promo codes, exclusive product features and flash sales. This way, old customers can be redrawn to purchase from web store and some even become repeat customers if they are managed accordingly through subsequent emails.
Personalized Email Content
Instead of sending out mass emails regarding sales and promotions, check individual customer preferences to include content which will interest them. Using metrics such as location, browsing history, previous purchases and items browsed, send emails regarding products and services which correlates with their searches to ensure higher chances of conversions.
Optimizing Emails for M-Commerce
Email marketing ranks among the oldest of marketing techniques. Sadly, it often gets sidelined from conventional marketing strategies by faster and paid marketing practices. However, it incorporates the ability to personally communicate with a potential customer and directly deliver content which they are interested in, which is proven to boost conversions.
Moreover, mobile devices are getting better by the year through revolutionary ecommerce web development techniques, opening new pathways to futuristic shopping facilities and brand marketing features. Through email marketing, brands can set their foundation stone into the online platform, identifying their market, gathering user feedback and making space for their next best move to win their audiences.