Are your marketing efforts falling short of expectations? If so, you're not alone. As audience attention shifts from television and magazines to websites and social media apps, marketing professionals are now finding it more and more difficult to create impactful marketing material capable of reaching ad-averse online consumers.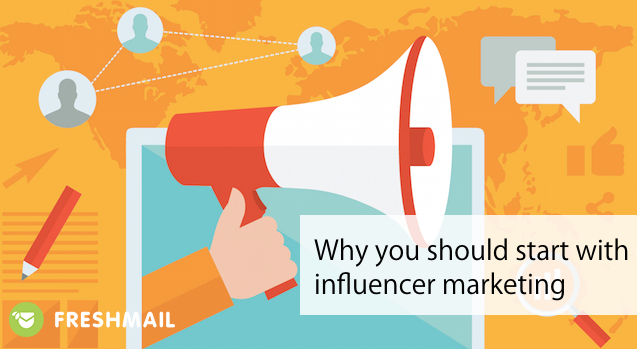 This is a guest post from Evan Asano, CEO and founder of Mediakix, a leading influencer marketing company.
In this post he is going to discuss:
Why influencer marketing is so effective nowadays,

What do you need to get started with influencer marketing,

How to choose the right influencer for your campaign,

Infographic with 10-Step roadmap for influencer marketing.
In the last 5 years alone, TV viewership has fallen by nearly 40% among 18- to 24-year-olds, while time spent on social media platforms has climbed to 1 hour 43 minutes among U.S. internet users.
By developing sponsored social media content with today's most influential digital stars, marketing professionals have found an effective new way to target tech-savvy consumers where they go for entertainment, information, and purchasing advice. A recent study found that 82% of consumers would follow the recommendations of a social media influencer. Social influencers were even considered more trustworthy than average people!
Why you should start with #influencermarketing right now Click to Tweet
How To Get Started With Influencer Marketing
Developing your first influencer marketing campaign is not as challenging as you might think. In fact, 84% of brands surveyed in 2015 said they planned on launching an influencer marketing campaign in the next 12 months, proving that almost any company can create an engaging influencer campaign on nearly any budget.   
Just like any advertising initiative, the first step in creating an effective influencer marketing campaign is establishing what you hope to accomplish (i.e. key performance indicators, or KPIs), setting the campaign budget, and determining the audience demographic(s) you want to reach through your influencer marketing efforts.
84% of brands plan on launching an #influencermarketing campaign in the next 12 months Click to Tweet
Common KPIs that marketers often use to predict and/or evaluate the success of influencer campaigns include:
Reach – an influencer's followers, subscribers, or visitors to their blog
Impressions – the number of users who actually see influencer-created content   
Engagement – the number of users who like, comment, share, and/or interact with content
Click-Throughs – the total number of users who clicked on a link or followed a call to action
Follower Increase – the number of users who followed the brand as a result of a campaign
Sales – total sales generated through unique links, promotions, and special offers
Knowing this information is especially important for influencer marketing initiatives as it will help you identify which social media influencers are the best fit for your campaign. 
Once the parameters of a campaign have been determined, it's time to select the influencer (or group of influencers) that will result in the best campaign performance and the highest possible ROI.
How To Choose The Right Influencer For Your Campaign
As social media usage increases and the number of influencers on each platform grows, selecting the right social media influencer for your campaign can be a daunting and nuanced undertaking.
Campaign budgets, performance expectations (in terms of influencer reach), and the social media platform or channels your target audience prefers can help narrow the pool of possible partners, but before contacting a social media influencer for your campaign, ask yourself the following questions:
1. Does the influencer align with my company's message or brand?
2. Does the influencer regularly engage with their followers/subscribers?
3. Does the influencer speak to the demographic I am trying to market to?
4. Does the influencer's content resonate with my brand's image?
Marketers can also use online tools to find social media influencers, including SocialBlade, Iconosquare, and OpenSlate.
While these tools can useful for discovering new influencers, they tend to assess influencers based on "vanity metrics" (such as "number of followers") that don't necessarily predict campaign success or provide past campaign performance data.
How To Approach An Influencer For A Campaign
Once you've settled on the ideal social influencer for your upcoming collaboration, the best course of action is to initiate contact with a friendly Tweet or comment on one of the their social media posts.
Unlike traditional celebrities, social media stars will typically read and respond to social comments, making this the simplest way to start a conversation and also to gauge the responsiveness of the influencer.
Write a short (1–3 sentence) email or social message explaining why you believe a partnership would be beneficial for all parties and what you hope to accomplish through the influencer marketing campaign.
Because some social media stars receive dozens of emails each day, make sure the email subject line is succinct and attention-grabbing.
Influencer "marketplaces" like FameBit or TapInfluence provide another way to connect with social media influencers, though like the influencer marketing tools listed above, these influencer marketing platforms have limitations when it comes to availability of talent (many top tier influencers forgo platforms choosing instead to work with agencies and/or managers) and ability to creatively and strategically collaborate closely on brand campaigns.
Many companies choose to work with multi-channel networks ("MCNs" including Maker Studios or Studio71) or established influencer marketing agencies (Mediakix, Instabrand) instead, as these entities have already forged partnerships and/or longstanding relationships with influencers and can facilitate the creation of effective campaigns with proven talent. 
Unlike MCNs, influencer marketing agencies typically do not manage talent. As such, influencer marketing agencies are not limited to working with a specific roster of influencers and can instead work across all social media platforms, channels, networks, and recommend the best influencers for the sponsoring brand's campaign.  
Case Study: Best Fiends' Successful Influencer Marketing Campaign
Because many social media influencers have followers that number in the millions, collaborating with digital stars to produce photos, videos, or blog posts can help companies launch a new product or vault an emerging brand into the public spotlight almost immediately.
To illustrate how influencer marketing can generate overnight success, mobile puzzle game Best Fiends chose to work with a handful of high-reach influencers, including Rachel Levin of RCLBeauty101, Chloe Lukasiak, Alisha Marie, Rosanna Pansino, Joey Graceffa, Shane Dawson, VanossGaming, the Fine Brothers, and Aspyn Ovard, along with many other digital stars to develop fun, creative content around their new casual gaming app (Tubefilter).
Although Best Fiends spent 90% of its annual marketing budget on influencers, according to Tubefilter, the company's "unprecedented" campaign paid off.
Influencer-created Best Fiends content amassed more than 150 million views, increased daily installs by 600%, and boosted daily revenue by 400%. To date, the Best Fiends mobile game has been downloaded over 40 million times, and the brand now has a social following of more than 5 million users across all social platforms.   
A 10-Step Roadmap For Influencer Marketing
To help you get started with influencer marketing, our friends at Mediakix created a detailed infographic outlining the primary steps typical of an influencer marketing campaign. 

While there are many different ways you can construct an effective campaign, influencer marketing campaigns usually involve one or more of the following tactics:
product placements,

contests,

giveaways,

sweepstakes,

theme or hashtag-based campaign,

creative,

social follow or

branded content.
Have you launched your own influencer marketing campaign? What has been your experience with influencer marketing? Leave a comment below and let us know your thoughts!