Nowadays, newsletters and mailing creation is pretty easy. There are lost of tools that can make the work of designers and programmers much easier. Many of them are really easy to use and don't require any technical knowledge, putting professional-quality work within everyone's reach.

These 16 tools will make  newsletter creation more enjoyable and inspiring while saving you time as well.
Symbols make your newsletter original
Symbols in the subject line of message - or in the newsletter content - add it originality. Symbols often help to make someone laugh or just convey a more casual mood.
Symbols in the subject line of a newsletter can significantly increase its open rate. Large graphics, plenty of categories and ease of use are the advantages of this website which is a library of symbols. By clicking on a particular symbol, it's automatically copied into the cache. Then you just have to click CTR+V in your newsletter.
The advantage of this website is that it includes UTF-8 as well as HTML encoding. You can choose a symbol and then copy it in an appropriate format.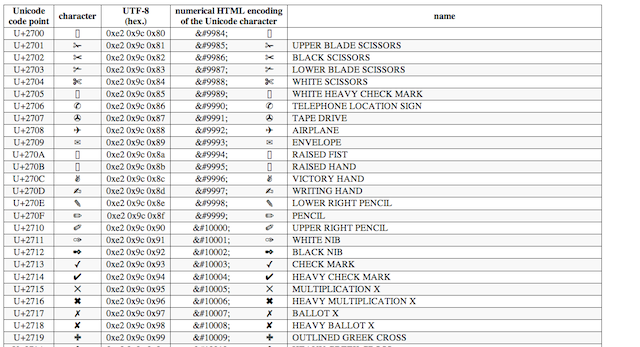 Colors - catch recipient's eye with your newsletter
How do you choose just the right color? One way is to use tools that generate a variety of matching colors.
Program allows you to generate a palette of colors that match each other in many different ways.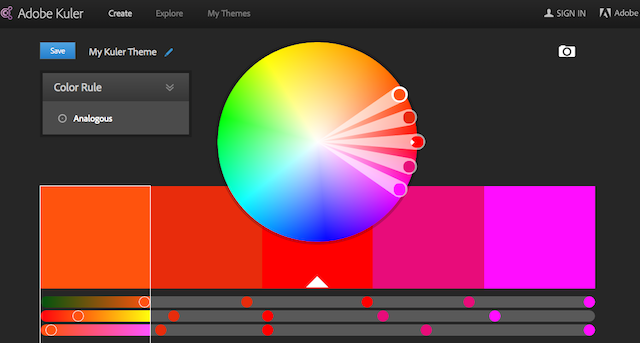 This is an application designed to easily create a set of matching colors. Its huge plus is the possibility to see how the chosen set of colors fits a certain website.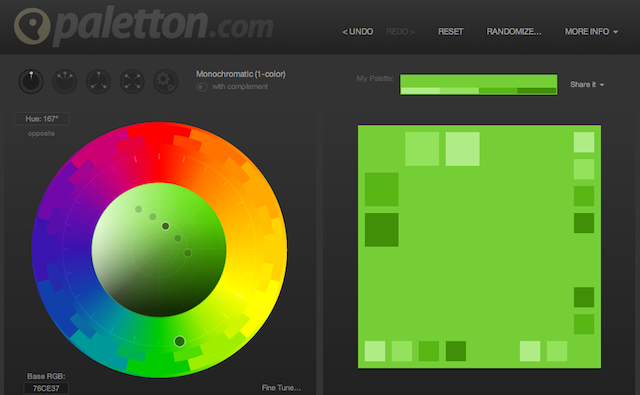 Thanks to this program you can adjust the range of colors to one selected image. To do so, upload an image to the application and Pictaculous will propose sets of matching colors from Kuler and ColourLovers applications. It also allows you to send this info by email, so you can send it straight to a graphic designer.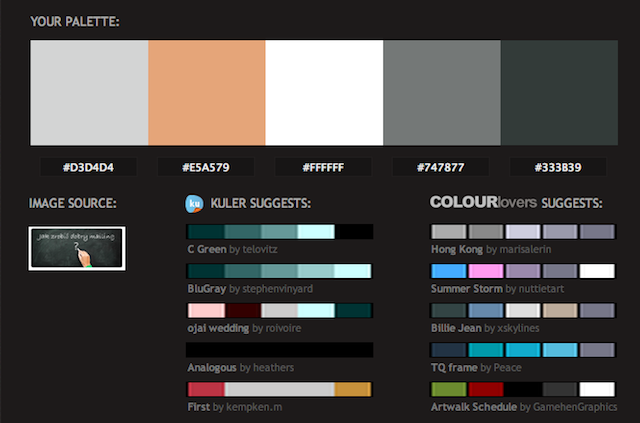 Gradient - when color is not enough
Gradient it's a smooth transition from one color to another.
HTML5 has introduced many interesting functions for mailing creators. One of the features allows you to determine gradients with the use of pure CSS3 without the need of to create images and use them as repeating backgrounds for a gradient effect. ColorXilla is perfect for this as it generates a proper CSS code which you only have to copy and paste.
This program allows you to create a gradient in a very simple way. All you need to do is type in your initial and final colors, the length and direction and the gradient you created will appear.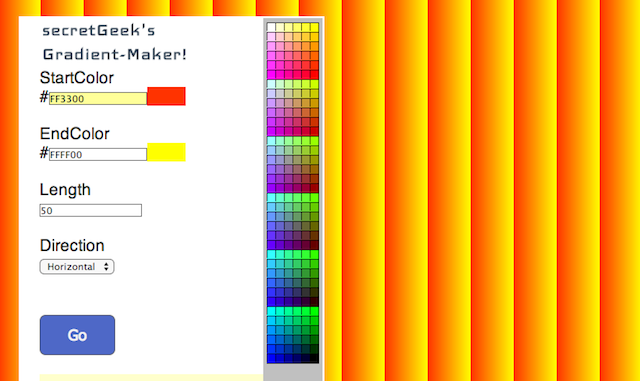 CSS Gradient Generator was redesigned and incorporated into the CSS3 Factory. All its functions and tools have stayed the same but it looks even better. It's utility has also been increased and its advanced functions extended.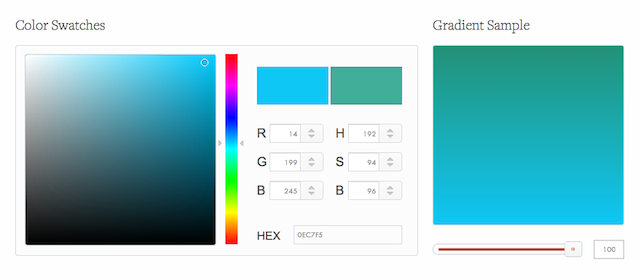 Patterns and backgrounds
These are graphics composed of repeating elements that together form a backdrop for other graphics, usually text, in your newsletter.
This programs allows you to set the size of the pattern, the spacing, the color of the taskbar, the color and style of the background and the shadow and pattern orientation. The next step is simply using it in your mailing.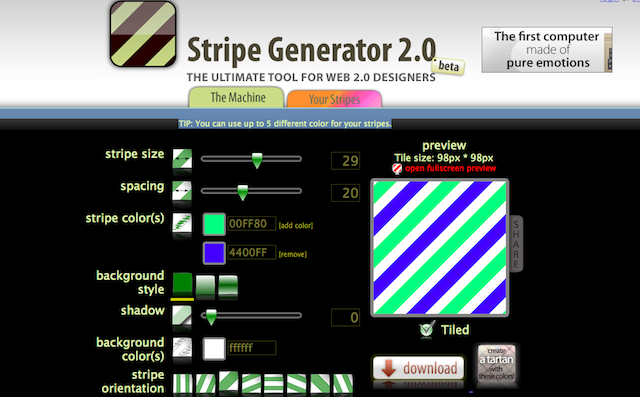 This program offers you a huge collection of textures: wood, rust, paper and concrete, which can be edited. You can change the color, brightness and other parameters of the textures. Add a photo from a link or your files and then experiment with different colors.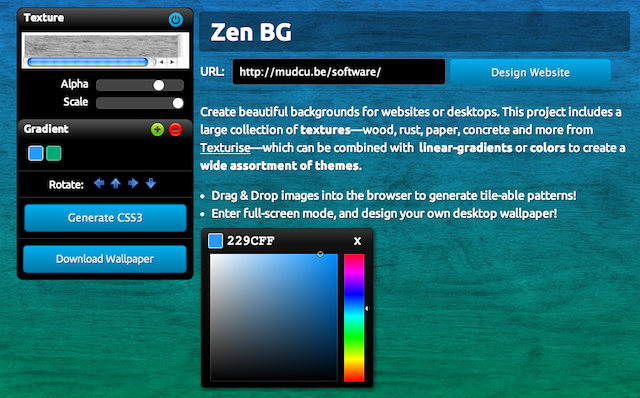 This tool will help you to generate a background from a photo. This might sounds like an easy task, but try to create a background which will be displayed correctly in all popular email services. Now it's not so easy...
Using EmailBG you will get bulletproof HTML code of the background which you can then apply in your mailing.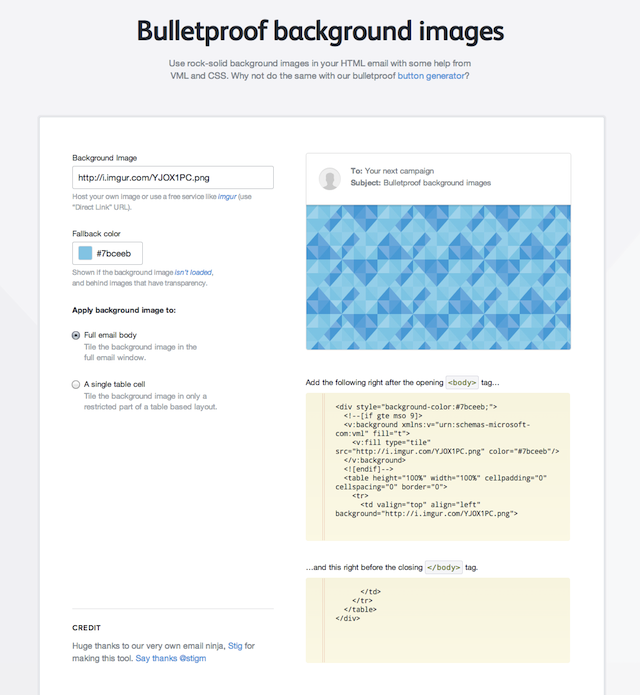 Buttons - creative calls to action
The button generators below have one common advantage: they are visible whether images are enabled in an email service or not.
Da Button Factory offers all functions you may need to create a decent button. Juggling between types of font, backgrounds and shades you can get exactly what you want. The button you create, however, is available only in the graphical version - you cannot get HTML code from Da Button Factory.
If Da Button Factory is not enough for you try using the CSS3 Button Generator. Besides the function of creating buttons it also offers very accurate CSS code that you can safely paste into your mailing.

Image cutting and cropping
Besides colors and buttons, correctly sized graphics are also very important in mailing. The following tools can help you get the job done.
Croppola is used to crop images in an intelligent way. The algorithm of this tool is based on theories and rules of image composition which are used by photographers when taking photos. Thanks to this, cropped images stay visually balanced and your work is easy.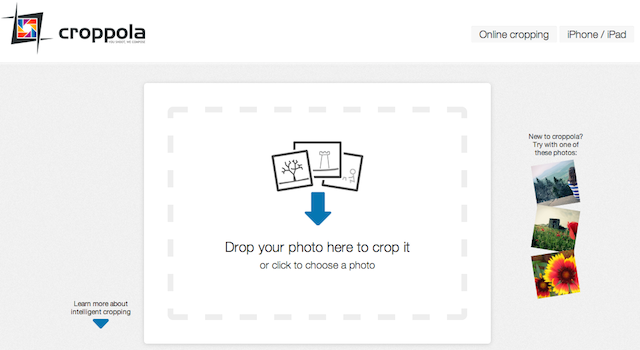 You can't add all images as full size graphics in an email. Larger images need to be split to reduce the risk that your newsletter goes to the spam folder. Online Image Splitter is a very helpful tool for reducing your image size.

PNG files are definitely useful when creating an email but their size can cause problems. Email service providers have size limits are rather strict (for example Zoho Mail 12Mb per email). to avoid problems, I recommend working with Tiny PNG which is able to reduce the size of any PNG file.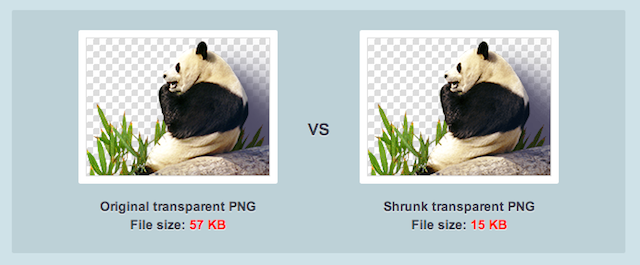 FreshMail tools
Besides external tools available online on many different websites, FreshMail offers many options to make your work easier. Create, test and send your campaign with us!
FreshMail offers:
How to get inspired?
If you need inspiration check out our gallery of 'Inspiring newsletters'.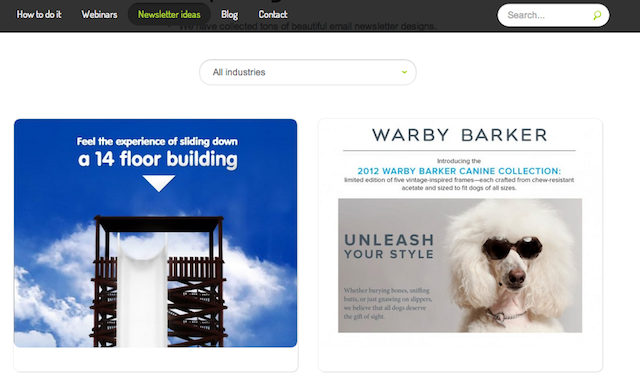 Do you know of other tools that are helpful in newsletter creation? Share them with us in the comments below!
More about newsletter creation:
'How to split images and graphics in mailing' - a few technical tips
'How to create a newsletter' - FreshMail Designer tutorial