Most people consider an email signature as something not worth thinking about. Whereas it can be used as a way to sell your product or inform your recipient about something, it can also cause your message to be labeled as spam. You should know several simple rules regarding email signatures if you want them to work for you rather than against you.

1. Keep it short
Of course, there are few things you have to put in your email signature like name, your company name, address and phone number (you don't need an email address in it). Just generally try to keep it short and not include needless information. Three or four lines about you and your company should be enough. If you don't have to include a legal disclaimer or an anti-virus scanning verification, then don't.

(email signature: Email Signature Rescue)
2. Use primarily plain text
Try not to use many graphics. If you need to, don't put them directly inside your email signature, but place them on the server and then link to them in your HTML code. You probably remember that the bigger your email, the bigger the chance of being labelled as spam. To avoid this, you should also stay away from using too many colors or special fonts.

(email signature: Smashing Magazine)
3. Inform recipients about products or events
Maybe you have seen one of our email signatures. We at FreshMail always inform our clients about what we're doing - preparing an email marketing conference or a different event you might be interested in. You should do the same. For example, you can inform customers about the newest addition, promotion or new product in your ecommerce offer.
4. Include social media links
Does your company have an official Facebook page or Twitter account with fresh news about what you are doing? Or maybe a Pinterest page where you publish interesting photos or infographics? Think about putting links to them in your email signature (e.g. in form of nice, colorful icons).

(email signature: Email Signature Rescue)
5. Be consistent
Your email signature should correspond with your whole company visual identification. You can think about placing a small company logo (again, as a link to an external file), employee photo (again...) or simply adding some color taken from your visual identification (but don't go too far…).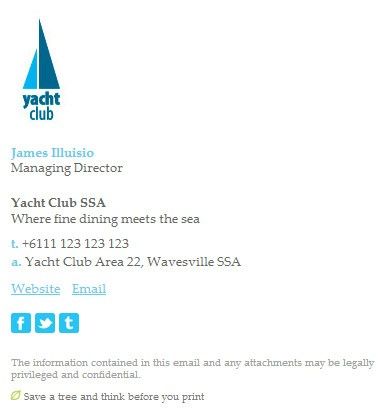 (email signature: Email Signature Rescue)
6. Remember to include required information
Depending on where you conduct your business, you have to put a few things about your company in your email signatures. For example, according to EU law, you must include the following information in every footer: your company's registered address, place of registration and registration number. Consult your legal representative if you are unsure about the information you have to include.
Sign up for our newsletter

Do you want to keep up with what's new and all the freshest email marketing ideas? Then sign up for our newsletter!

7. Prepare a longer and a shorter version
The obligations covered in the previous point can sometimes result in quite a long email footer. This means that you may want to consider preparing two versions of the header.
A longer footer can be used for first contact with someone and contain all details you want like your position within the company or a banner promoting an upcoming event.
A second, shorter version can be used especially for replies in an ongoing conversation. It is possible to automatically switch between both of them in the same conversation. Check your email client/provider/signature software for details.

(email signature: Smashing Magazine)
8. Run inbox tests (if you use HTML)
Before you start using your new, nice and effective email signature, you should test it in various email browsers, both desktop and web-based. What looks good in Gmail, won't necessarily look the same in Microsoft Outlook or Yahoo etc., especially if you use HTML. Be sure that your email footer displays correctly in all commonly used email clients.
Summary
Now you know the most important points to consider when putting together your email signatures. Using them as a guide will help you to formulate email footers that are more professional, informative and more appealing. On top of that, they can also help to drive your sales.