Do you want to increase the awareness of your brand, make contacts and attract new customers? Start organising webinars!
A report from MarketingCharts shows that 66% of marketers say Webinar is an effective B2B Content Marketing tactic.
Depending on your goals, you can run product webinars (to explain, for example, how a new application works) or training sessions (where you share knowledge and good practices in your field).
You can arrange free webinars (with the goal of, for example, increasing your reach or promoting brand awareness) or paid (where the purpose is to generate revenue but also to increase the amount of premium content you offer).
See what webinars can do for you, how to prepare a great webinar, which platforms to use and how to promote them.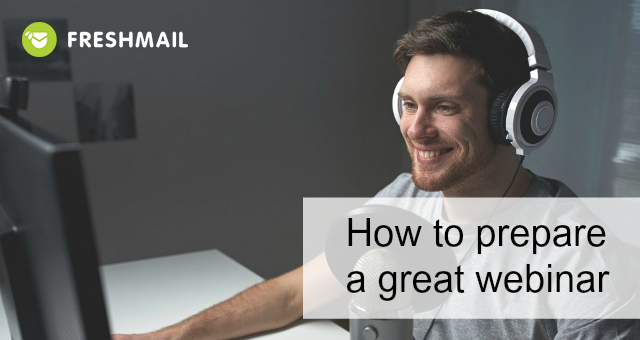 What do webinars do for you?
Get leads
First of all, they attract potential customers. To take part in your webinar, users have to sign up and that means they share their email address with you. That makes webinars a great way to gain leads.
Attract new customers
Share your knowledge with users about how your product works. By organising periodic training sessions related to it, you not only educate your existing customers but help to attract new ones. It's a lot easier to convince people to buy if they are already familiar with you and your brand.
Increase reach
Reach is important in content marketing. Webinars can help to increase it and establish you as an expert in the field. The more interesting and useful your subject, the better the chance that it will attract viewers.
Establish you as an expert and market leader
Offering your expertise draws interest in webinars. Establish yourself as a leader in your market with valuable content and share your knowledge through the webinar platform.
Increase your revenue
You can also earn with webinars. If the knowledge you want to share is unique and difficult to find and you're a specialist in the field then you can make access to your webinars paid.
Preparing for a webinar
Almost half of marketers say that webinars are one of the most difficult content marketing tools to use and so it's important to prepare in the right way.
A poorly organised webinar with lots of factual or technical errors not only affects your reputation as an expert but also discourages participants from coming back.
Make a good start by carefully considering what you want your subject to be. Remember that it has to be interesting and useful for participants - nobody wants to waste time listening to things they already know. They expect to get practical advice and knowledge from an expert. Conducting simple surveys can help to get ideas from your customers and followers about the kinds of subjects they'd like to see.
Another matter you should look into before going further is establishing what the goal of the webinar is. It could be, for example, introducing users with the newest version of your program, educating subscribers on something related to your field, getting to know what they think about something, making sales, increasing your subscriber database encouraging them to get in touch with you. Defining your goals will make it easier to prepare the content of your webinar and include all the right elements.  
Make a script. Don't rely on a surge of inspiration during the webinar because you can accidentally get off topic and spend too much time on less important issues, prolonging the webinar unnecessarily. Plan every detail that you want to present and stick to your plan.
Prepare your presentation. This is an important element that increases the value of any worthwhile training session. You don't have to treat it like a script of a speech, and don't use too much text. Let it help with the examples, screenshots and graphics and use it to supplement the content you're talking about. Remember that you can always share your screen to show everyone what you're doing. In addition to the presentation, you can provide users with video, access to files or share a so-called whiteboard, on which you can draw to make your point.
Make a list of questions that might come up during the webinar and be ready to answer them.
Be prepared for the webinar. Know your subject matter well. Practice what you want to say to help yourself feel confident and limit stress when it's time to perform for real. You might even make a practice recording of yourself to get used to the context of running a webinar.
Platforms for organising webinars
A good webinar isn't just a well-prepared presentation on a familiar subject but also a professional technical presentation. The right program can help you look like a pro and we've put together some descriptions of some of the most popular webinar platforms.
GoToWebinar - One of the most well-known webinar programs. GoToWebinar has to be installed on your computer to use. It offers lots of functionalities like draw on screen during presentation, sharing organisation with other presenters and conducting surveys.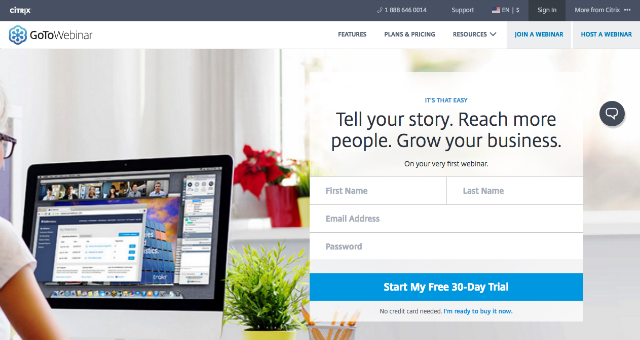 Price (per month):
Up to 100 participants - $89

Up to 500 participants - $199

Up to 1000 participants - $299

Up to 5000 participants - negotiable
Functions:
Audio and video

Chat

Screen sharing

Ability to draw on screen during presentation

Records webinar

Handles multiple presenters

Conducts surveys
Free trial: Yes, up to 30 days
Application: desktop
AnyMeeting - A key plus of AnyMeeting is that gives you lots of free options but it also shows ads. It has some interesting features like the ability to connect users with VoIP.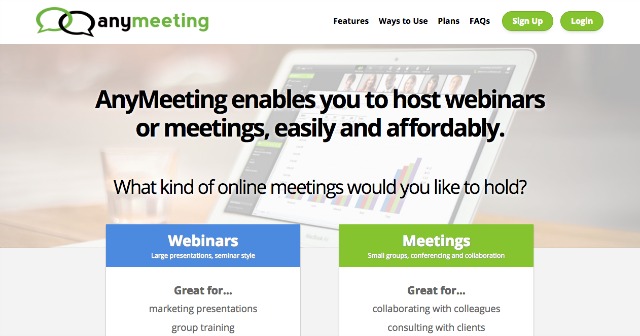 Price (per month):
Up to 4 participants is free but ads are shown

Up to 30 participants - $18

Up to 100 participants - $78

Up to 200 participants - $128

Up to 500 participants - $198

Up to 1000 participants - $298
Functions:
Audio and video

Chat

Screen sharing

Sharing clips from YouTube

Note taking

Ability to share files

Ability to load PDF or PowerPoint files

VoIP connections

Integration with lots of apps
Free trial: Up to 4 participants but with ads
Application: web
Join.me - This plaform can either be accessed through a browser or installed on your computer. There's also a mobile version. Join.me lets you share your screen, give access to files and take notes on the presentation. It's free for up to 10 participants.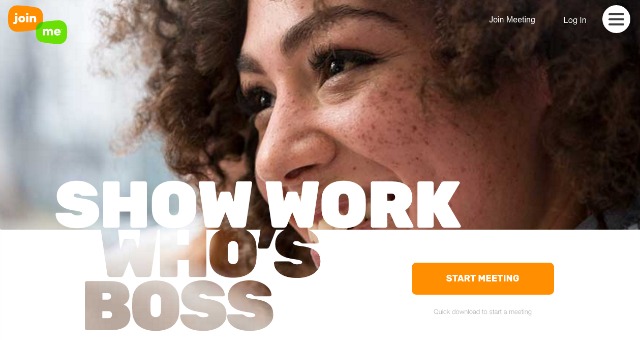 Price (per month):
Up to 10 participants - free

Up to 50 participants - $20

Up to 250 participants - $25
Functions:
Audio and video

Chat

Screen sharing

File sharing

Note taking on the presentation

Make a participant the presenter during the webinar

Personalisation options

Mobile version
Free trial: Yes, PRO version for 14 days
Application: web and desktop
Google Hangouts - Although it's part of Google Apps for Work, this app is really more intended for meetings than for professional training sessions but it's still worth looking at. You need a Google+ account to use Hangouts and only others with a Google+ account can join. One interesting option it offers is the ability to live stream everything on YouTube. It's free for up to 10 people.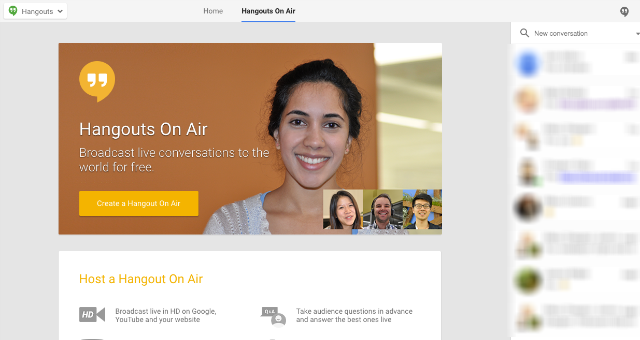 Price (per month):
Up to 10 webinar participants - free

€

4 for each Google Apps user

€

8 for each Google Apps user with no limits on use and access to Vault
Functions:
Audio and Video

Chat

Simultaneous work in Google Docs

Split screen

Plugins that expand Hangouts functionality
Application: web
Skype For Business - This is a professional program for online meetings, mostly designed for the business crowd. You can organise meetings for up to 250 people at once and it doesn't require that any program be installed - it's enough to connect by telephone and Internet. It's part of the paid Office 365 yearly packet.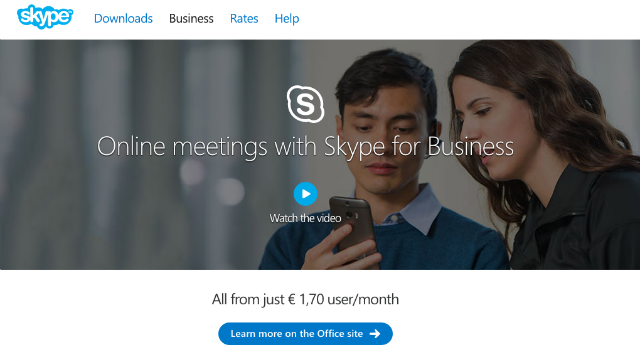 Price (per month):
limited version  

€

1,70 per user with a yearly obligation

full version

€

4,60 per user with a yearly obligation
Functions:
audio and video

chat

screen sharing

ability to share files

ability to share presenter role

ability to share access to whiteboards where presenters and attendees can write, draw and add graphics

surveys

applications that work with Office
Free trial: There are two kinds of free meetings on Skype:
up to 25 people for audio meeting

up to 10 people for video meeting
Facebook Live - The newest option for organising live streaming, available through Facebook. To get it set up, click on the status field and select the option Live Video. Subscribers can comment on the video and the author can follow the number of viewers. To use Facebook Live on desktop, you have to first download the LiveStream on Facebook application.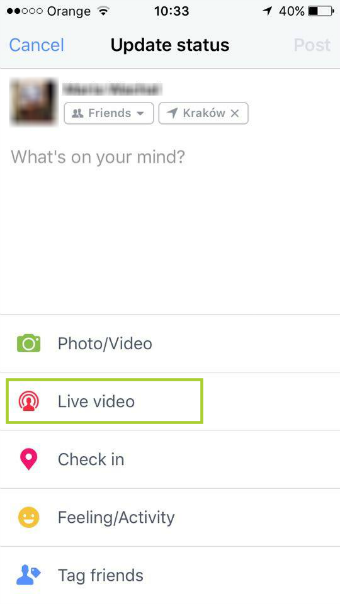 Price (per month):
Functions:
Live streaming with no time limits

Viewers can make comments

Information about the number of viewers

Ability to save the video
Application: Mobile and web
Promoting your webinar
You need an audience for the content you want to share in your webinar, right? Promoting it ahead of time is an important element in the success of your presentation.
Email marketing can help
If you have your own subscriber database, reaching potentially interested participants is much easier than starting out by having to build one. Remember that the ROI on email marketing can reach 3,800% so you can't ignore it.
This is one of the best methods for encouraging recipients to take part in your webinar. If you have your own subscriber list, you're one step closer to reaching an audience that could be interested in your webinar content.
Send a message to your subscribers and invite them to join you in the webinar along with a description of what they can expect and what they can get out of it. Engage them further by asking what they would like to see in the webinar and what they would like to learn. Show that the knowledge you want to share is worthwhile and valuable.
Use social media
In addition to Facebook and Twitter, look to LinkedIn, especially for B2B content. Get an invitation out to your contact and include it in your profile status.
Think about using the potential of YouTube as well. A short and interesting invitation can spark interest. Take an infographic that you want to use in the webinar and post it on Pinterest.
Social media is a great place to get a feel for the subjects and ideas that are circulating among your fans. Pay attention and get some direction for the content of your webinar.
Use paid options
To increase your reach, use paid marketing tools. Paid ads in search engines let you gain new customers that are looking for interesting webinars and you simultaneously increase traffic on your page. Use remarketing to remind anyone who's interested in your webinar about it.
Use paid ads on social media platforms. Where's the best place to promote your webinar?
Analysts say that the average Facebook user spends about 20 minutes there a day. This makes Facebook a good place to promote your webinar. Paid ads are relatively cheap and bring good results. Targeting the right audience can get your message in front of the people who are most likely to be interested in your webinar.
Twitter doesn't have the reach that Facebook has but you still need to use it to tell the world about your webinar. Twitter allows you to place ads that direct users to a signup page for your webinar as well place promotions ads for it.
Don't forget that LinkedIn is much more appropriate for webinars focused on the business world since it allows you to precisely target the kind of people you want at your webinar. The downside is that LinkedIn is quite expensive compared to other platforms, with a minimum CPC of $2.
Work with partners
Set up webinars with partners who can contribute to the presentation and content. This increases the reach of your promotional efforts and attracts followers and fans of your partners.
Good practices for leading webinars
Conducting a great webinar takes a lot of planning and work. Problems can pop up at different stages and can cause trouble for even the most experienced webinar presenter. Here are a few reminders that can help to minimise these issues and help to ensure that your webinar is a success:
Send a reminder to participants a few days before and then again a few hours before the webinar.

Before getting started, log in to your webinar platform and check to see if the connection is working well. If there is anyone already waiting, ask to make sure that they can see and hear you well.

Save answering questions for after you've finished your presentation. This way, you avoid digressions and getting lost.

Try not to make the webinar too long. One hour is a good length for most webinars and you can divide that time into the presentation and time for questions and answers. It's a good idea to tell participants how much time they can expect to spend with you.

If the goal of the webinar is to sell a product or service, save the last two minutes of the presentation for your best sales pitch so as not to discourage participants from sticking with you.

Print out a script of your presentation to help out if you need it.

Always have some water with you during your presentation.

When the webinar is over, give participants access to the recorded version.