The holidays are a great time to communicate with customers, members and followers. It can be a special offer, a request for support or something as simple as saying "Merry Christmas". The important thing is do it in a personalised way.
The most personal online space is still an email inbox. That's why your chances of reaching your audience are five times higher with email than with social media channels.
If you're wondering just what your holiday message should look like and you want to get the best response, maybe you'll find some inspiration from this collection of effective, attractive and sometimes quirky email campaigns we've put together. Who knows, maybe you'll find just the example to point you in the right direction!
Let's see how different brands are infusing the holiday spirit into their communication with subscribers.
Season's Greetings!
Simple good wishes during this season can be a nice gesture and enough to generate warm, positive feelings towards you at this time of the year. Lots of different graphic forms and layouts can fit the bill here, apart from giving it a holiday feel there are few rules. The idea is just to maintain a relationship with customers and recipients and to enhance your image in their eyes.
Analytic Solutions sent a classic campaign with standard holiday wishes. In the world of B2B, this is just the right feel and tone for the holiday season.
Honest put together a warm campaign for friends of two faiths. A short film was included to up the cuteness factor by hundred.
EziBuy put a gif to work in their email. It's a straightforward holiday message with a visual twist.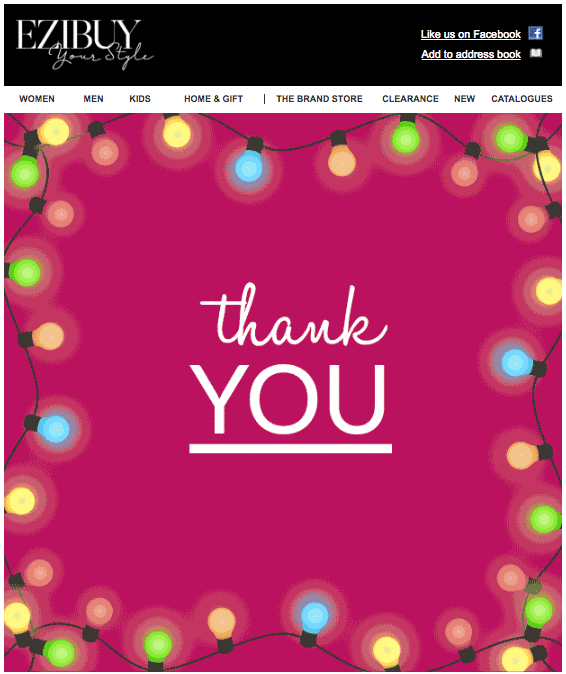 Parts Town took a cheeky and less traditional angle for their Christmas campaign. It's a reminder that Santa isn't the only busy person on the big day.  
Personalisation
No one wants to feel like they're just a name on a huge mailing list. Kim Garst from BOOM SOCIAL sent a nicely personalised holiday message, something that looks like a letter to friend. Personalisation makes all the difference. This kind of message is more engaging and gets clicked more often. It's a great way to start or build B2B relationships with recipients while making them feel like they got something designed just for them.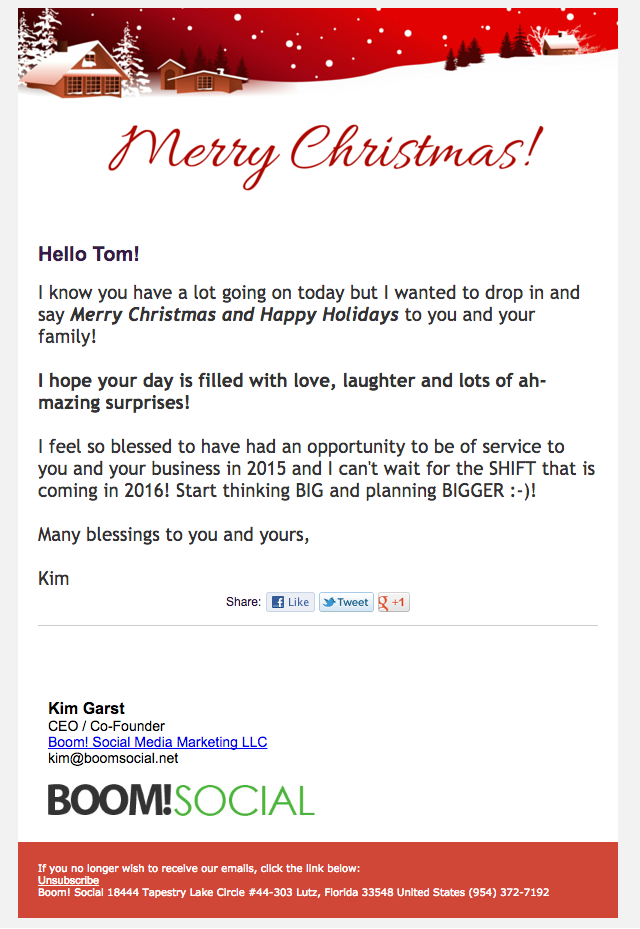 You can also personalise the message subject, as ZENMED did:

Word play
Clever copywriting is a great way to put a smile on everyone's face. Make it playful with a nod to the brand identity or use puns and double meanings for a clever twist!
Here's an example I like from American Eagle Outfitters. Ok, maybe it's a little corny but isn't that the point? Don't be afraid to have some fun with your campaign!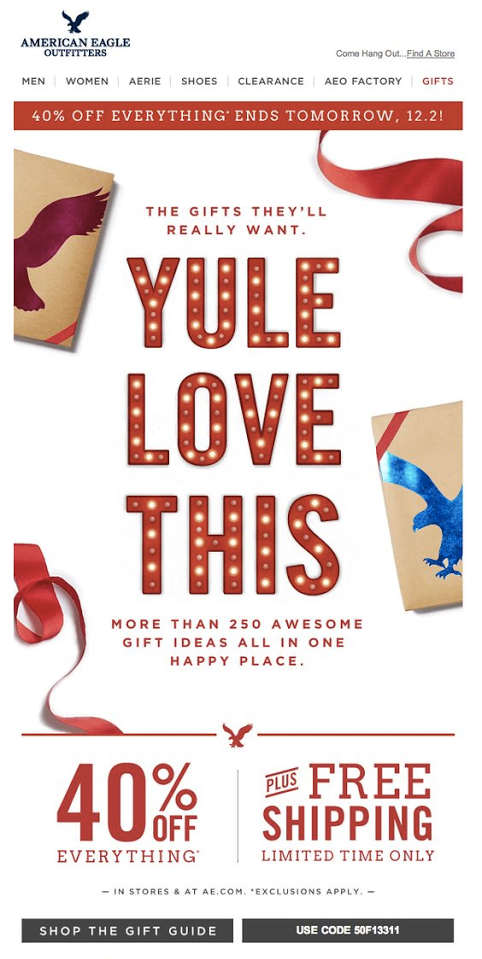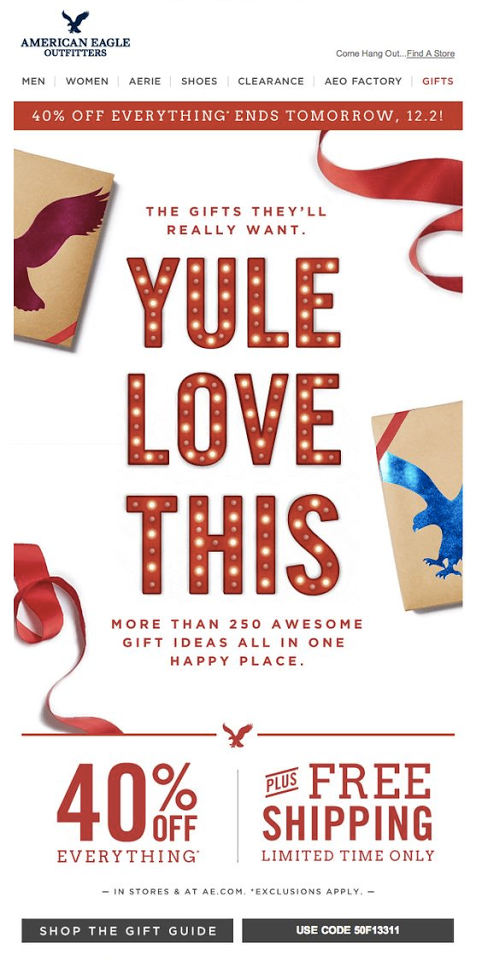 Word play can also have a place in the message subject. JD Sports makes us smile before we even open the message. Appy Holidays!

Shopping time
Let's be honest - the holiday season means shopping. It can especially mean online shopping at times when physical stores are closed.
Gone in a Flash put created an image that is quickly and easily understood - it only takes a fraction of second to see what's on sale and by how much, all with a Christmas theme.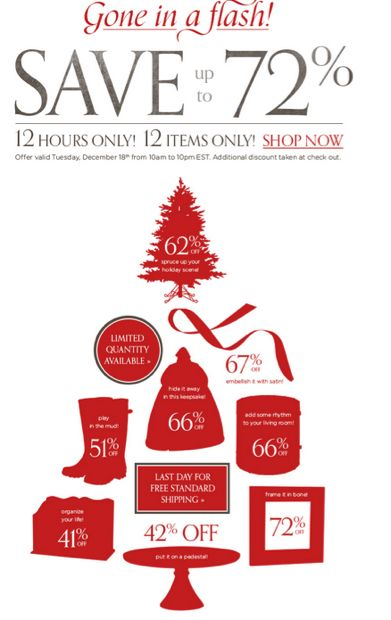 Avon really jumped into the holiday spirit and came up with 12 promotions, one for each day of the Christmas calendar. Each one lasts for just a short time but it's a great way to keep customers interested and waiting to see what comes next!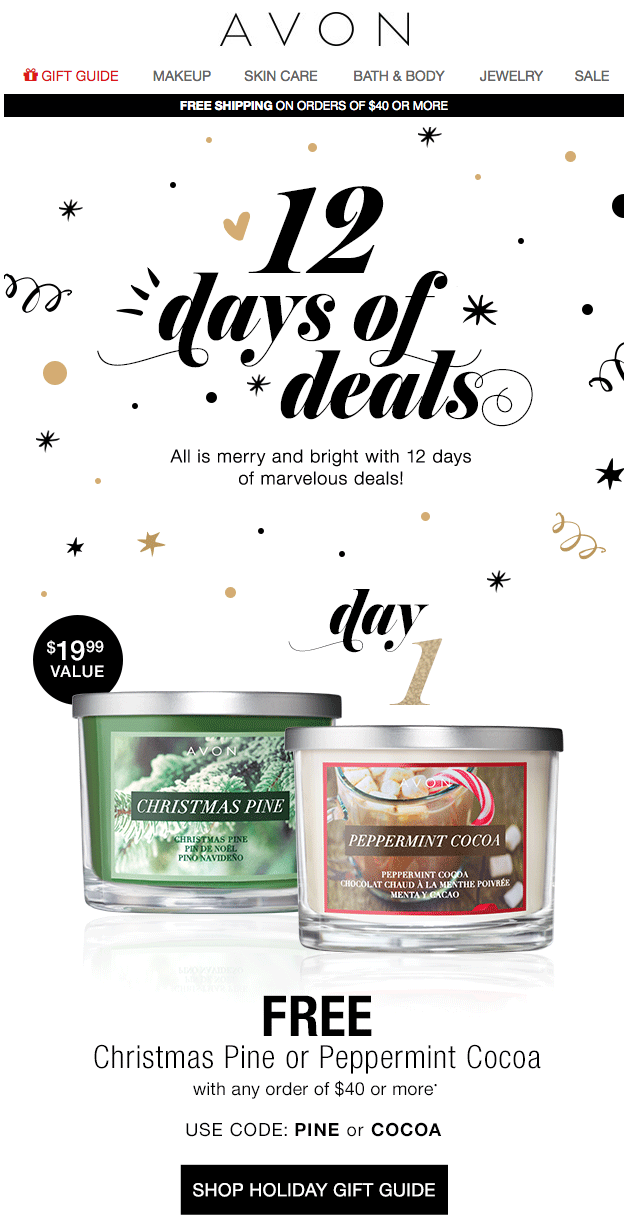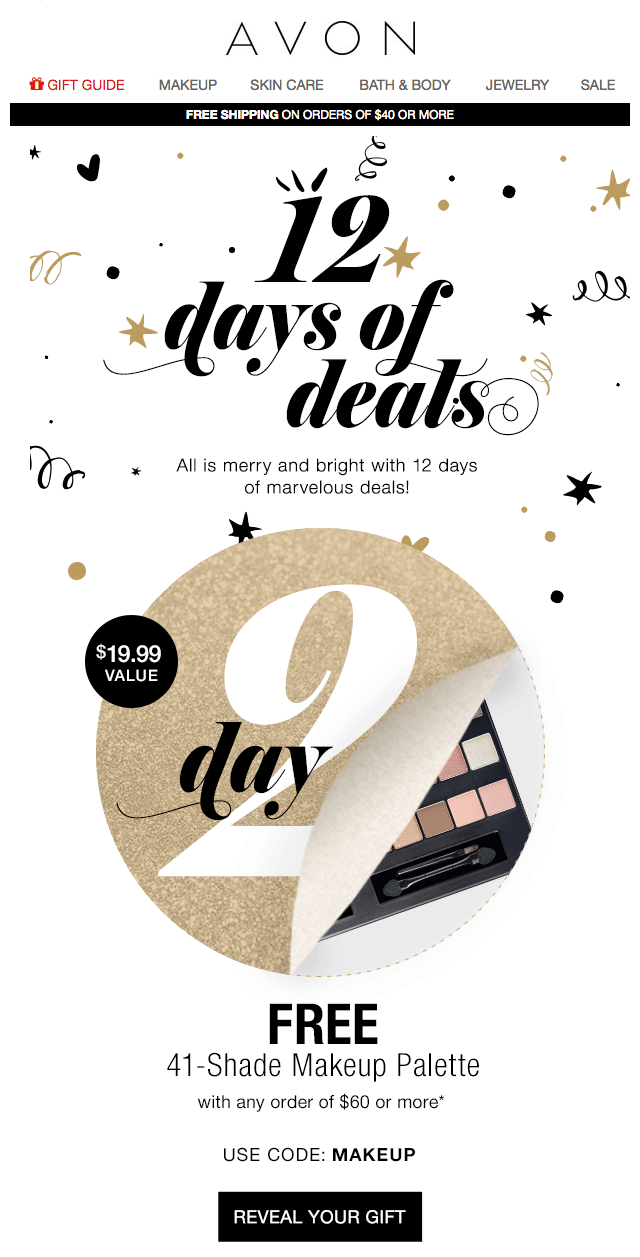 Highlight a deadline
Christmas time sees a spike in both online and offline retail traffic. For online stores, they must factor in the time it takes to process an order and deliver a purchase. Making everyone aware of relevant deadlines benefits everyone involved and helps to avoid nervous waiting and complaints later. Everybody's happier when the package arrives on time!
Zenmed put together a nice message reminding subscribers about the deadline to get their orders in for express shipping. Making such time limits known not only avoids disappointing customers later but can create a sense of urgency that moves customers to click "buy" now instead of later.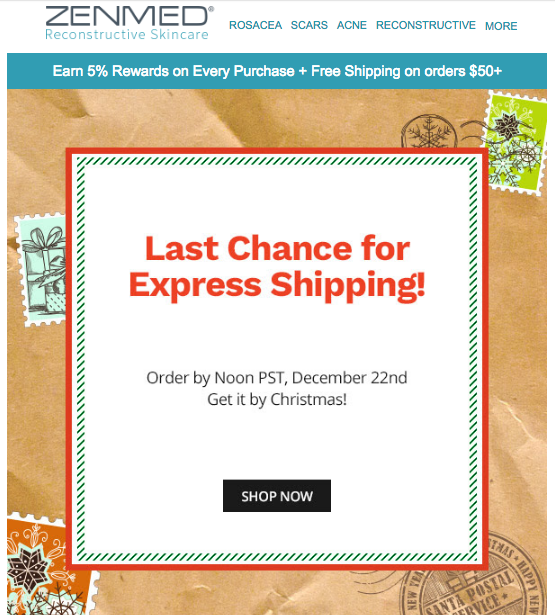 Another example, in a kind of opposite way, tells customers that there's still time to do holiday shopping.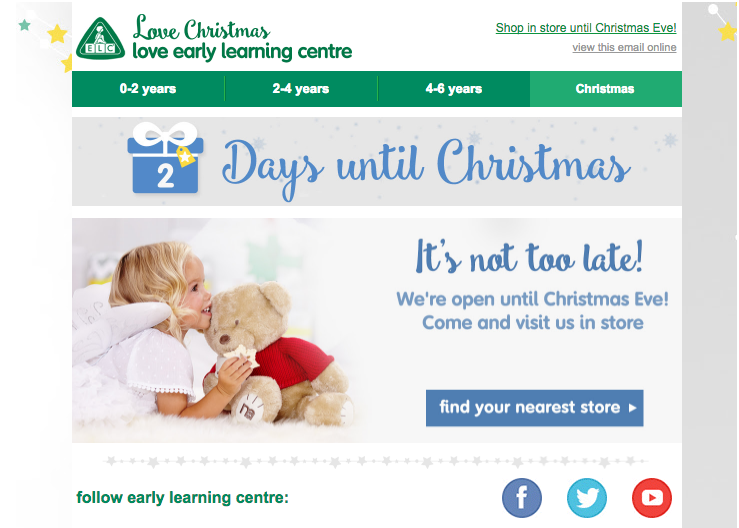 It's not all about making the sale
Running an eCommerce business isn't always about packing as much sale-oriented content into your message. You can also use the occasion of the holidays to enhance your image, inspire customers or share useful product information that can help customers plan the ideal Christmas. 
Here are a few examples that show that you don't always have to send loud, attention-grabbing messages aimed at making a sale.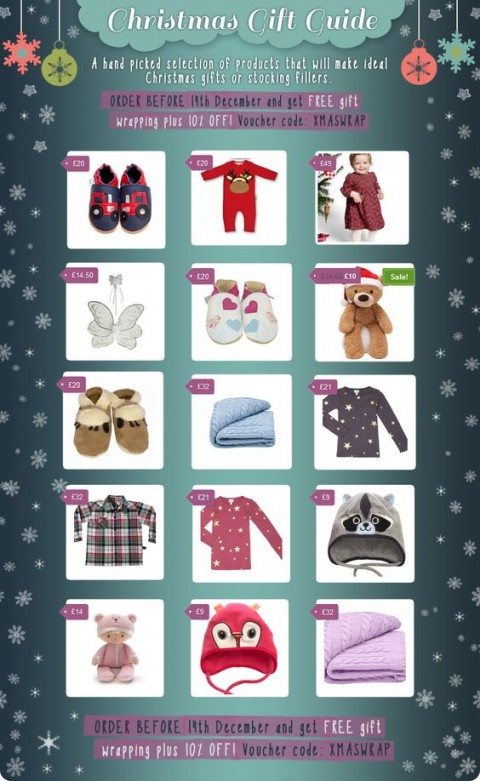 Take a cue from Food52 and focus on one aspect of the holidays - cookies, in this case. They keep things light and on-message with their COOK(IE) NOW CTA. This is a great example of a message the educates and informs while staying consistent with the brand image.

Great design
The design possibilities for holiday messages are endless. Try your hand at creating a great virtual greeting card for subscriber inboxes.
Terrain shared a charming greeting card with bit and pieces of kitchen items and other odds and ends.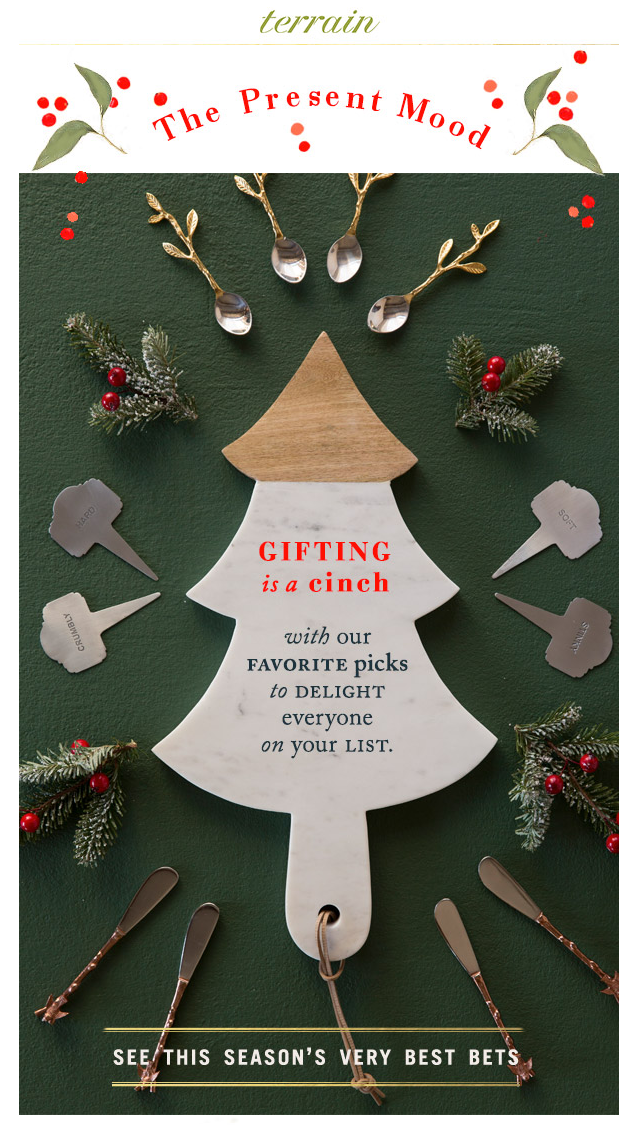 Herschel Supply proves that simple is often better with their minimalist design.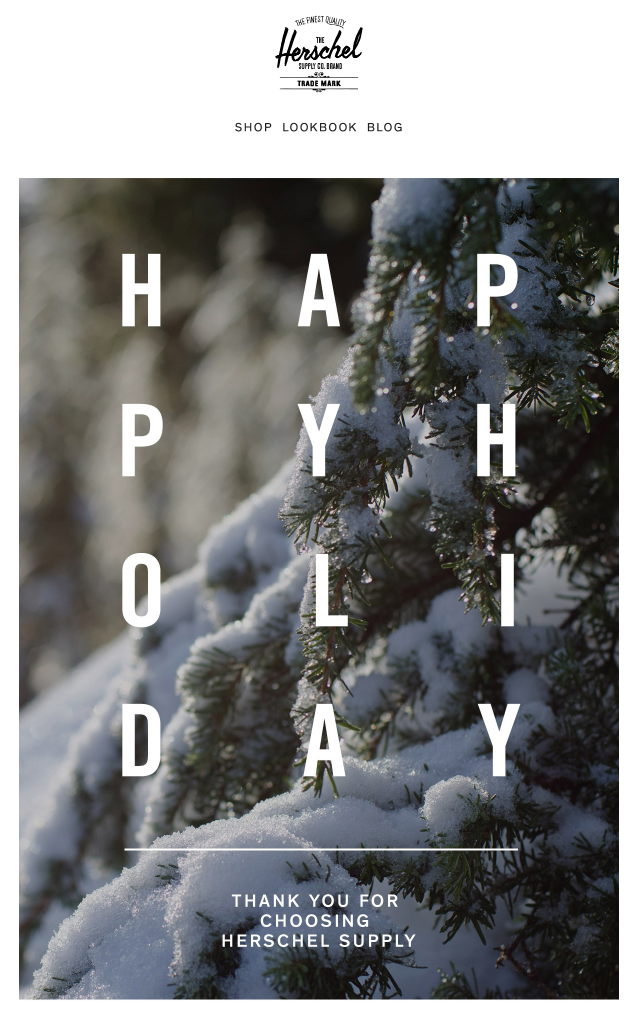 A simple designed and chill colors also appealed to L.K. Bennett. A little animation gives it an elegant touch.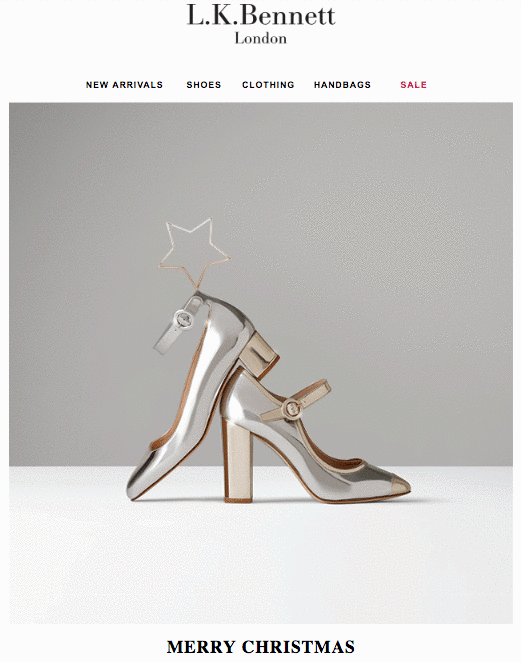 Good deeds
Christmas is a time of sharing, warmth and support. That's why it's also a good time for non-profit organisations to ask for help. That's why, even though they can ask for support at any time of the year, lots of such email campaigns are launched around the holidays. These well-timed requests for support can benefit from the general holiday atmosphere and attract new patrons while promoting the good name of the organisation.
Here's an example of merging a good cause with the best time of year to appeal to the feelings that help to make it happen.
Have fun!
There's a big fun side to the holidays and we can see it in lots of things. Email subject lines, for example. A little holiday cheer in the first thing your subscribers see can set the tone immediately. Just ask Jack Spade.
Bezar had the same idea. With the same song, actually...

The Christmas holiday season gives you lots of creative options for communicating with your subscribers through newsletters. It doesn't matter if you operate in eCommerce, B2B or as a non-profit - clever use of the elements of your newsletter can help you to get and hold the attention of everyone who wants to hear from you.