Email marketing is one of the most effective direct marketing channels available. Surveys show that email marketing is generally the second platform, after social media, that inspired individuals to support a cause. In addition, the relatively low costs of make email marketing makes it popular tool among NGOs.
Why is email marketing good for NGOs?
Mostly because of its huge reach. Not everyone has a social media account but just about everyone you want to reach has an email inbox. The total number of them will pass 4.3 billion by year-end 2016 and there's an excellent chance that your target group is among them.
Also, email marketing works very quickly - the whole process from preparing a concept and creating the message to appearing in subscriber inboxes can take just a few hours.
The second reason why email marketing is a good option for your time and investment is that it easy to interact with. We're used to email communication and we are familiar with the idea of receiving and responding to commercial messages.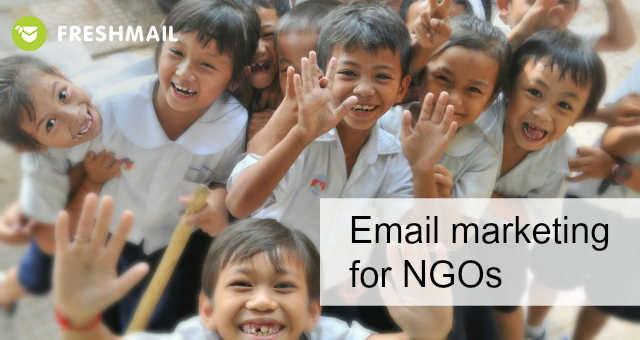 Email marketing has also very competitive prices. The cost of sending a message is still relatively small and depends on the number of sent messages. It can literally cost pennies to send a message.
FreshMail has prepared a special offer for all non-profit organizations that makes it possible to use the system on preferential terms. Get in touch with us if you are interested.
Email marketing is effective and the results are measurable. Reports let you precisely track the effectiveness of your campaigns and share information that can be used to improve your next message.
Good email practices for NGOs
To get the results you want from email marketing, you have to follow a few rules for creating an effective message. They're all about crafting the right message for the right people.
A quality mailing list
The key to success is reaching an audience that is interested in your message. They will not only open and read what you have to share but also engage further if your message is done right. Make sure that your subscriber list is always up to date and segmented.
Building your mailing list
It's important that you always build your subscriber list through legal means. Never buy a list of unknown origins. The process of building a mailing list takes time and you can't get discouraged if it takes longer than you expected.
You should add new subscribers through the double opt-in model. This means that new subscribers receive a confirmation email with a link that they have to click in order to be added to your list.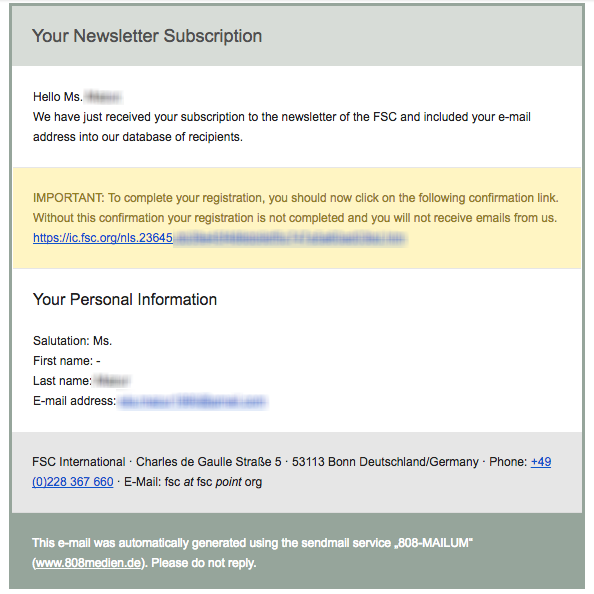 This process lets you be sure that subscribers willingly join your mailing list and consent to receiving messages from you.
Additionally, you avoid situations where addresses that get the attention of spam traps are added to your mailing list and cause problems with deliverability.
It's important to protect your reputation as a sender and minimise the chances that your campaigns will be tagged as spam.
Where to collect addresses
Gather email addresses with the help of a sign up form on your internet page. It's the first place anyone will look to find more information about you and what you do. You can also use a pop-up window to invite visitors to join your newsletter.
If you are active in social media, use it to encourage your fans and followers to sign up for your newsletter. Use an application to set up a subscription form to make it easy to join.
You can also use your email footer to mention your newsletter and include a link to a sign up form. Every online interaction you have is an opportunity to promote the value of joining your mailing list.
Don't limit yourself to the online world only. Events and other gatherings are great opportunities to attract new subscribers. FreshMail has made a dedicated app for just such occasions, FreshForm. It lets you create a personalised newsletter sign up form on any tablet and you can gather addresses even if you're offline.
You can suggest your volunteers that contact your organisation to join your newsletter and ask them to mention it in their interactions with others. The same applies to benefactors so they can be up to date with what's going on in your NGO. Encourage partners and sponsors to share their addresses in exchange for more information about your future activities.
Segmentation
NGO subscriber list can often get extremely diversified. They can contain donors, volunteers, business partners and others. Each group receives entirely different messages. This is one of the main reasons why you need to be careful to keep your mailing list segmented.
Dividing your mailing list into smaller pieces lets you better manage the addresses and make a distinction between, for example, those who open your messages more or less frequently, allowing you to better identify those who might be more willing to support your organisation.
At the moment of sign up to your newsletter you can define which segment new addresses will be added to. It's enough to configure the sign up form properly.
You can divide your mailing list according to:
Where subscribers live

- This allows you to target people living in a particular area, which can be useful when organising a local event

Engagement

- The more often your recipients open your messages and click on links, the more confident you can be that they will respond to you

Subscriber interests

- Tags and integration with Google Analytics help you to follow the interests of your subscribers after moving from your email to your website. This gives you insights into what they view and for how long, which can inform the kinds of messages you send in the future.

The function of different people in your mailing list

- This is great for when you want to communicate with particular segments of the people involved in your NGO or if you have different messages for different groups.
Personalisation
Personalisation is another advantage of email marketing. According to eConsultancy,74% of marketers believe that personalisation increases the engagement of users.
Addressing your subscribers in personalised terms helps to enhance your reputation and shows that you have taken some effort to avoid sending the same message to everyone.
The use of dynamic content makes creating different messages for different subscribers easy.
You can personalise a lot more than names. Dynamic text allows you thank supporters for making a donation, thank volunteers for their time or encourage recipients to take some kind of action in an event, all in the same campaign.
Also, in addition to the message content, remember that you can also personalise the subject and preheader too. For example of the use of dynamic content, take a look at our guide.
What a great email should have
To get the results you want, your message should have a few basic elements. Take a look at the proper use of these newsletter elements and make your message even better.
These are the elements that should be found in every well-prepared email campaign.
Resignation link
This is an important part of any newsletter. You must give subscribers the possibility of resigning from your mailing list at any time they choose. This link it best placed in the footer of the message.
Preview link
It sometimes happens that your message does not display properly in the inboxes of your recipients. To make it possible for recipients to view your message as you intended, include a link that will open your newsletter in a browser window.
Footer
You can use your email footer to share information about your organisation, which makes the message look more professional and credible. Also, place links to your social media pages there along with a request for donations.
A clear CTA
The call to action is one of the most important functions in email marketing. It tells your recipients what you want them to do and makes the purpose of the message clear. It could be a registration for an event, a request for financial help or an invitation to see the results of your work.
The right text
Remember that the content you send to your subscribers has to match the purpose of your campaign and be suited to your audience. It may change according to which aspect of your work you are addressing and your target group.
The right graphics
You want your message to look good too. It makes you look professional and reinforces your credibility.
Designing a great-looking mail is easy. FreshMail Designer gives you all the tools you need to make professional grade newsletters in no time at all. You'll find everything you need to know in our guide. And if you're looking for inspiration, you'll find it in our list of cool newsletters.
The kinds of email marketing you can use in NGO's
Newsletters

- cyclical messages that you can fill with information about what your organisation is doing and planning to do or any aspect of your activities. It's best to send newsletters at least once a month and not more than once a week.

Mailing

- occasional messages about specific events or changes that need to be shared. You might send them to, for example, invite subscribers to a get together or to ask for donations.

Seasonal announcements

- You can use your email marketing to share holiday wishes with your donors, sponsors and volunteers and thank them for their support. Holiday is also a good opportunity to ask your donors for a little help, like in example below.
Everything we've covered so far can enhanced with Email Marketing Automation and the help of autoresponders. You can use it to send:
Welcome messages

- Everyone who joins your newsletter will automatically receive a message welcoming them and explaining what they can expect from your newsletter. Use it to describe your work in more detail or to encourage new subscribers to take part in events and follow your social media pages.

Thank you messages

- Use these to thank volunteers, donors and sponsors for their time and support. You can arrange for this message to be sent right after a particular trigger has been activated.

Reminders

- These can be useful for fundraising activities and to keep subscribers engaged and updated about particular events.
You can also set up automatic messages to be sent as part of a series that focuses on a particular subject or aspect of what your NGO does to better educate subscribers about what they are supporting.
Learn more about the benefits of automation here.

FreshMail has prepared a special offer for all non-profit organizations that makes it possible to use all of our tools at a 50% discount. Get in touch with us if you are interested.