We just finished an exhausting election season here in the US. Politics aside, whenever there is an election, there's always a debate. For email marketers, one debate centers around the opt-in question:
From @inboxarmy: single opt-in vs double opt-in, what's best for your #emailmarketing? Click to Tweet
Single opt-in or double (confirmed) opt-in?
According to a report, only 39% of email senders use confirmed opt-in lists. Yet, both these opt-in options have their advantages and disadvantages. It ultimately boils down to your target audience, your email marketing strategy, and your overall business goals.
Most marketers will argue that it's a "Quality vs. Quantity" decision — do you want more leads or "better" leads? How you make that decision is all about what works for your brand and what aids in your brands success. Making the right decision can benefit your brand visibility, generate the right kind of leads, and boost conversions.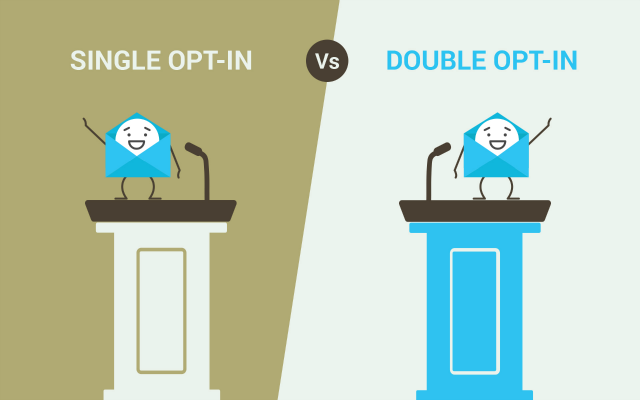 So, let's weigh some of the pros and cons of both these opt-in methods, shall we?
Single Opt-in Vs Double Opt-in:
Single Opt-ins:
PROS
Easier Sign-Up Process: A single opt-in process makes it easier for the user to sign up and gain access to your list's benefits.
Faster List Building: There are less barriers to getting on the list. Marketers generally see about 20-30% faster list growth when they use single opt-in.
CONS
An increased risk to your sender reputation.
Easily spammed and higher unsubscribe rates.
Can affect the quality of your list overall.
Double Opt-ins:
PROS
Better List Quality: Only interested leads make an effort to confirm their opt-in, therefore making them potentially "better" leads. As a result, you'll see:

Better communication & brand building as the subscriber is genuinely interested.
Better (likely) response rates in general
Less spam and less unsubscribes as there is a double-check process.
CONS
Slower list growth due to the need for active confirmation, namely:

Potential leads might not confirm as they can ignore or miss the confirmation timeline and end up not completing the double opt-in process.
According to a case study by warriorforum on Double Opt-in vs Single Opt-in; 20% or more email addresses, one generates from single opt-in could be worthless. Why? Because, numerous people may mistype or give the wrong email address.
On the other hand, the Double opt-in system was seen to protect you from spam complaints to an extent. Since it's a double confirmation system it can help boost email deliverability.
Conclusion:
As long as you are sending email to folks who have opted in to your list in one form or the other, both methods serve their purposes.
Some questions to ask yourself are:
Do I want a bigger, potentially less engaged list or a smaller, more active list?
Is lead qualification important upfront?
Arguments can be made for the merits of both. Discover what works best for you in your unique email marketing strategy and work with it.