You have your internet site, your social media profiles and you have started building a subscriber database that you would like to communicate with. The first steps of online promotion are behind you but there's still much to do because increasing your reach on the internet is a marathon without a finish line.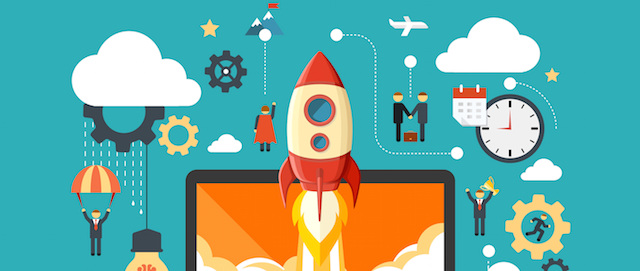 We're going to cover three areas of online activity that are important regardless of whether your business runs on the internet or offline. In the first part you will learn how optimizing your webpage increases the level of engagement with your customers and  how to make your content more valuable and interesting to them.
The next part shows you how to increase your reach beyond your website and how to monitor the network.
Lastly, we will cover not just online communication like email marketing but also explore the offline activities that can make your marketing even more effective.
Full table of contents with links to chapters:
Optimizing content
Optimizing the user experience
2. Expand your reach on the net
Be wherever your customers are
Your business in social media
Monitor the presence of your brand on the internet
Fight for position!
If you operate locally
3. Effective email communication with your customers
Address database
Sign-up form
Ways to expand your database
How to run your email communication
Welcome email
Use multiple functions
The next steps - paid campaigns and attaining synergy

1. Start with your website
Optimizing your website is usually associated with SEO but in this section we are going to focus on other aspects.
In this chapter you will learn how to:
optimize your page by focusing on the content
make your page both easy to navigate and full of valuable information for visitors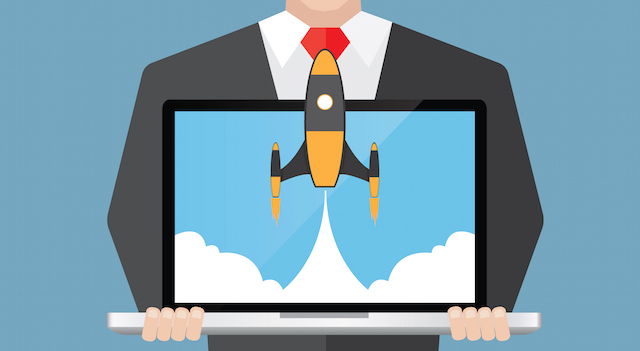 Optimizing content
The first and easiest task that you should take on is optimizing your content. Put yourself in the position of someone visiting our page who doesn't know anything about you and is looking at your content for the first time. Does the information that he finds there answer any questions that he has? On the other hand, is there too much information that makes it difficult to find what he needs? Look through the text on your page and be sure if everything that is there needs to be there.
These are the questions that your website has to answer:
First of all, introduce yourself: say what you do and what products or services you offer. Describe them completely but at the same time keep the text to a minimum. Remember that the typical internet user is rather lazy and instead of reading the text he will scan it to find what he's looking for or what interests him. That's why it's best to focus on features that are authoritative indicators of the value of your offer rather than every advantage they give. Delete all unnecessary adjectives and sentences. Use bullet points graphics to make your point and avoid anything that clouds your message.
Answer this question clearly and directly. A common mistake is to hide prices of not give them at all, which usually causes potential customers to leave the page. Making a phone call or writing an email demands more engagement from users who will simply go to a competitor's site instead. If for some reason you cannot give exact prices, create a simple tool for their valuation. Even approximate price quotes save time both for you and visitors to your site - you don't have to do an analysis and they don't have to wait for an estimate that could be too high for them.
Provide an email address where you can be contacted. This is important information for anyone visiting your site, along with a physical address and a phone number. Think about what information your customers need  - a phone number for when you don't or can't answer an email, an address for when they need to send you something or want to visit you. Include a map generated by Google Maps and place it on your website. This is important for any business that functions outside of the internet and helps customers find your cafe, spa or fitness club.
If users have some kind of problem, they often look for solutions on your website before dialing your number. Help them by using content marketing. Build a help center, a list of FAQ's or create a blog. Do what you can to prevent customers from feeling lost or helpless in their search for answers. Remember that telephone contact should be a last resort and content marketing pays off with time.
Optimizing the user experience
Optimizing your content is the first step to creating a user-friendly website. If your content has been rebuilt with this in mind, it's time for a more advanced step related to the architecture of your site.
This is achieved by user experience design, which focuses on the constant improvement of the organization of the website to benefit users. Again, put yourself in the place of visitors to your site and this time try to analyze it in terms of how graphically and structurally user-friendly it is as well how easily the functionalities are accessed.
Trends in web design can help you make a user-friendly page:
flat design - a minimalistic trend in website design. The simplicity of basic fonts and colors makes the site easier to read.
responsiveness - a function that enables pages to adapt to any screen resolution. Mobile devices like smartphones and tablets are being used more often to visit websites and so being able to adapt to different screens lets you be sure that you won't lose potential customers just because your page didn't display properly on a small device.
one-site design - building a website based on the idea that we have specific knowledge to share and there is no need to expand the page beyond that topic. Scrolling is easier than searching for the desired information by looking through tabs, especially when using a mobile device.
social media plugins - first of all, they inform you about activities on the page and up-to-date statistics regarding things such as likes, shares, etc. They also help to build a positive image of your brand since something that becomes social becomes valuable.
A well-designed website in the foundation of your internet presence Click to Tweet
It's important to remember that expanding your reach requires going further. In the next chapter you'll learn which aspects of your communication and promotion are important in activities beyond your own website.
2. Expand your reach on the net
You already know why having your own page is important for your business but even the most well designed and run pages don't guarantee success in drawing customers to your store or company. Why? The answer is simple - few people know it even exists. Let's look at what you can do to reach more people who could be interested in what you have to offer.
In this chapter you will learn about:
the objectives of your business' presence on the internet
tools that help you effectively manage how your business communicates on the internet
trends that are currently influencing B2C communication online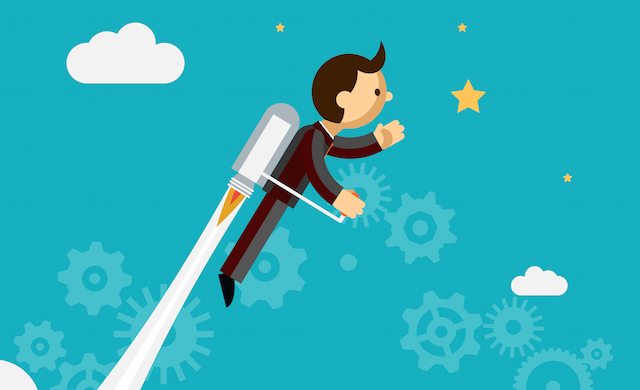 Be wherever your customers are
A basic question asked by businesses in brick and mortar world goes like this  - "Why do I need to be on the internet if I don't sell anything there?" You are probably familiar with what is called the ROPO effect (Research Online Purchase Offline), which happens when customers research a product online before buying it in the real world. If you think that it only affects products and services found in online stores, you're wrong - studies show that 81% of consumers research certain purchases online before making them offline. Just because you don't operate on the internet doesn't mean that your brand isn't there, and if you aren't there then you don't have any control over what's happening to it.
Your business in social media
Social media isn't really a direct sales channel but it is a powerful tool for communicating your brand and building relationships with customers.
Social marketing is much more than publishing posts about your product. Click to Tweet
A good plan of action should include a dialogue with your recipients and using as many features as possible on social platforms. Observe your followers and try to determine their motivations and activities - this is how you will be better able to adapt your communication to their needs. No matter what platform you choose, you have to remember a few basic rules:
Choose the service that's best for your kind business and adapt your communication to it. There are lots of choices - Facebook, Twitter, YouTube, Pinterest, Instagram, LinkedIn and others. Sephora set up a page on Pinterest with great high-quality pictures not only for its products, but also to give advice, show trends and inspirations and even of their customers.
Instead of information about products, convey your knowledge about the field where you are an expert. Model yourself on the best out there. A good example is Starbucks, who puts advice for how to make great coffee on their Facebook page.
Pay attention to engagement, which is more important than the number of fans, friends or followers. Resist the temptation to think that the number of people who see you post is all that counts. In this era of limited visibility for new posts (they only reach a small percent of your Facebook fans), the number of fans you have stops having any meaning. Quality is what counts, measured by the level of involvement in your message.
You don't have to make new posts every day, but if you do don't count on a high degree of engagement for posts that just mention something in a "by the way" tone. When is the best time to publish content on social media? Learn more about it directly from Jen Dewar, CEO of SocialMedia Today. Create a schedule for your publications on social media - there are plenty of free tools that let you manages a publication calendar, like CoSchedule.
At the start, promote your presence on social media with the help of a paid campaign - otherwise it will be very difficult to quickly build interest in your brand.  The form of advertising and who is targeted depend on the service where you are operating. Most of them, however, give you choices regarding your target market.
Optimize your campaign using demographic parameters (age, sex, date of birth), interests, education level, place of work, data on social media activities (which pages have been liked, friend lists) and geographical location. Most services also allow you to set up a campaign aimed at users located within a certain radius of where your business operates.
Facebook now has a new geotargeting service -  Local Awareness i Custom Location - that lets you reach users within a 1km radius of your location in real time.
The basic difference between this an other forms of geotargeting is the fact that it's not based on declared places of residence but on tools that enable precise determination of the place where a given Facebook user is at any time.
Monitor the presence of your brand on the internet
Up until now, we have focused on the possibilities of your own channels: website, blog and social media. This is, however, a massive amount of information about your brand outside them. The customer decides where he's going to start a conversation about you.
How and why do you participate in a dialogue in a place where you are one of many users? Click to Tweet
First of all, start with monitoring the internet. There are several tools on the market now that tell you who is talking about you or your product and where and most of them offer a free trial period. Spend a little time and test some of them simultaneously, using the same keywords in order to choose the most effective one for you.
What can you gain from monitoring online activities?
Right away you get the who, what, where and when about anything that has been published about you or whether you have been mentioned at all. You get a full audit of your internet presence.
Knowing where your customers are gives you a chance to join the conversation. Monitoring what's happening online is an ideal way to support your customer service as well. Did someone mention your name or product? Thank them and let them know that their opinion is important to you. Does someone have a question about your product? No one can answer it better than you can. By doing this you also show that you have nothing to hide and have confidence in what you offer.
You get to know more about opinions regarding your product or service. People want to feel appreciated, so select a group of people to test whatever you are offering, monitor their responses and react to them. Join the discussion, thank them and answer any questions they might have. Remember, though, that when running this kind of test you cannot expect everyone to react only with the positive superlatives that you would like. Prepare specific responses for complaints and negative opinions and always answer them.
You identify influencers and ambassadors of your brand on the net. Monitoring lets you see not only who wrote what but also how often they write about it. Use this information - there's no one like one of your ambassadors to promote you in an online discussion. 70% of consumers trust opinions from other customers left online.
You get to present yourself as an expert in your field. Keep an eye on phrases related not only directly to you and your brand but also to related terms connected with your field of operations. This is how you will be able to answer questions from users who are looking for solutions in an area where you an expert and enhance the credibility of your brand in the eyes of the online community. Be careful to be transparent in your communication and never publish anything while pretending to be someone else.
You gain information about your competition - how they operate on the internet and what customers say about them. There are limitless ways to apply this knowledge to your own operations and strategies.
Fight for position!
You have two options: promote your activities online for free or pay for them. Let's focus on how to build your online network for free.
Your communication channels (website, social media, monitoring and answers on outside services) are free promotional tools. Combined, they should work together towards the same goal - the highest possible ranking in Google search results. The algorithm that governs the positioning of pages has recently changed significantly. The effect of your activities should be the natural, high ranking of your page in Google. There was a time when it was enough to focus on getting as many links as possible to your page. Now it's just as important to consider where those links come from. Google's algorithms also promote pages with content that engages visitors.
A detailed list of indicators determining high positions in the SERP is much longer and includes more than 200 items. You learn more about by reading the analysis on the Backlinko blog.
If you operate locally
If your online activities are meant to promote your brick and mortar business, construct your database according to localization. This way you can reach customers who not only may be interested in your offer but are in the area around your business.
SEO optimization with an emphasis on location is the most effective. Click to Tweet
Also, Google displays results according to not only to what a user is looking for but also where the user is. Concentrating on SEO from the perspective of location means you are competing with fewer other businesses - only those in your immediate area. This means better matching to terms being search and lower expenses. The final important matter related to this subject is the growing number of searches from mobile devices. You must know that the first positions in Google search results are local businesses found in the area just around where the telephone is being used.
Activities based on localization can be divided into 2 kinds: Within your own page and without.
Activities on your own page:
Remember to include not only your business name but location as well when creating titles, meta tags, descriptions and headers.
Even a simple one-page site should contain contact information like the full name of the business, address, email, phone number, etc. If you create a more expanded page, remember to use dedicated tabs. By doing so you facilitate contact with your customers and make it easier for search engines to find information wanted by Google users.
The "About Us" tab is often under-utilized and used as a place to throw an unorganized mass of information. Remember that this tab is often viewed by visitors to your site, especially on their first visit. Use the "About Us" tab as a chance to initiate your first conversation with customers. Describe what you do and what benefits you deliver to customers.
Online monitoring lets you see what people are saying about your brand. Give them the chance to do the same on your internet page with an opinion form or survey. It doesn't matter if you operate online or offline - opinions about your brand matter.
Activities outside of your own page:
It's clear that Google favors, meaning it positions, pages that use its services even if they are free. Start by using Google My Business and set up a business card for your company that will be shown in local search results, Google Maps and on mobile devices searching near your place of business. Remember to consider the option of showing reviews of your business by Google users, which will also be displayed in search results.
If the interior of your place of business is an important element for customers - restaurants, hotels, spas - include pictures as well. By doing so, you can take advantage of another service from Google - Business View. You only have to pay for the photographs that you will use but the service itself is free. You can also allow visitors to your page to take a virtual walk around your business but using the Google Maps API or placing the HTML code on your website.
Prepare a template with the information that you publish in outside services (name, address, telephone information, email address). This way, you can be sure that no matter service they check, customers will get the same information about you. This is also important for search engines since finding the same information in different sources tells Google's robots that the information is up to date and can be displayed for users.
Running a local business depends on maintaining a presence in local sources of information. Ideally, your content should contain a link to your website. Start by making a list of the most important outlets in your area and get in touch with them regarding information about how to get listed.
3. Effective email communication with your customers
Communication with customers is the foundation of success in every business. Multiple business tools now put you in a position to reach customers through various channels - through your own promotion, affiliate programs, excellent content or education and training sessions.
In this chapter you will learn about:
why it's worth building an address database and how strongly it influences the success of your business
how to manage relations with your customer with the help of email marketing
how to connect your offline and online activities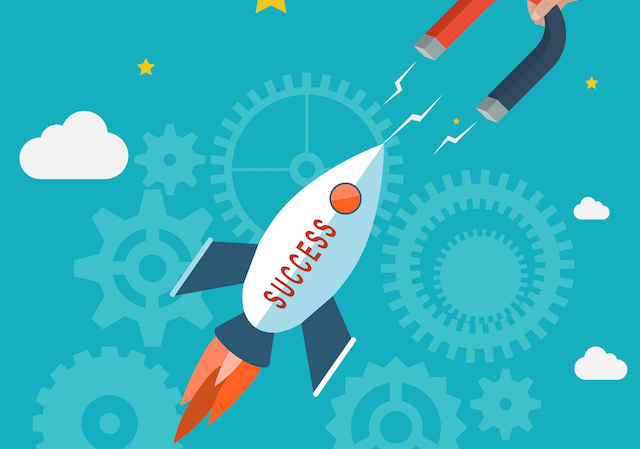 Address database
Even if you have your own database and you already manage your online communication, take a look at these bits of advice that will help you optimize it and attract new subscribers while streamlining your email marketing activities.
Managing your own database lets you increase the reach of your campaign and build lasting relationships with customers and loyalty to your brand. Remember that a subscriber's email inbox is among the most private places that today's internet users have. Email marketing is a channel of communication that lets you establish individualized, personal relationships with recipients.
On top of that , using this form of communication can bring huge returns on a small investment. The 2015 DMA National Client Email Report found that one dollar investing in email marketing generated on average 38 dollars in sales. That's a massive jump from 2013 when the figure was 25 dollars.
Sign-up form
Let's say you want to check to see if your messages got to the right group of subscribers. How do you do that? Well, let's from the start - the subscriber sign-up form. Creating it is very easy and can do it all on your own in FreshMail. It's enough to paste some code and email address start flowing into your database.
If you already have a sign-up form on your website or you're thinking about adding one, you need to consider a few basic questions. A person who wants to subscriber to your newsletter wants to get it done in the fastest and easiest way possible.
You can place sign-up forms on the pages of your website or display them as a pop-up.
Ways to expand your database
There are lots of ways to build your subscriber list. You can collect addresses by:
placing a sign-up form on your own page
using social media, as covered previously
giving access to exclusive material for sharing an email address
using the footer of your email to make it possible for others to sign etc.
Would you like to also gather addresses while offline? Do you encounter your customers in various real world environments? Install the free FreshForm tablet application so you can build your address database anytime, anywhere no matter if you are connected to the internet or not.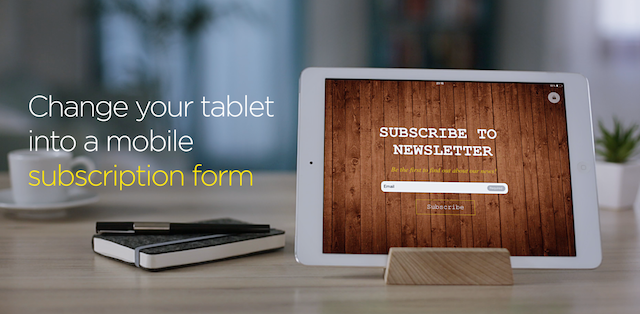 Copying information from a business card or a paper form definitely is not the fastest or most effective way to build your database.
Thanks to tablets and their applications, you can gain subscribers just about anywhere - in your cosmetics salon, at conferences, at short meetings with clients and a million other places. And this is still possible even if you don't have access to the internet. You can also customize the appearance of your FreshForm to suit the look of your business with 17 ready-made styles that you can add your logo and background to. FreshForm is available in both iOS (iPad) and Android.
How to run your email communication
If you meet potential customers in lots of places - business meetings, trade fairs, conferences, etc. - you can use FreshMail to build a separate mailing list for each individual event. This makes it possible for you to know where the data of a given subscriber comes from and create more personalized messages for them. For example:
You can also have a chance for immediate interaction with customers if a there's a tablet next to them in your spa or fitness club. You can, for example, offer a rebate in exchange for their email address.
Do you want to communicate with your customers online? In FreshMail you can define additional fields that appear in the sign-up form in FreshForm. Use them skillfully and in addition to basic information you can also determine what kind of services your customers used.
Remember that communication with your customers is a process that you cannot complete with a one-time rebate or promotion and the most important customers are the ones that return to make more purchases.
With time, there will be a part of your subscriber base that will want to resign from receiving your newsletter. Do not make this difficult for them and be sure to add a clear and visible resignation link to every newsletter you send. This will help you to maintain good database hygiene since inactive addresses and people who do not want to receive anything from you do nothing for the value of your subscriber list. You can let useful email marketing applications do all the work while you focus on creating attractive content.
Welcome email
You welcome email is the beginning of your relationship with your new subscribers. It should not only thank them for signing up to your newsletter but also inform them about what they can expect from it. The welcome email is also where you can begin to learn more about your future customers for example:
you can tell them how often they will get a newsletter from you can what they can expect to find in it or
give your subscribers a choice and let them choose the frequency of the messages they get from you or define the content of what they will get.
Use multiple functions
Email marketing systems like FreshMail give you lots of tools to make amazing newsletters: advanced personalization, dynamic content, database segmentation and autoresponders among other things. If you've already started with email marketing, you're already familiar with these things. Each of them, however, can be used in lots of ways. If you want to broaden your knowledge on the topic of modern personalization, dynamic content or using purchase history information and click maps, take a look at other entries posted on our blog at freshmail.com/blog.
It doesn't matter if you sell a product or a service, either way you have to inform subscribers about it and it's up to you what method to use
The next steps - paid campaigns and attaining synergy
So now you know about lots of free options for internet promotion that can benefit your physical business. The next step should be paid promotion online. You can learn more about it from our article:
Remember that all of your marketing activities should have a common denominator. Use the synergy between your online and offline efforts. Set up a well-optimized site that gets traffic from local external services, social media, search engines and newsletters as well as real world promotions. To achieve this, invest in a local PPC campaign, collect subscriber data on sign-up forms and tablet applications and start building lasting relationships.