Are you wondering why content marketing should be integrated with email marketing? Let me share a few stats that will paint a clear picture of the strength of these tools:
AdBlock is used by over 200 million people online
Content marketing is 62% cheaper than outbound marketing and generates three times more leads
56% of marketers say that personalised content builds better engagement with subscribers
The numbers don't lie - content marketing results in concrete benefits for your business
But what is content marketing?
Content marketing is a process that starts with defining what your marketing goals are - brand awareness, product promotion, etc. - and then creating a customer profile of the kind of consumer you would like to reach. The last step of content marketing is an analysis of your message content for keywords in the context of SEO, distribution of the content and meeting the strategies you have set. The content marketing generates leads and email marketing helps to convert those leads into customers.
You have to remember, though, that customers visiting your page need time before they decide to make a purchase. Leads can require long periods time, even more than a year, to reach the point where they are ready to buy. Also, just 2% of site visits result in a purchase. The other 98% needs to be convinced to return and become interested through content marketing.
Content and email marketing
Email marketing helps you to strengthen contact with customers, create more opportunities to make sales and follow the reactions of recipients to your campaigns.
Remember that inboxes are one of the most private online places. This is one reason why conversions from email marketing can be 40 times higher than conversions through social media. If content marketing gets a potential customer to share their email address, it's time to turn to email marketing to take it the rest of the way.
Let's look at some examples of what I'm talking about and learn how brands use email marketing to integrate new users and potential customers.
Use content marketing in your welcoming message
When new subscribers join your newsletter, it's a great opportunity to take the next step in your welcome message. Use it to set the tone for everything they can expect in your regular messages and make them feel like they're in the club!
Take a look at the interesting and friendly way Piktochart used email marketing. This is the kind of message that makes an impression when you open it up and helps new members to feel welcome. This is how to thank new subscribers for signing up!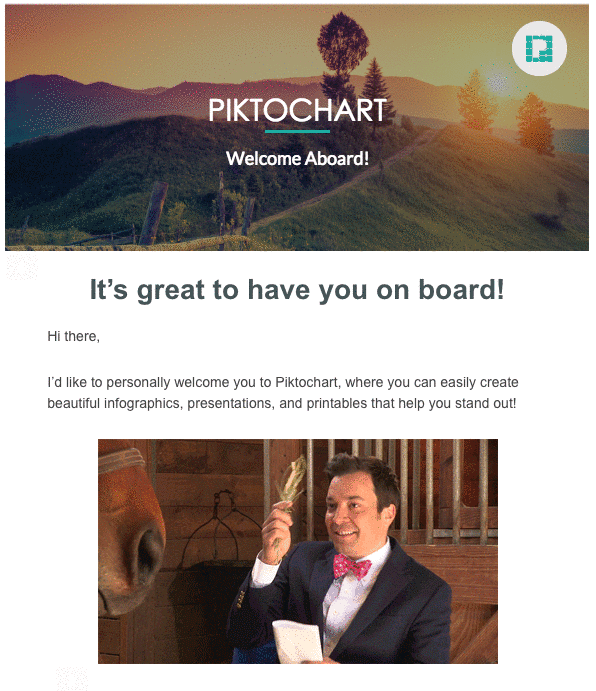 Be subtle about promotions
Here's a great idea for connecting content and email marketing from Sweaty Betty. Their Women's Day promotion described the inspiring achievements of some particular women but note how the items for sale are integrated into their histories and almost take a backseat to them.

It's a good idea to send a campaign that doesn't focus on selling from time to time. Use it to engage customers through inspiration, education or storytelling.
Great content in exchange for your email
A good example of connecting engaging content and email marketing is the signup form for the newsletter from Smart Blogger. Getting their useful marketer's guide, "Headline Hacks", is a simple as sharing an email address. These are the kinds of benefits that build valuable relationships with subscribers.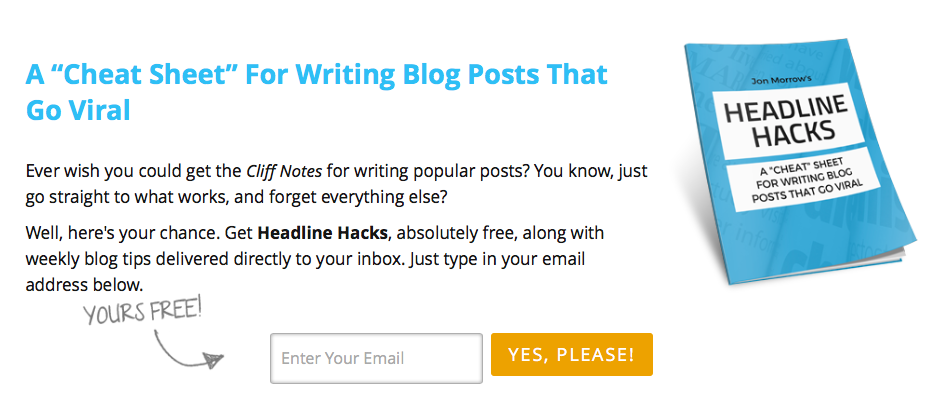 Extra advice for free
PrestaShop is an online store platform and most of their messages concern information about changes, updates and expansions of their service. From time to time, though, they need to send something more. For example, sometimes they share LookBook for e-commerce stores to spread new ideas and trends.