The hottest selling season for eCommerce has started. During the year there are significant spikes in revenue earned on Black Friday and Cyber Monday and retailers fight to best capture consumers interest. Are you in the game?
Black Friday is now the UK's biggest online shopping day of the holiday season. According to Adobe online revenues around this day can hit £901 million this year! Just take a look at the Google Trends data. Consumers are already looking for deals and offers and the trend is growing.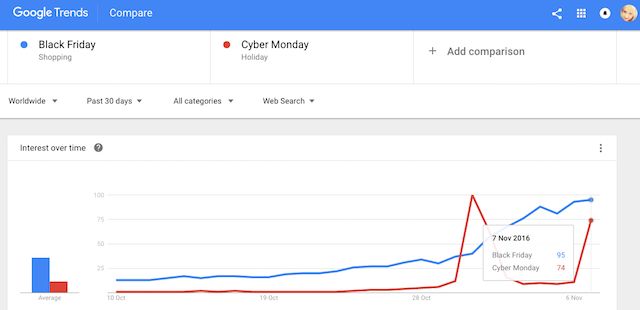 The natural spin-off for Black Friday is Cyber Monday which presents another opportunity to leverage sales. If you are a retailer these are your moments to shine, be a step ahead of your competitors and win customers.
Plan #eCommerce strategy for #BlackFriday and the hottest selling season of the year! Click to Tweet
Take a look at predictions from the recent Adobe Digital Insights study which you should take into account before you plan your eCommerce strategy for Black Friday and the hottest selling season of the year:
You simply cannot miss the opportunity: online spending this season is expected to increase by £2.46 billion to £24.3 billion
You have to remember that mobile shoppers are on the rise: 20% of revenue this holiday season is set to come from mCommerce
You have to pick the right tools: search advertising (27%) and email (23%) are ranked as preferred source for finding deals by UK customers
#Retail Predictions from @Adobemktgcloud: #BlackFriday is the UK's biggest online shopping day Click to Tweet
1. Email marketing is a cost-effective tool for eCommerce
Don't wait for customers to find you through search advertising. Reach them in their inboxes.
Email is a cost-effective tool to skyrocket your sales during important dates in eCommerce. It is proven to generate high ROI and it is a primary digital communication channel chosen by customers:
66% of consumers have made a purchase online as a direct result of an email marketing message (DMA 2013)
61% of consumers say they like to receive promotional emails weekly and
28% want to receive them even more frequently (Marketing Sherpa 2015)
Customers like to receive emails from brands. Especially during shopping and holiday season when their intent to buy is the strongest.
If you design your emails well, even messages that remain unopened can serve as a future benefit by re-appearing in your customers' inbox. However, being a smart marketer you can utilize data about your customers and prevent your emails from being unread during holiday season.
Download the free e-book
Download the e-book and get to know how to use information about subscriber behaviour to boost sales in ecommerce.

Utilize information you have about your customers' past behaviour and craft applicable personalized offers. Focus on relevant content and information that could most possibly interest your individual subscribers. Use email PERSONALIZATION.
The sense of one-to-one communication which you can provide then is your winning card. Let your customers feel special and offer best deals on the products they've shown interest in.
Email automation allows you to craft one email with dynamic content to adapt to various recipients needs.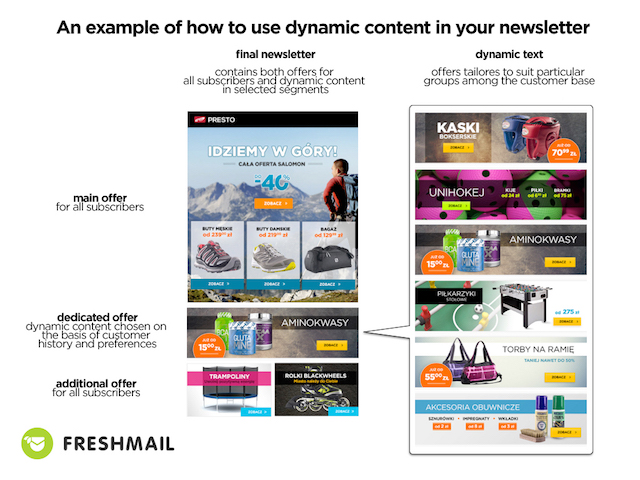 Best tips for Black Friday and Cyber Monday subject lines:
Be mysterious - give subscribers a reason to open the email and satisfy their curiosity
Create urgency - give subscribers a feeling that they have to open your email asap
Quantify your offer - give subscribers the idea that they can save with your deal
2. Delivering a multichannel experience can save you from lost opportunities
eMarketer's latest forecast says that eCommerce will account for 22.6% of total retail sales in the UK by 2020: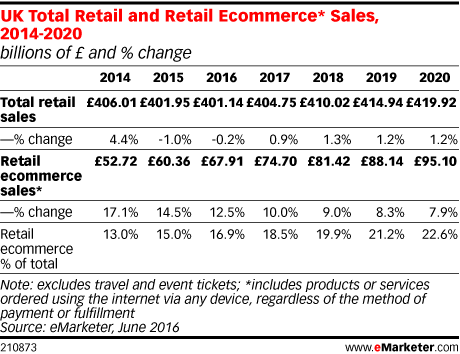 While mCommerce sales will account for 10,1% of total retail sales in the UK by 2020: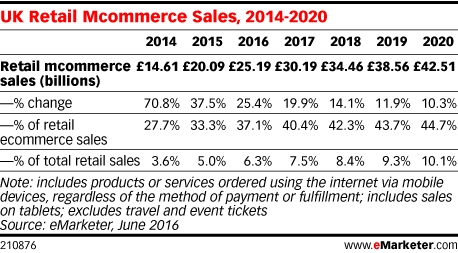 mCommerce is on the rise that means you have to deliver consistent, easy and compelling experiences on every device that a customer uses in order to avoid missing out during a holiday season. Unfortunately according to the latest data from Monetate conversion rates from tablets and smartphones are lower than desktop conversion rates.
mCommerce conversion rates are still behind because smaller screens, harder-to-find product details and fussy credit card form fields are a problem for shoppers and often make them give up on a purchase.
Don't let this happen to you when you're launching your holiday deals!
Make your site mobile friendly and check if the servers are ready for the traffic.
Get rid of banners and ads on mobile.
Consider how customers will navigate your mobile site and make it easy for them to find products they're searching for.
Place your "Add to Cart" button more than once on the page to ensure customers can find it.
Implement shorter forms that collect only the essential information
Make sure the mobile check-out process doesn't take too long. Just a 2-second delay in load time during checkout results in higher abandonment rates
Check your page on mobile emulator!
3. Be strategic and make a smart sale
Consumers are in "buy now" mode and many retailers will start their promotional activities early to utilize the season.
Sharp competition requires planning. And a good promotional plan is not only about making your website ready for traffic and sending beautiful and compelling emails. It is also about anticipating the moments when a customer is ready to make a purchase.
Then you have to jump in and add perceived value to a sale by offering upgrades to purchases making both sides happy: customers receives even more that they expected and you receive a boost in revenues by selling more to the same customer.
To make a smart sale during the holiday season you need to:
Know your products to let the customers know how they could easily make the product they want better. You should categorize all your products and tie them with their respective up-sells or cross-sells.
Get a sense of the customer's needs by utilizing behavioral data and customers profiles in order to offer relevant deals. Consider what to show to individual customer at which point in the purchase lifecycle.
Make friends with email marketing automation. You'll have the data you need at your fingertips and the possibility to maximise the average spend per customer over the holiday season.
Remember that up-selling is known to be more successful tactic than cross-selling and according to Predictive Intent it drives over 4% of sales compared to just 0.2% of sales driven by cross-sales tactics. And if you want to do cross-selling the product you present should be at least 60% cheaper than the product added to cart.
4% of customers will buy a better product if offered, and are ready to pay a premium for that #eCommerce Click to Tweet
Cross-sell gets up to 3% conversions when used on the check-out page #eCommerce Click to Tweet
What makes up-selling and cross-selling successful?
Sales guru Jeffrey Gitomer says that up-selling done right is helping your customers win.
And if you do it in the way that the customer will feel you're really helping him benefit on a purchase and you both win.
Now customers demand more personalized choices and convenience. And cross-selling, which means being offered complementary products quite often used along with a discount (bundling), helps them benefit on a better deal.
Remember not to go crazy on these tactics. Being too pushy and overwhelming to your customers is only going to damage your brand image, conversion and customer relationship.
4. Leverage the right social media channels
Instagram and Snapchat
2.5 million Brits say they are buying on mobile daily. Almost one in four (23%) of them have bought on their mobile phones clothing, 16% bought music and film products and further 13% bought technology.
The biggest mobile shoppers are also heavy social media users. Their favorite platforms are Snapchat (64% have bought on mobile) and Instagram (56% have bought on mobile). These platforms, which are particularly appealing to younger shoppers, are driving sales in mobile commerce.
Be sure you provide a consistent and strong experience of your holiday season specials on these platforms. Promote your sweepstakes by sending an email to your email list with a link to relevant social media profiles to reach out to your customers in all the relevant places.
Facebook
Facebook offers retailers an interesting tool. You can now set up a Shop on your Facebook page and tag your products on Facebook pictures. The process itself is very easy. You should first configure your Facebook shop (check how to do it here) and then upload a database of your products into Facebook.
The platform will automatically determine their price, image and name and present them in one post. Consumer now can do nothing but click and buy without leaving a social media platform!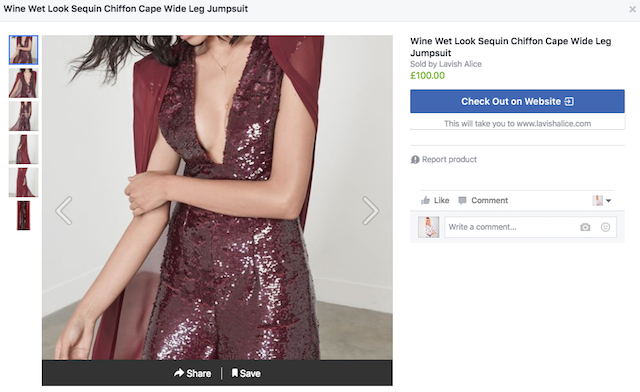 And if you want to drive customers to your local store Facebook's new Dynamic Ads enable you to showcase products available in the store location that's closest to the person seeing the ad.
5. Turn one-time occasion into a long-lasting relationship
Consumers activity around both Black Friday and Cyber Monday shows no sign of slowing and these will be the most important dates for UK retailers this year. Think business-forward and turn so called one-time occasion into bigger success. Use the hottest season for eCommerce to forge a lasting relationship with your customers.
If they come to your store then, make a great impression and make sure they decide to stay with you for longer. Convenience and trust are key driving forces when choosing a retailer to purchase with online. Check the following reads to find out more on customer-centric marketing in eCommerce.